Give the gift of good, clean, beauty fun this Christmas with the non-toxic and chemical free Daughter Of The Soil gift sets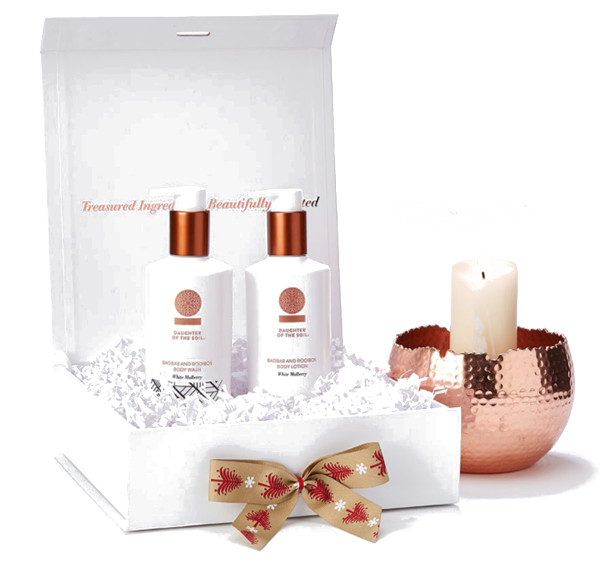 FACEBOOK | TWITTER | INSTAGRAM | YOUTUBE | PINTEREST
HERO GIFT SET Daughter Of The Soil Body Gift Set, £40.00 A natural nourishing body gift set that includes Daughter Of The Soil Baobab and Rooibos Body Lotion (250ml) and Baobab and Rooibos Body Wash (250ml), which intensely cleanses, nourishes and moisturises the body, restoring the skin's natural radiance, suitable for all skin types.
Green gift sets
1◆ Daughter Of The Soil Hand Gift Set, £30.00
2◆ Daughter Of The Soil Beauty Gift Set, £75.00
3◆ Daughter Of The Soil Bag and Beauty Set, £80.00
4◆ Daughter Of The Soil Big Beauty Gift for Her, £105.00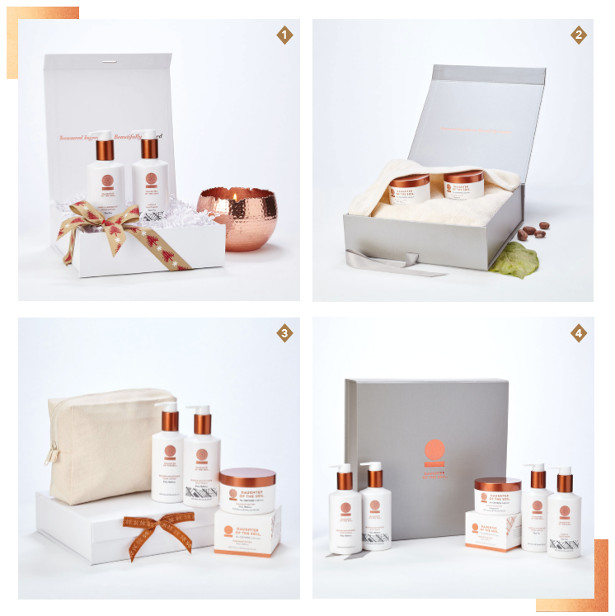 About Daughter Of The Soil
The new skincare brand, Daughter Of The Soil is a pioneering British-Blended, African-Heritage brand that contains 100% naturally derived ingredients and is free from harsh synthetic chemicals that cause skin irritation or have toxic effects when absorbed by the skin. Powered by time-tested African botanical oils that target deeper layers of the dermis for radiant, youthful skin. The inspiration for creating the range came from Maria Magembe, CEO of Daughter of The Soil's, great-grandmother Onyang who believed in the benefits of nature and non-toxic beauty – a philosophy that we continue to incorporate within Daughter of The Soil.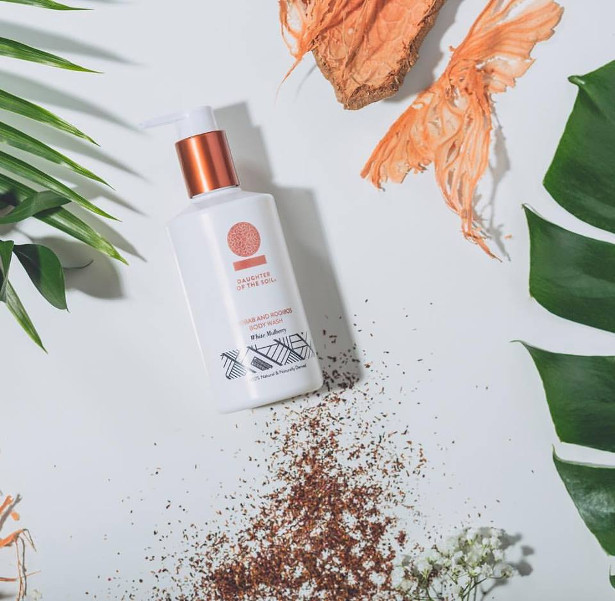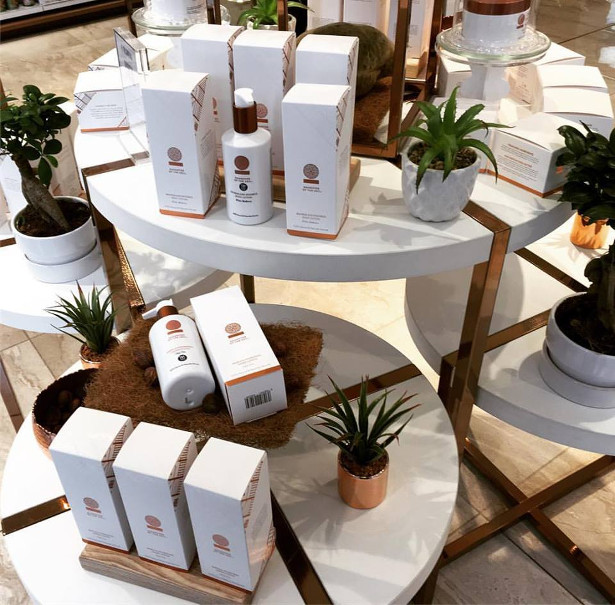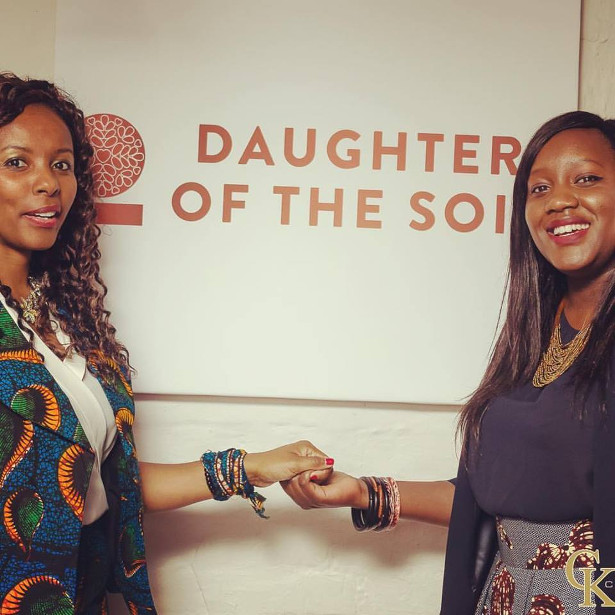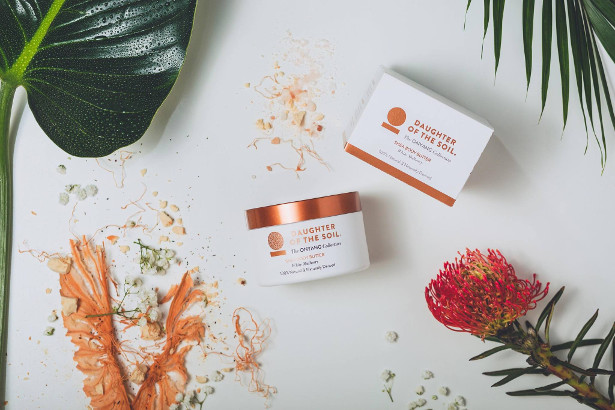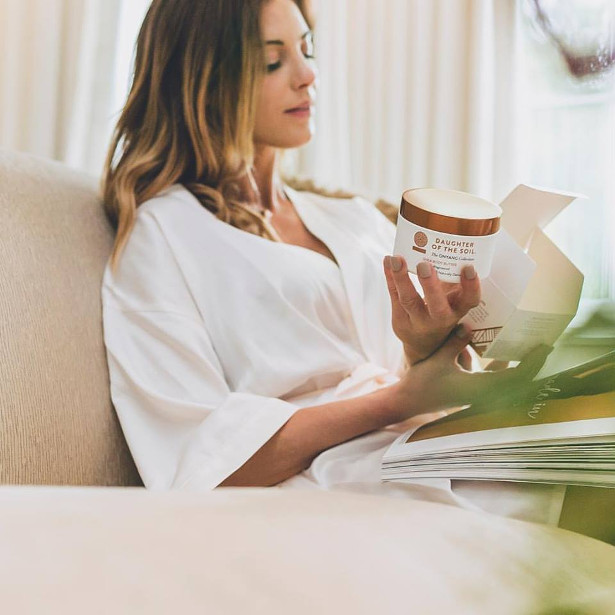 Did you know 40% of all proposals happen at Christmas?
And a further 10% on Valentine's Day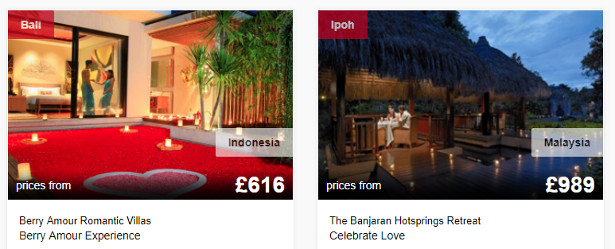 With 1000's of newly-engaged couples planning their wedding and 1000's more celebrating Valentine's in 2018, The Romantic Tourist will shortly be running a series of targeted promotions, on behalf of our hotel and travel partners, to generate direct bookings for the below upcoming events and celebrations:
UK Weddings 2018
Destination Weddings 2018
Beach Weddings
Private & Exclusive Weddings
Valentines Getaways 2018
Valentines Proposals 2018
Renewal of Vows 2018
Honeymoons 2018
To showcase your best experiences for each occasion, promotions will include: targeted editorial, newsletters / email campaigns, romantic reviews, exclusive romantic blogs and real-life love stories, as well as cross-promotional features with partners including wine suppliers, luxury/romantic gifts and hamper retailers, beauty and wellness companies and weddings specialists to name a few.
'Madrid is becoming more and more popular and we are pleased to see that "the best kept secret of Europe" is now evolving to a re-known romantic destination thanks to partners like you'
Sophie Clauzé – Director of Sales, THE WESTIN PALACE, MADRRID
'Absolutely love it! You guys have an amazing way of writing and texting! we are all excited to be featured'
Manuel Bernardo – Senior Sales Manager, THE CHEDI ANDERMATT
'Wow this is a great article – Karma St. Martin's have loved all of the blogs and promotions you've featured us in'
Pippa Dowson – Sales & Marketing, KARMA GROUP
'Allow me to express our heartfelt gratitude for our successful collaboration during the past 12 months'
Mr. Lasiadi – General Manager, BERRY AMOUR ROMANTIC VILLAS
THE FESTIVAL ANNOUNCES MIST AND MOSTACK AS IT'S SPOTLIGHT SHOW AND REVEALS MORE ARTISTS PLAYING IN 2018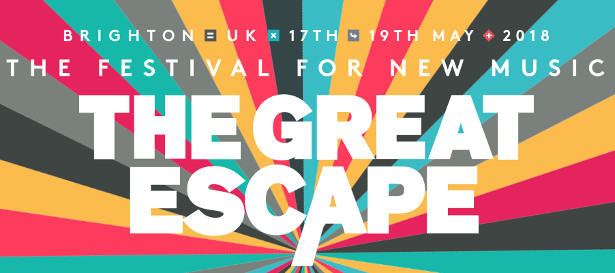 Pale Waves, Girlhood, Grace Carter, FEET, Bad Gyal and Naaz among acts performing
Tickets on sale now for 2018 festival
It's official, festival season 2018 starts here. The Great Escape, internationally renowned for breaking the best and brightest new talent and an industry hotbed for music networking is now in its 13th year and today announces even more incredible artists playing next year's festival.
Not one but two MOBO nominated headliners are ready to set Brighton Dome ablaze. Arguably one of Birmingham's biggest rappers, MIST is making waves with his honest and thoughtful lyrics, sell-out UK tour and millions of YouTube views. Joining him is North London MC MoStack whose catchy hooks and Afrotrap sound have been gaining him attention and have led to collaborations with some of the biggest UK rap artists on the scene including Krept N Konan, J Hus and Dave. High energy, intense and with a few surprises along the way, this show will be anything but dull.
Mist says: "I'm excited to play at The Great Escape It's gonna be a madness! Me and MoStack gonna shut the place down. Gang Business"
MoStack says: "Had such a sick time last year, happy to be coming back to the festival that supports new acts"
Brighton's own Grace Carter is on the path to greatness and will be hitting up her home crowd fresh off her first tour supporting Dua Lipa. With only one song available online – she shot to attention with her soul-pop track 'Silence' – Grace is on the cusp of super stardom and TGE provides the perfect platform to catch her before she makes it huge.
Previously part of grime collective Bomb Squad, Hak Baker has effortlessly crossed music genres, having picked up a guitar he's gaining incredible momentum as a singer-songwriter whose guitar-led ballads and gruff vocals have a distinctive, heart-warming sound. Duo Girlhood, made up of writer/producer Christian Pinchbeck and singer Tessa Cavanna also join the bill with their polished fusion of late 80s hip-hop, piano house and UK soul, all created on Christian's houseboat.
Manchester foursome Pale Waves' indie–pop bangers have been turning heads in 2017 since dropping their first single "There's A Honey" earlier this year -which was produced by the 1975's Matthew Healy and George Daniel. They have continued to produce musical gems, with plans for a North American tour underway and of course an electric show in Brighton on the cards….And there's massive buzz around Nashville-based dream-pop band COIN, who sold out their FIRST FIFTY show in a matter of days.
Joining them will be classically trained Ama Lou, who at only eighteen years old is creating smooth RnB sounds with powerful lyrics and perfectly produced electronic beats, whilst Scotland's Lewis Capaldi will captivate crowds with his honest songwriting, raw soulful vocals and gentle instrumentation. M.I.L.K. (real name Emil Wilk) from Copenhagen will bring his own brand of RnB-tinged yacht rock to the festival, perfect in the lead up to summer.
Joy Crookes from South London is already grabbing industry attention with her pop and RnB-soaked sounds, unique lyrics and haunting voice, whilst George Ezra's brother Ten Tonnes will have audiences singing along with his Indie guitar driven songs and Dutch-Kurdish singer-songwriter Naaz will capture audiences with her distinctive ethereal voice, with lyrics that relay tales of personal struggle.
When not supporting the likes of Catfish and The Bottlemen and Ben Howard, Sam Fender can often be found working and playing in a 400 year-old Tyneside fishing pub. Now he'll be taking festival go-ers through a range of emotions with his euphoric and heart-wrenching songs (as supported by BBC Introducing). With sounds deriving from the early noughties, Coventry indie-rockers FEET, will bring fresh mayhem to the festival, whilst Spanish rapper and 'Dancehall Queen' Bad Gyal's career has skyrocketed ever since her cover of Rihanna's 'Work' became a viral phenomenon. Ready to make 2018 her year, this will be Bad Gyal's first live festival performance in the UK.
Mama Festivals CEO, Rory Bett says: "The Great Escape is all about championing and celebrating new music and next year we have such an exciting selection of new artists across every music genre to engage with. In our 13th year we are completely focussed on delivering another programme that wholly embodies this ethos, and today we announce the latest helping of the very best emerging talent from around the world plus 2 outstanding spotlight show stoppers."
Introducing BodyBoss The Ultimate Body Fitness Guide to re-invent your shape and unlock your potential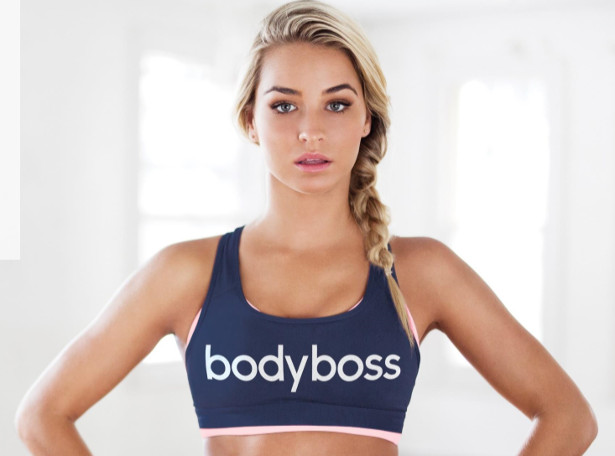 New research shows that British consumers are cutting back on gym memberships and reining back spending for the latter half of 2017. It's not just spending intentions, research shows that Britons are actually wasting £558m a year on unused gym memberships, with more than one in 10 people saying they hadn't stepped foot inside the gym for a whole year citing reasons including being too busy and feeling intimidated2.
With a strong decline in gym memberships, less people visiting the gym and studies showing there has been a rise in the amount of people choosing to work out independently3, BodyBoss has been developed to meet the high demand for an at-home workout that can be done anytime and anywhere. All you need is 24 minutes, three times a week!
It gives real results in less than two weeks with straight-forward, clear and effective workouts. Don't just take our word for it, BodyBoss has been tried and tested. An impressive 93% of customers would recommend it to a friend and 80% have experienced weight loss with 75% of these dropping more than one dress size4.
You don't need a gym membership to get the best from your body, BodyBoss gives you all the tools you need. Expertly designed high intensity workouts are the foundation of the BodyBoss Method. With the 12-week step-bystep training programme, plus a little sweat and commitment, you can rapidly burn fat with the BodyBoss formulas, optimised training cycles and high intensity circuits.
The BodyBoss Ultimate Body Fitness Guide has been created by gathering insights from real women around the world, taking this feedback and working with professional trainers to create the guide. 66% of customers agree that BodyBoss has the best HIIT workouts they have ever tried with 96% agreeing that the guide is easy to follow4.
The biggest benefit of the BodyBoss Method over other workouts lies in the afterburn effect, or what BodyBoss call, the #BossEffect. After completing a BodyBoss workout, the body completes a range of functions to recover from the short burst of intense exercise, burning calories and accelerating fat loss for after your workout, even while you sleep!
The Ultimate Body Fitness Guide includes:
• 12-week fitness programme • 60 exercises across 48 workouts • Optimised training cycles • High intensity circuits • Body goals worksheet • Four week pre-training guide
The BodyBoss Ultimate Body Fitness Guide is available in an online edition for £39.90, in print for £54.90 or for a limited time offer, the online and print edition can be bought together for £54.90 from www.bodyboss.com
The new restoration of ITV Studio's A Matter of Life and Death, was undertaken by Sony Pictures under the supervision of Grover Crisp.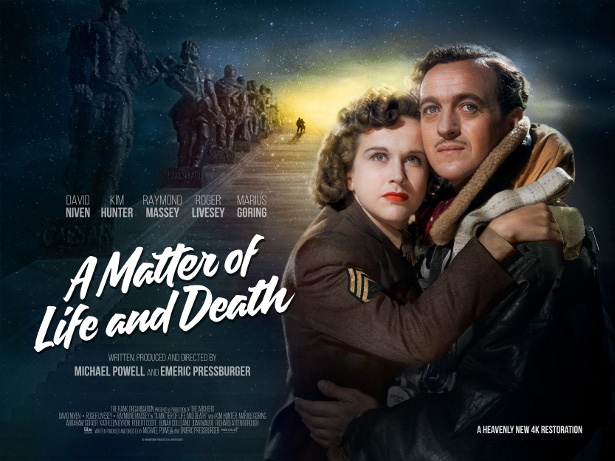 A Matter of Life and Death follows airman and would-be poet, Peter Carter (David Niven) who in the last days of the war miraculously survives when he bails out of his damaged plane without a parachute, after confiding his innermost secrets to a radio operator, June (Kim Hunter). By the time the Next World realises its mistake, Peter has fallen in love with June. The film culminates in a vast heavenly trial, in which Peter's counsel, Dr Reeves, defends his client and England against the prosecution, an American schoolteacher who was the first to fall in the American War of Independence.
One of the most sublime and creative films from the legendary partnership of Powell and Pressburger, A Matter of Life and Death seamlessly weaves together apparently diverse themes in a mix not seen before on film – time travel, love and death, love and war, Heaven and Earth, America and England, with a heavy twist of melodrama.
The film is also visually stunning – three-strip Technicolor was used to capture the scenes on Earth and, in an unexpected twist, the scenes in Heaven are filmed in black and white. This prompts one of the film's most iconic moments when key character, Conductor 71, first appears on Earth, saying 'One is starved for Technicolor up there'.
A Matter of Life and Death continues to influence popular culture – in 2004 it was named the second greatest British film ever made by Total Film magazine, and a short sequence from the film featured in the Opening Ceremony of the 2012 London Olympics. In 2015, one of the film's most iconic images was included in a set of postage stamps to celebrate Great British Films.
Returning to cinemas in time for the Christmas holidays, audiences will once again be able to marvel at this Technicolor feast for the eyes as it was meant to be seen – on the big screen.
A MATTER OF LIFE AND DEATH is in UK & Irish cinemas from 8th December
Avis Budget UK Welcomes ACL Hire, Extending Van Offering in Scotland and Across the UK

20 November 2017 – Since Friday, Avis Budget UK customers in Scotland will be able to enjoy a significant increase in van accessibility, thanks to the acquisition of ACL Hire Ltd, a family-owned vehicle rental company based in West Lothian, with operations throughout Scotland and the UK.
Offering a large and wide range of fleet and specialising in commercial vehicle rentals, ACL Hire has been consistently recognised for its quality of service, having been named as the top supplier on four categories for the Scotland Excel Framework, as well as being shortlisted as top suppliers in the areas of Supplier Excellence and Customer Service Excellence in 2015, and the GO Best Service Award in 2017.
Avis Budget UK will welcome all ACL Hire's staff to the business, including ACL's founders James and William Harris, who will continue to bring new business on board and maintain a close link with the existing customer base. As van experts, the ACL Hire team will be able to offer an enhanced business rental proposition to Avis Budget customers in Scotland and throughout the UK.
James Harris commented: "We're excited about this new chapter and are committed to continuing to provide the same, high quality service our loyal customer base has enjoyed over the last seven years.
"A leader in the British car rental industry with a global parent company investing in a business in Scotland represents a massive boost, as well as a stepping stone towards new and exciting plans for us all in the future."
Nina Bell, Managing Director, Avis Budget UK, added: "We feel very strongly that by combining the strengths of the two companies, we will be able to offer customers of both a more comprehensive commercial vehicle rental offering. This is a strong addition to Avis Budget UK's rapidly-growing Commercial Vehicle segment and will help us to better understand and serve our customers both in Scotland and across the UK."
For more information on Avis Car Rental's business vehicle offering, visit www.avis.co.uk/business-rentals or call 0808 284 5000.
For more information on ACL's business vehicle offering, visit www.aclhire.com/rental/.
Capitalise on the countdown to Christmas with MBNA Thames Clippers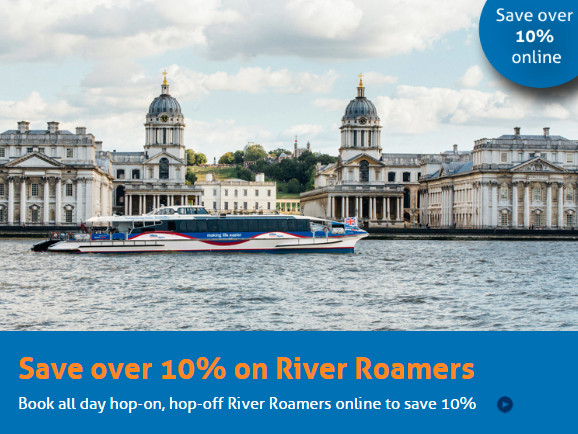 As London brims with tinsel-tastic things to do this winter, embrace the seasonal spirit with MBNA Thames Clippers (www.mbnathamesclippers.com), London's leading river bus service and take advantage of the many opportunities for festive fun.
From ice-skating and carol concerts to festive markets and Christmas lights, there are many magical opportunities to make merry that can be easily reached by boat:
Festive treats and gifts galore: Every year the South Bank is transformed into a sparkling wonderland, as the riverside is decked out with festive decorations and a Wintertime Market. This year's yuletide extravaganza kicks off 10 November. (London Eye pier)
The ghost of Christmas present: Christmas just wouldn't be the same without the Dickens classic. Hollywood star Rhys Ifans will be playing the role of Ebenezer Scrooge in a reworked version of A Christmas Carol at The Old Vic from 18 November. (London Eye pier)
New Greenwich Wintertime Festival: From 1 December the Old Royal Naval College will be home to a new family-friendly experience, combining a traditional covered ice rink with a winter market, artisan food and an enchanting Father Christmas experience. (Greenwich pier)
Free Christmas Carols: From 11to 22 December a host of carol singers will gather beneath Trafalgar Square's famous Christmas tree to help revellers enjoy anything but a 'silent night'. (Embankment pier)
We wish you a Mariah Christmas: If all you want for Christmas is the chance to see global superstar Mariah Carey belt out her bestselling holiday single, the good news is she'll be performing a one-off seasonal show at The O2 on 11 December. (North Greenwich pier)
Snowflakes on Oxford Street: From 7 November London's legendary shopping Mecca will be all a-glow as a dazzling display of snowflake-themed Christmas lights illuminate its wintry window displays. (Embankment pier)
MBNA Thames Clippers is London's leading river boat service, connecting many of the Capital's top and lesser known attractions and providing passengers with the chance to take in the iconic London skyline from the river along the way. For more information and to purchase combined tickets, please visit www.mbnathamesclippers.com.
Tesco's award winning wine developer Alexandra Runciman shares her top tips for serving wine over the festive period.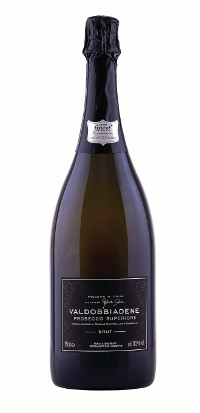 "When it comes to the festive period I often find there are a lot of last minute requests or people popping in for a drink so if you need to chill a bottle quickly there are a couple of fail safe options"
1. Add salt to your ice bucket, the salt speeds up the chilling time and keep the bottle moving every couple of minutes to make sure the wine inside the bottle is getting evenly chilled.
2. Wet a tea-towel or some kitchen roll, wrap it around the bottle and stick it in the freezer – 15mins and you are good to go!
3. Want to make your fizz really sparkle? A simple trick of using a sprig of rosemary coated in icing sugar popped in your flute gives a real Christmassy twist to your favourite glass of fizz.
4. Got an older bottle of red? To make sure you don't get sediment in your glass (or any bits of cork) pour the wine through a coffee filter to catch all those bits, it also helps to aerate the wine so you get the best tasting glass possible!
If you are looking for a bottle to impress your guests why not try Tesco finest* North Row Sauvignon Blanc (£13) – not to brag but it has been awarded the best Sauvignon Blanc in the world!
Fancy a red? Try pinot noir, from the southern of Burgundy appellation of Mercurey – Tesco finest* Mercurey, £75cl, £13
For fizz, Tesco finest* Blanquette de Limoux – 75cl, £9 is the oldest sparkling wine in the world or choose Tesco finest* Valdobbiadene Prosecco Superiore DOCG Magnum – 150cl, £19, the perfect size for entertaining and can be enjoyed as an aperitif or to complement an antipasti or salmon starter.
Love Hemp CBD
The UK's leading distributor of premium CBD oil.
CBD Oils supplies a wide range of Love Hemp products from body salves to cold pressed oils to boost skin health or which can be taken as a dietary supplement.
The Love Hemp range contains the world's finest Cannabidiol (CBD) oils – completely natural supplements sourced from low-level THC hemp.
Research suggests that Cannabidiol has an anti-inflammatory effect and it is being increasingly used in products ranging from lip balms to face creams.
www.cbdoilsuk.com
Tumball from Megableu games
NEW 2017. Find the perfect balance with Tumball. Observe the cluster of balls, suspended by nothing but thread.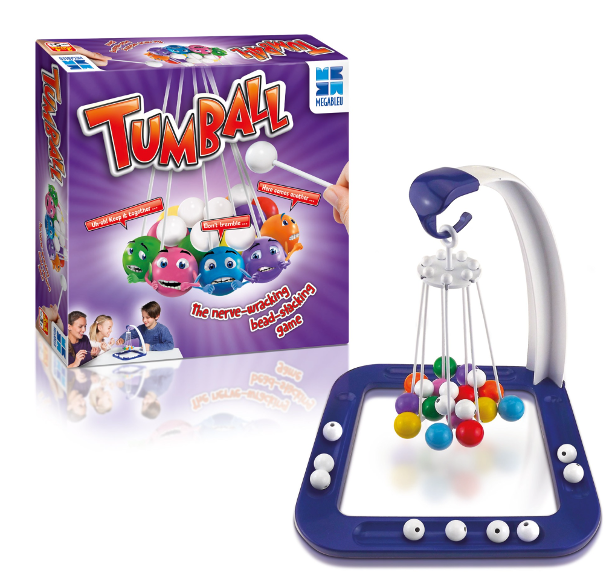 How many balls can you balance on them, before the cluster separates?
Go ahead, make your move, but be careful, don't tremble or the balls will tumble! For 2 to 4 players Age: 6 years+. £17.99rrp.
Social media links:
Social Media Tags: #megableu | #trendsuk | @winddesignsltd
www.megableu.com/uk
MochO an exciting new product only available online.
MochO is a luxury surf poncho like no other. Inspired by the ocean and designed by lovers of it, the perfect gift for the ocean loving woman in your life.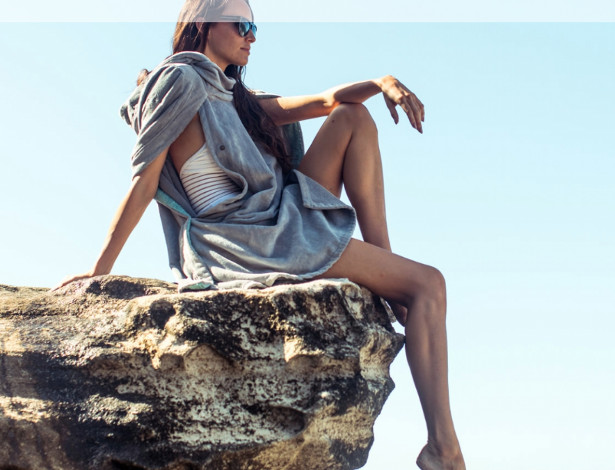 Proudly designed and made in Australia from imported soft Portuguese velour terry to welling, each cape in the brands launch collection, Pacific Soul, features a generous hood for sun and wind protection, two concealed pockets with a sweet pop of colour and versatile press studs down the sides, which can be left open for a relaxed feel or closed to create a wearable change room.
Priced at $220, the MochO is available in a range of sizes and lengths and four ocean inspired colour ways – First Light (pink trim), Glassy (aqua trim), Storm (Charcoal trim) and White Wash (White Trim).
MochO was created by Bondi Beach locals and avid surfers, Emma Saddington and Abig ail Sheridan, who sensed a gap in the market for a sophisticated beach garment that combined luxury with purpose.
www.mocho.com.au
Legend Bracelet.
It's a bracelet with a mission to inspire you to travel the world – and to protect it! Check us out here: www.legendbracelet.com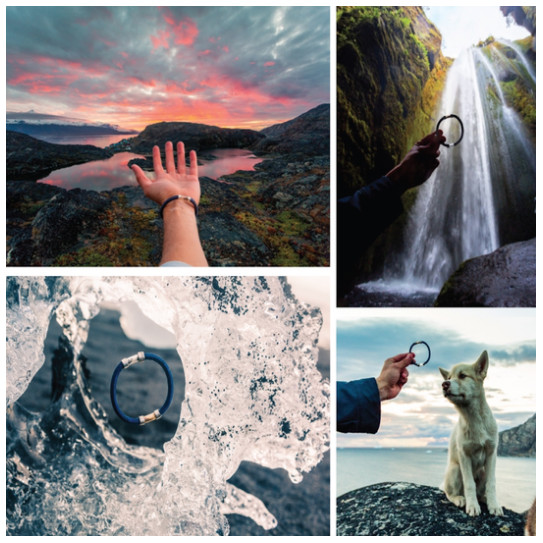 Made from recycled and eco friendly materials, harvested from the bark of trees, it is met with capsules on both sides. The top capsule is filled with sand/earth from the arctic that is currently being affected by climate change and needs to be protected.
The bottom capsule is empty, allowing you to fill it with someplace that will become part of your legacy – a daily reminder of the memories of the special places you've been to.
About the founder:
In 2016, Kevin traveled to the Philippines to serve underprivileged children. It was an experience that gave him a broader perspective of the world we live in and allowed him to witness first hand the pollu ted cond itions that these children had been born into. Going on that journey gave him a deeper appreciation for the earth and the impact humanity can have on it. He created the Legend Bracelet to spread awareness and to inspire others to use their personal journeys to consciously create a positive impact on this earth.
Project Futures
Project Futures, an Australian not-for-profit whose purpose is to educate the public about human trafficking and slavery issues, has collaborated with fashion designer Steven Khalil, who has dressed the likes of Beyoncé and Nicole Kidman, to launch its very first charity t-shirt. The aim is to raise awareness of crimes that deprive women and children of their freedom and dignity in Australia and abroad. With over 45.8 million people enslaved, modern slavery is the fastest-growing crime industry in the world today.
As an organisation committed to strong ethos and the fair treatment of workers, the shirt was made from organically grown-cotton from India and knitted in Melbourne. The shirt was then designed, cut, sewn and screen printed in Sydney using organically certified water-based inks. You can be confident that this gift not only transforms the lives of those affected by slavery and exploitation in Australia and Cambodia, but promotes environmental sustainability and better working conditions for the people involved in its creation.
For $99.00 you are gifting an exclusive piece of Steven's work. The tees are not only beautiful but helping to create a better life for women and children. 100% of the profit goes directly to helping end modern slavery and cover a range of services from medical treatment to psychological service. One t-shirt equates to one bicycle for a child to independently attend school each day which means opportunities for future independence and employment. Five t-shirts cover all resources for the outreach program for one month, providing soap, education and food to women and children living in circumstances of homelessness and sexual exploitation.
The exclusive Steven Khalil charity tee is available on the Project Futures website here: projectfutures.com/shop/steven-khalil-tee.
The National Breast Cancer Foundation (NBCF) / Xmas Pink Products, which are perfect for your Xmas Gift List, from top beauty, fashion and home&lifestyle brands like GHD, Clinique, Estée Lauder, Bisley Workwear, Brother and Bellabodies shapewear and Tied Together Ties. These brands have come on board this year to support life-changing breast cancer research, donating proceeds from the sale of their 'Pink' products to NBCF, and they are the perfect gift for this Xmas.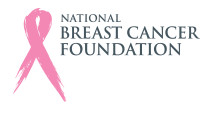 For more information about the pink products, please refer to the link: https://nbcf.org.au/partners/pink-products/
Goodness Natural Beauty Lab
www.goodnessproducts.com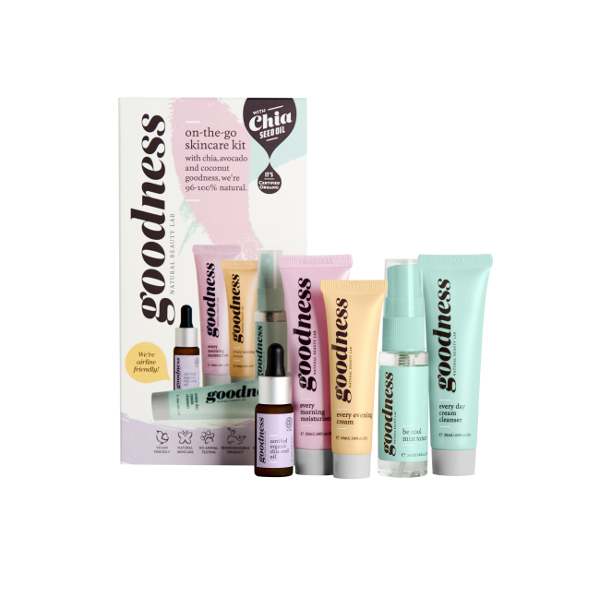 The brand new Goodness On-the-Go Skincare Kit is the perfect stocking filler this Christmas especially when it comes to gifts for 'her'.
Whether it's for your gal-friends gym bag, the ultimate skincare travel accessory or your colleague's Secret Santa present; On-the-Go Skincare Kit has got you and your gal-friends skincare needs covered in cute Goodness minis!
Goodness On-the-Go Skincare Kit contains natural botanical goodness (no nonsense included):
– Every Day Cream Cleanser will cl eanse an d remove make-up to get skin clean and ready to go
– Certified Organic Chia Seed Oil delivers non-greasy mega-omega goodness in just a couple of pure organic drops
– Every Morning Moisturiser is healthiness that hydrates, nourishes and preps skin for the day ahead.
– Be Cool Mist Toner is an ideal spritz on hydration for any time of the day to refresh and cool
– Every Evening Cream helps restore skin's glow as you rest by delivering super hydration and nourishment
RRP $24.95
Available online at www.goodnessproducts.com
How to use: First cleanse, then tone. Add a couple of drops of chia then, choose your moisturiser.
Goodness products are goodness for your skin, your pocket and the planet thanks to their vegan friendly naturalness with no animal testing. Products are biodegradable and come in recyclable packaging.
Panasonic: Christmas Gift Guide 2017
Panasonic has an exciting new range of products and technologies that make perfect Christmas gifts for the entire family. From travel cameras for the photography adventurer and intelligently-designed home appliances for the budding chef; to a home entertainment range for movie buffs and body groomers for the modern man, there's something for everyone.
For more information please visit www.panasonic.com.au
LIVING ROOM: Experience the ultimate home entertainment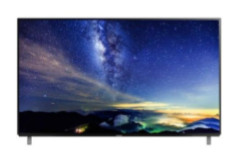 Upgrade your family TV to a new Panasonic OLED for a premium visual and audio experience. The new TH-55EZ950 Series TV provides the ultimate in-home cinema with rich blacks and stunning true to life colour, and allows you to stream all your favourite shows in 4K HDR quality. Panasonic TH-55EZ950 RRP $3,899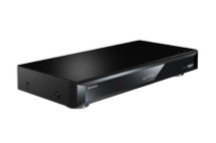 Watch all your favourite 4K content on the new UBT1 4K Blu-ray Player and Full HD Recorder. Stunning 4K resolution displays the latest movies and series with outstanding clarity. The UBT1 supports multi-room TV streaming and remote viewing and recording, as well as featuring a huge 2TB hard drive to store all your favourite content. Panasonic DMR-UBT1 RRP $1,099
Sprayground UK, a lifestyle brand designed in New York
In high demand, Sprayground has been delving into the lives of fashion savvy tastemakers, media personalities, and celebrities who genuinely love and wear the brand.
NEW Gran Turismo Sport | PlayStation 4
Gran Turismo Sport has exclusively launch to PlayStation 4. With extraordinary graphics and the power of the PlayStation 4 and PlayStation 4 Pro system, Gran Turismo Sport forges a new standard for the racing genre. For the first time in franchise history, players can develop their virtual careers on the track with advanced online competition, and the chance to become legends in the FIA GT Championship as certified by the Federation Internationale de l'Automobile (FIA).
RRP $79.95, available exclusively on PlayStation 4.
https://store.playstation.com/en-au/product/EP9001-CUSA02168_00-GTSPORT000000000?smcid=pdc%3Aau-en%3Apdc-games-detail-gt-sport-ps4%3Aleadproductinfo-pre-order-download%3Agran-turismo-sport%3Astore-msf75508-gtsportpreorder
A Discounted Introductory one hour confidence and self-esteem coaching phone session valued at $147, to boost their confidence, self-esteem and self-worth.
Here is the link http://www.confidenceandselfesteem.com/re-invent-yourself-gift-certificate/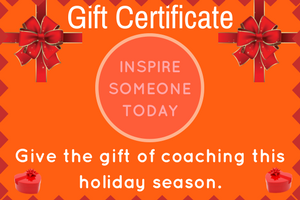 The Glen Moray Mastery – the ultimate gift
In celebration of Glen Moray Distillery's 120th birthday, Graham Coull, the Master Distiller, has selected five different vintages of Glen Moray to create MASTERY, the ultimate 'blend'. The result is a whisky of incredible depth and character that encapsulates the very essence of Glen Moray, steeped in the proud traditions of Speyside.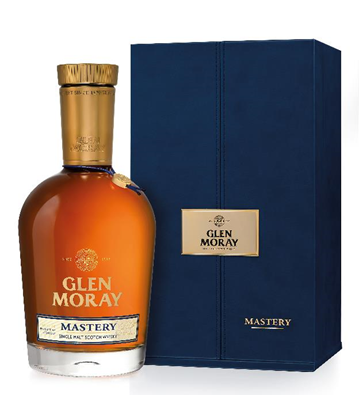 With great skill and finesse, Graham experimented to find the ultimate composition, using whisky matured in different fortified wine casks (sherry, madeira and port) to form the backbone of the 120th Anniversary release. By using the sweetness of port to bring out the best in the heavier flavours emanating from the sherry and Madeira, Graham has added his own 'twist' to the Glen Moray classic taste profile, bringing sublime smoothness and balance to the masterpiece.
This is a 1,000 bottle release with each bottle presented in individually numbered decanters housed in a leather box.
RRP: £800 for 70cl. ABV: non chill-filtered 52.3%. Available from: masterofmalt.com, thewhiskyexchange.com, whisky-online.com, robbieswhiskymerchants.com, glenmoray.com, Gordon and Macphail, Dufftown Whisky Shop and Scotch Whisky Experience on the Royal Mile.
The perfect gift for him, where 99 cents from the orders go to Start Pet Rescue >> 99centrazor.com

quotes include: "this is doing a nice job with 5 day growth"
"i like the fact that the hair is not getting clogged" (that i get with five bladed razors)
"gotta let the razor do it's work, you're really here to just guide it"
"smooth, worry-free shave"
"i'm impressed"
"i got a shave great out of this greyhound razor from 99centrazor"
"haven't even been close to nicking myself"
"for the price point…not bad, i believe this is $3.96 for three months"
99CentRazor.com
Resistance bands are a good alternative to dumbbell exercises.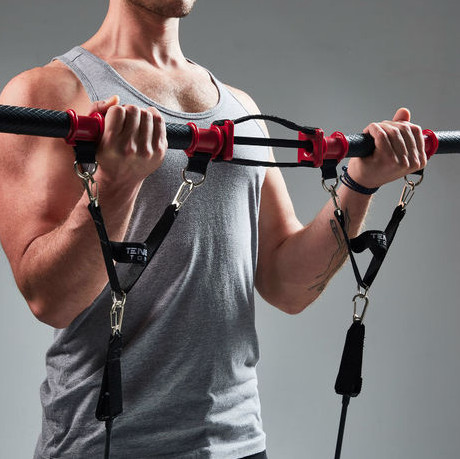 The problem is that resistance bands quickly lose tension during the lowering phase of the workout. That's where TENSION TONER comes in. It is a travel size workout bar with built-in resistance. The bars are designed for you to keep separated under tension, which multitasks your muscles! The result: CRAZY muscle activation during every exercise, allowing you to do more in less time! It's super light and compact so you can take it with you on vacation or work trips. Available to purchase at www.tenisontoner.com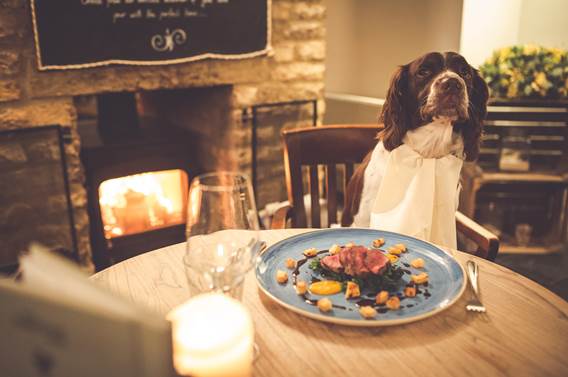 The Maytime Inn is an award-winning, 4 AA gold star inn situated in the beautifully peaceful and historic Cotswold village of Asthall. With the river Windrush gently flowing through the countryside a stone's throw away, the inn is the perfect location for those wanting to relax and unwind in a beautiful, picturesque area.
In 2012, the 23 year old entrepreneur, Dominic Wood, bought The Maytime Inn and has spent the last few years turning around both the décor and the reputation, firmly re-establishing the inn's place in the local area. Dominic prides himself on providing an excellent, but informal service in beautiful surroundings.
The Maytime Inn has already earned several industry accolades. They have been awarded the AA Breakfast Award, the AA Dinner Award and, most notably, the Expedia Insiders Select Award in 2015. In March 2016, they were awarded the 'Stellar Stays' award by Hotels Combined, which is an official recognition of their quality and customer satisfaction, and places them in the top 3% of hotels reviewed worldwide.
With six en-suite bedrooms all with their own individual style, The Maytime Inn creates a unique experience for every guest. All rooms include 400 thread count Egyptian cotton bed linen, 26 inch flat screen televisions and waterfall power showers. Therefore, you are guaranteed the utmost comfort and luxury during your stay.
Food at the inn includes so much choice and variety. From pub classics, sandwiches to á la carte, there really is something to suit everybody's taste. The restaurant only uses the finest, seasonal, local produce in each dish to guarantee quality, flavour-filled food that speaks for itself. With an award winning chef, The Maytime Inn is an excellent place to visit for a delicious lunch, dinner or some classic 'pub grub'.
Specialising in gin (they currently have over 70 in their collection, although it is always being added to!), the bar is the perfect place to relax and unwind; however, if spirits aren't your thing, they also have a world beer and cider menu, in addition to a varied wine list and fully stocked bar, so you're guaranteed to be able to try something new. If you're lucky enough to be there when the sun is shining, then there's a large terraced area and garden to enjoy the outdoors.
It wouldn't be right to talk about The Maytime Inn and not mention Alfie the dog, who is regularly found in the bar performing his party tricks, although never overstays his welcome!
Bartercard announced as Exclusive Partner and Official Headline Sponsor of London Broncos Rugby League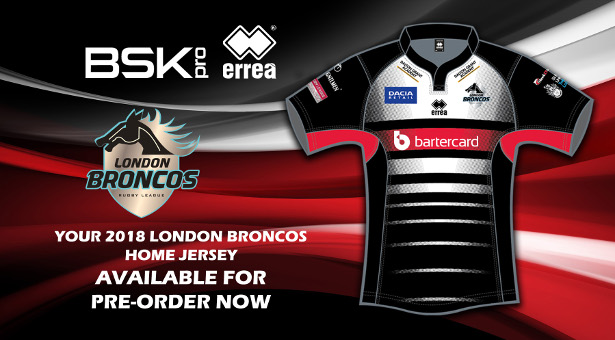 Bartercard are pleased to confirm that they have been announced as Exclusive Partner and Official Headline Sponsor of London Broncos Rugby League for the 2018 season.
This latest news follows after Bartercard – the world's largest trade exchange offering a barter-trading system for businesses to exchange goods and services within a global community – supported the London Broncos as match sponsors earlier this year.
As part of the sponsorship, Bartercard will have a prominent presence on the teams shirts as well as high visibility surrounding the pitch on the perimeter boards. Bartercard will also be featured on the official London Broncos website and be included in all literature, brochures and the match day programme.
London Broncos are going from strength to strength and are now preparing to challenge for a top-flight position in the league, having come just short in last season's qualifiers.
Jason Loubser, CEO of London Broncos, said: "It's fantastic to have Bartercard back on the front of the shirt again after such a long time. We have always had a great relationship with them and look forward to another successful season with a great company behind us."
Philip Ciniglio, CEO of Bartercard, said: "It's fantastic to be Exclusive Partner and Official Headline Sponsor of London Broncos Rugby League. Bartercard has always looked to support sports clubs. We will help London Broncos and other enterprises make additional revenue which will allow them to put more money into the team."
Bartercard offers a barter-trading system for businesses to exchange goods and services within a global community. Bartercard acts as a third party record keeper to enable SMEs to purchase goods and services by utilising "Trade Pounds" as a currency across their global network of businesses.
Bartercard offers many benefits such as access to over 50,000 fellow global cardholders, an interest free line of credit to allow businesses to purchase immediately, access to the world trading platform portal, the use of the Bartercard mobile application for trading and payments and free networking events.
Globally, Bartercard operates in countries including Australia, New Zealand, United Kingdom, USA, Thailand, Israel, South Africa and France.
For more information, visit www.bartercard.co.uk. Follow Bartercard UK on Twitter, LinkedIn and Google+ and like on Facebook.
www.speakly.me
A new London-based language-learning tech startup

What could be better than to get a really useful learning tool (app + desktop) that helps you start speaking a language that you have long struggled with, or to learn a brand new one – Italian or French or Spanish for example 🙂
A little bit of background as well: Speakly was created by a group of language learning industry experts to help people get to great speaking skills faster and we are really excited about the results that we are seeing from our users. Our data shows that a beginner level learner can get to a good speaking level – let's say in French, Spanish or German – in about 4 months. And based on these numbers it's currently one of the fastest learning solutions in the market.
We are doing this by teaching words and sentences in their real-life statistical order of relevance and letting the learner experience real-life situations right in the app.
The perfect stocking stuffer for the Conservative or Liberal in your life!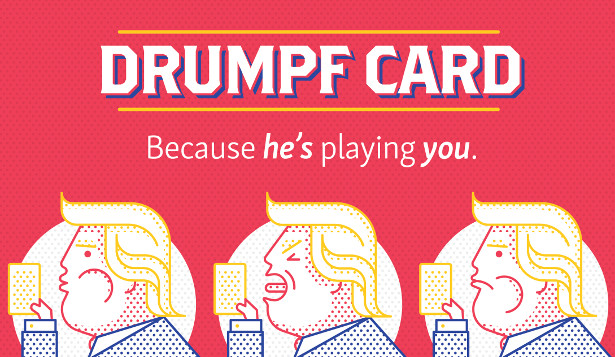 Drumpf Card is a deck of poker playing cards, expertly researched with funny truths about Donald Trump. Each card highlights a statement that Trump supporters often make to support their case, as well as a comical rebuttal that can be used against Trump supporters everywhere. We've done the dirty work to provide simple, informative, and validated arguments to help set them straight.
Each deck is only $10.
Give 'em the #drumpfcard
https://www.drumpfcard.com/
Tonus Audio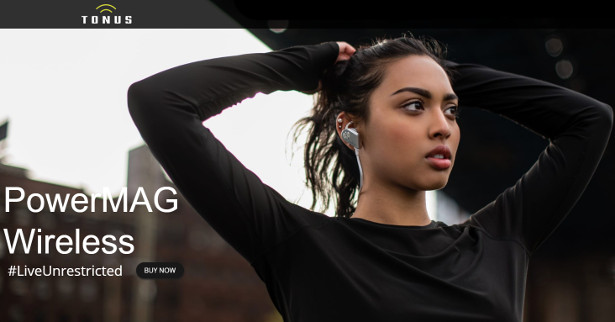 Tonus is a lifestyle audio brand of headphones and speakers. Our latest product, the PowerMAG Wireless earphones, would be the perfect stocking stuffer for any music lover, techie or fitness enthusiast.
Here are a few of the PowerMAG Wireless features:
The PowerMAG Wireless is activated by magnetic technology that, when separated, instantly connects to your devices (connects with two devices simultaneously)
Premium sound quality
Bluetooth wireless
8 hours play and talk time
Sweat and water resistant
Tangle-free cable and cable locker
Made With A Purpose


A social enterprise that is empowering women in India by selling handmade bags. These bags create sustainable income for these women, who are paid a fair wage, are able to create a better future for their families, empower others in their community, and have a sense of self worth. Our company is called Made With a Purpose and we would love to have one of our items featured in your Christmas Gift Guide. We have laptop cases, Tote Bags, and Duffle Bags.
For more info about us and our products please visit us at www.madewithapurpose.com
NOW That's What I Call 60's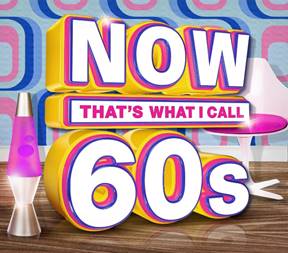 Cat no: CDNNOW62
RRP: Under £15.00
Barcode: 889854799823
Link: https://www.nowmusic.com/album/now-60s/
Image: https://www.dropbox.com/s/shnmd1zndwm4eeq/60s.jpg?dl=0
The swinging 60's might be nearly 70 years ago but has popular music ever had a decade like it? Looking at the latest release NOW That What I Call 60's, it was a revolutionary time for popular music and the tracks still resonate today.
It was a decade of Springfield, Presley, Hendrick, Dylan, the Beach Boys, the Monkees, Fleetwood Mac, the Troggs and Motown ruled the charts and their impact remains.
Whatever your tastes this compilation has it all; rock, pop, blues, funk and soul and some of the biggest hits from both sides of the Atlantic like Springfield's Son of a Preacher Man, The Monkees I'm a Believer and many of the Motown Classics; Otis Redding's (Sittin on )The Dock of The Bay, James Brown's I Got You and Sly & The Family Stone Everyday People.
It was a memorable time which started with short hair cuts, short skirts, black and white TV and the record player and ended with long-hair, long skirts, colour TV and 'stereo systems'. So whether it's a an emotional journey to the past or discovering the era, NOW 60s is the ultimate soundtrack to this historical time.
TRACK LIST
CD1
01. Marvin Gaye & Tammi Terrell – Ain't No Mountain High Enough
02.The Mamas & The Papas – California Dreamin'
03. Dusty Springfield – Son Of A Preacher Man
04. Elvis Presley – Suspicious Minds
05. Simon & Garfunkel – Mrs. Robinson
06. The Animals – The House Of The Rising Sun
07. Ben E. King – Stand By Me
08. Otis Redding – (Sittin' On) The Dock Of The Bay
09. Jackie Wilson – (Your Love Keeps Lifting Me) Higher And Higher
10. Del Shannon – Runaway
11. The Monkees – I'm A Believer
12. The Beach Boys – Good Vibrations
13. The Supremes – Baby Love
14. The Foundations – Build Me Up Buttercup
15. The Isley Brothers – This Old Heart Of Mine (Is Weak For You)
16. Marlena Shaw – California Soul
17. Bobby Hebb – Sunny
18. Smokey Robinson & The Miracles – The Tracks Of My Tears
19. The Drifters – Under The Boardwalk
20. Frank Sinatra & Nancy Sinatra – Somethin' Stupid
21. Patsy Cline – Crazy
22. Etta James – At Last
23. Jimmy Ruffin – What Becomes Of The Brokenhearted
24. Dionne Warwick – Walk On By
CD 2
01. Procul Harum – A Whiter Shade Of Pale
02. The Moody Blues – Nights In White Satin
03. The Hollies – He Ain't Heavy He's My Brother
04. Glen Campbell – Wichita Lineman
05. Zombies – Time Of The Season
06. Bob Dylan – Like A Rolling Stone
07. Marvin Gaye – I Heard It Through The Grapevine
08. Roy Orbison – Oh, Pretty Woman
09. Four Tops – I Can't Help Myself
10. Aretha Franklin – Respect
11. James Brown – I Got You (I Feel Good)
12. Sam & Dave – Hold On, I'm Comin'
13. Tom Jones – It's Not Unusual
14. The Spencer Davis Group – Gimme Some Lovin'
15. The Lovin' Spoonful – Summer In the City
16. Love Affair – Everlasting Love
17. Martha & The Vandellas – Dancing In The Street
18. The Walker Brothers – The Sun Ain't Gonna Shine (Anymore)
19. The Shirelles – Will You Love Me Tomorrow
20. Mary Wells – My Guy
21. Petula Clark – Downtown
22. Andy Williams – Can't Take My Eyes Off You
23. Scott McKenzie – San Francisco (Be Sure To Wear Flowers In Your Hair)
24. Wayne Fontana & The Mindbenders – A Groovy Kind Of Love
25. Gary Puckett & The Union Gap – Young Girl
CD3
01. Nina Simone – Feeling Good
02. Frank Sinatra – Strangers In The Night
03. Louis Armstrong – What A Wonderful World
04. The Righteous Brothers – Unchained Melody
05. The Temptations – My Girl
06. Stevie Wonder – For Once In My Life
07. Smokey Robinson & The Miracles – The Tears Of A Clown
08. The Supremes – You Can't Hurry Love
09. The Archies – Sugar Sugar
10. Sly & The Family Stone – Everyday People
11. The Kinks – You Really Got Me
12. The Troggs – Wild Thing
13. Dion – The Wanderer
14. Bruce Channel – Hey! Baby
15. Frankie Valli & The Four Seasons – Sherry
16. The Shangri-Las – Leader Of The Pack
17. The Marvelettes – Please Mr. Postman
18. Janis Joplin – Piece Of My Heart
19. Harry Nilsson – Everybody's Talkin'
20. Thunderclap Newman – Something In The Air
21. Fleetwood Mac – Albatross
22. The Byrds – Mr. Tambourine Man
23. Chuck Berry – No Particular Place To Go
24. Johnny Cash – Ring of Fire
25. Desmond Dekker & The Aces – Israelites

Classic Biography Of
Santa
Rediscovered
In Time For
The Holidays
Nearly a century ago an accomplished magazine and newspaper reporter, Sarah Addington, wrote a special story for the popular magazine, The Ladies' Home Journal. It revealed the backstory of how Santa Claus came to be. It was published as a book in 1922 but the classic eventually disappeared.
Available at Amazon on :- www.amazon.com/Boy-Who-Lived-Pudding-Lane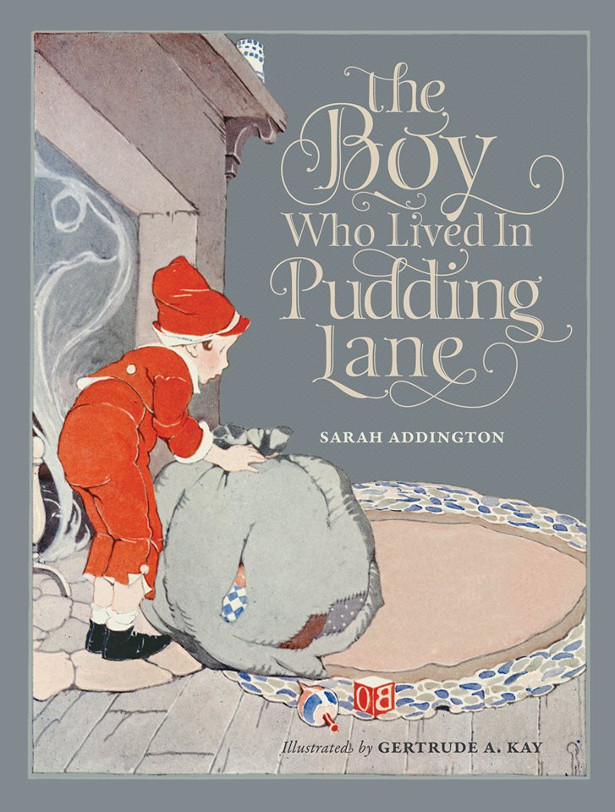 Now for the first time in years, a new generation will get to appreciate the creative and insightful tale as Pamela McColl's Grafton & Scratch Publishers has re-released this charming book, The Boy Who Lived In Pudding Lane (October 2017).
"Families and children will really love the words and illustrations in this beautiful book," says McColl. "The message is timeless, meaningful, and inspiring."
Indeed, she knows about holiday classics. Five years ago she published a unique version of 'Twas The Night Before Christmas. She released it with a few edits to the words and pictures, removing references to Santa smoking a pipe. The controversial smoke-free Santa was embraced by many and received national media coverage on The View, The Colbert Show, The Today Show and Live with Kelly and Michael. It also was featured in USA Today, Wall Street Journal, Los Angeles Times, Associated Press, Vanity Fair, National Review, and the New York Post.
So why did Addington pen the Boy Who Lived in Pudding Lane?
"To shed light, then, on the life of a popular idol, shamefully neglected by historians, is the purpose of this little study, which has been carefully and scientifically compiled from original sources," she wrote in 1921.
"This brief biography of a great hero, Santa Claus, is entered upon with the reverence due to the nature of the undertaking, and with the timidity that necessarily arises from the fact that it is breaking of new ground.
"Just why historians have, in all epic accounts, ignored probably the greatest international figure that ever existed, is a mystery to the author, for whom the antecedents, early life, and young manhood of Santa Claus have always been immensely fascinating. Nevertheless, the life of this great man has never been written."
The original illustrations by Gertrude A. Kay have been restored and enlivened for the delight of children of all ages by award-winning designer Elisa Gutierez.
We come to discover:
• Santa's tradition of giving toys to children on Christmas Eve began when Santa was just a boy.
• Santa weds Bessie, the niece of the candlestick-maker; the King and Queen attend the wedding.
• Santa, the son of a poor baker, used to give away the sweet cookies from his father's shop.
• His wife helped him make toys and candy "until she said she thought she'd turn in to candy."
• Santa's mother made 12 red suits for him when he left to work in the North Pole, "each one a bit larger than the former one, for it was supposed that Santa would get just a little stouter each year."
• Mother Goose lobbied the King on Santa's behalf and the King agreed to financially sponsor his toy-making, in part because he "feels very much indebted to you for teaching the Queen to make tarts." But he had to relocate to the North Country.
• Santa was always roly-poly, even as a boy.
• The first Christmas Santa displayed his talents was when he made toys for his siblings — two sets of twin boys, or as his mom called them – "the batches."
"Addington wrote The Boy Who Lived in Pudding Lane to satisfy her curiosity, for she had to know where Santa Claus lived as a young boy and what his family was like, and how Santa got started in the enchanting pastime of toy-making and gift-giving," says McColl. Thanks to Grafton & Scratch Publishers, this charming 1922 edition is now back in print for new generations to enjoy.
The Boy Who Lived in Pudding Lane by Sarah Addington, illustrations by Gertrude A. Kay, Grafton & Scratch Publishers, (October 2017 hardcover with color illustrations, 96 glossy pages, $22.95, ISBN: 978-1-927979-26-6.
www.stripxpertease.com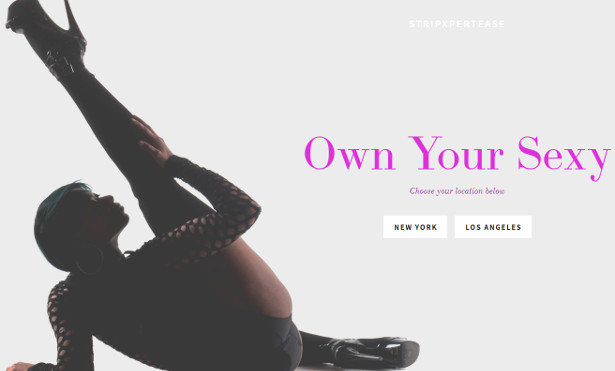 An on demand video classroom that helps women reconnect to their inner sexy!
For the past 13 years, StripXpertease, a female driven and run business, has helped women achieve a sexier, sultrier, more confident self through exotic dance. We are a little naughty and a lot of fun! We serve Los Angeles and New York, but we also have an online platform. We have a online video lesson subscription service for $9.95 a month with over 6 hours of video lessons in lap dance, floor work and striptease for women hosted through Vimeo's VHX platform video.stripxpertease.com. We upload new video lessons weekly and our site offers a 3 day free trial and the option to gift a subscription as well. For those who just want a tease, they can buy Level 1 Lap Dance or Level 1 Floor Work for $29.95 each without having to subscribe! Ladies can save $15.00 on each by using the code BFLAPFLOOR .
GIVE A GUILT-FREE GIFT THIS CHRISTMAS AND
SUPPORT SAVE THE CHILDREN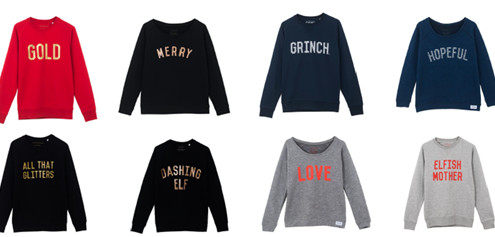 SAVE THE CHILDREN X SELFISH MOTHER
Selfish Mother, and a host of stars including Poppy Delevingne, David Gandy, Lauren Laverne, Luke Evans, Karen Elson, Laura Bailey, Erin O'Connor, Adwoa Aboah and Nicholas Hoult, have teamed up to create a range of Christmas jumpers in aid of Save the Children that not only look good but do good too.
The designs each feature unique, festive slogans, personally chosen by each model and are available exclusively at Selfish Mother's online store, 'The FMLY Store'. There are a range of unisex, crew-neck and scoop-neck sweatshirts available for £50 and children's sweatshirts for £25, all carrying a 50% donation to Save the Children.
London's one-stop-shop Greek deli is now online!
(Oh, and they deliver nationwide)

From the team behind The Greek Larder, the London-based restaurant serving modern twists on Mediterranean island classics, comes their new online shop – the new Holy Grail for thoughtfully sourced Greek ingredients.
Visitors to the website can explore the Larder's bountiful pantry, from Olive Oils of South West Crete and delicious Wild Honeys of the mountains, to the more unusual and harder to find Santorini Caper Leaves (£4.50 / 200g) (which are fantastic on roast spuds by the way!) and naturally – an Acropolis sized cellar full of Greek wines.
Owner and Patron Chef Theodore Kiryakou and his team have carefully curated the items available to buy, opening the gateway to otherwise unavailable produce from the Eastern Mediterranean basin. Customers can choose to Click + Collect or have their bundles of Greek goodies posted to them.
Stars of the show include Trikalinos Fleur De Sel (£6.60 / 100g), a marine salt of exceptional quality from the azure blue waters of the Aitoliko Lagoon, as well as fresh and bright and always slightly moist organic Vine Leaves (£7.95 / 1kg), picked at their prime and preserved in jars to ensure maximum delicacy and minimal fuss for when you get down to stuffing them with fancy rice (£1.70 / 500g) for those oh-so-good Dolmadakia (stuffed vine leaves).
Providing stardom by way of a Great Taste award is their Sweet Red Pepper + Aubergine Paste (£5.35 / 200g) – smothered inside a blushing pink Lamb Wellington, it gives a rich depth of flavour with the sweetness to cut through your buttery puff pastry.
Now, onto the wines – these aren't just any wines. These wines are a handpicked selection carefully curated by the passionate team at The Greek Larder. With over 30 Greek wines available online, they'll take you on an educational journey from the 'dark' and 'rich' red wines of the Xinomavro grape to the ever-popular Assyrtiko variety with its salty crystalline acidity. Seize this opportunity to sample their wine selection before heading to the London Greek Wine Festival on Oct 13-14th (and then purchase your favourites after!)
Delivery is charged at £6.50 with 3-5-day delivery nationwide. To discover the full product range, please visit www.thegreeklarder.co.uk

FLOOM is proud to support the Make-A-Wish Foundation UK this winter
Gift a charitable wreath with Floom this Christmas, and ensure it really is the season of giving.
Floom is delighted to collaborate with Seedlip, Hopscotch London, Baby Mori, MV Organic Skincare and The Modern Society on a range of beautiful Christmas wreaths for charity – with a donation from each sale going to the Make-A-Wish Foundation UK.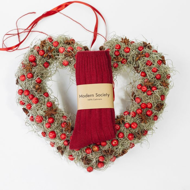 1. Lebkuchen by Zita Elze & The Modern Society (RRP £50)
Zita Elze's sensitivity to seasons is woven together with The Modern Society's cashmere socks, producing a wonderfully warm wreath, Lebkuchen, with scents of star anise and a textured dry moss base sure to hearten a loved one this festive season.
2. Cyan by Serendipity & MV Skincare (RRP £75)
The subtle scent of camellia draws together MV Organic Skincare's aromatic body oil with Serendipity Botanist's artistic flair, delicately crafting the Cyan wreath. Berried ivy and silver oak bring natural touch to a wreath certain to spruce up your household this advent.
3. Lullaby by Fresh Flower Co. & Baby Mori (RRP £60)
Red Ilex and Rudolph's red nose are beautifully entwined in the Lullaby wreath, curated between Baby Mori and Fresh Flower Company. Snapdragons, hypericum and blue pine all feature prominently, in this warm-hearted, collaborative wreath, bringing together all the family this Christmas.
4. Touch of Winter by Design By Nature & Seedlip (RRP £70)
Touch of Winter is a wreath borne out of the warm winter notes of Seedlip's Spice 94. Allspice berry and citrus peel combine for the perfect advent spirit, and Design by Nature faithfully evokes these Christmas tones in the wreath through rosemary, cinnamon, pine and thistle, yielding a wreath for all occasions this Christmas.
5. Hedgerow Wreath by Botanique Workshop & Hopscotch (RRP £75)
Inspired by the rich earthiness of pine, Hedgerow Wreath brings together Hopscotch's fragrant Cedar and Pine candle with Botanique Workshop's artisanal touch for a new take on a classic Christmas wreath, sure to fill your home with festive cheer.
For those unfamiliar with the charity, Make-A-Wish exists for one reason, to grant magical wishes to enrich the lives of children and young people fighting life-threatening conditions. Whether it's starring in their own films, walking with dinosaurs, going on an amazing holiday, meeting a celebrity hero, or having a life-changing bedroom makeover, our wishes are varied, personal and, most importantly, magical.
This winter, Floom will be donating a percentage of each collaborative wreath sale towards Make-A-Wish, to help bring a little more magic to those less fortunate and because a child's life shouldn't be about illness, hospitals and diagnosis – it should be about wonder, joy and hope.
"One of the most remarkable things since starting Floom is seeing how much love is spread through the service. Our orders constantly represent love, new arrivals, birthdays and new jobs – and then to hear such happiness from the recipients upon receiving their flowers makes it even more fulfilling. Consequently, it is a natural decision to use these sentiments to raise money to give back to the less fortunate."
Lana Elie, Founder
A Bitter Christmas Cheer
Ingredients
15ml Oxley Gin
15ml BENEDICTINE
15ml Noilly Prat Rogue
15ml Campari
1 Dash of Peychauds Bitters
Orange
Method
Add all ingredients to a mixing glass and stir
Strain over fresh ice into a short glass
Garnish with orange zest before serving
Fizz The Season
Ingredients
125ml Champagne
10ml BENEDICTINE
10ml Crème De Cassis
5ml Lemon Juice
Lemon
Large White Sugar Cube
Method
Add all ingredients to a mixing glass and stir
Strain over fresh ice into a short glass
Garnish with orange zest before serving
Just in time for the holidays, a monthly lingerie subscription from [ENCLOSED] is sure to put a massive smile on every woman's face that receives this gift.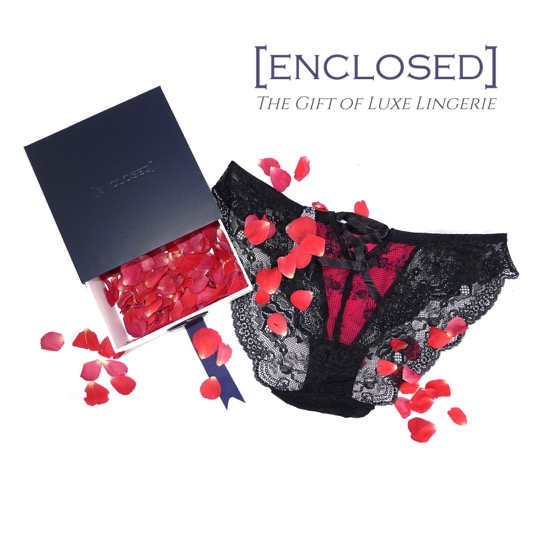 [ENCLOSED] is in the business of making women feel beautiful and adored, and is the perfectly thoughtful gift to send your wife or girlfriend for Christmas. Since 'tis the season for giving, spice it up a little bit this year with the gift that keeps on giving. Both intimate and romantic, lingerie for Christmas is the perfect way to share the holiday cheer with that special someone.
With subscriptions from one month, three months, six months or a year and plenty of lingerie add-on options, gift-givers have the ability to build their own gift package. [ENCLOSED] is all about giving—giving joy, giving luxury, giving love. With thousands of happy customers around the world, [ENCOSED] delivers joy and happiness right under her tree. With our designer lingerie options, presents are the only thing you won't be unwrapping this Christmas eve.
We are a completely tailored concierge service; our aim is to make gifting effortless. The only thing the gift-giver needs to do is fill out an online quiz about their recipient. [ENCLOSED] takes care of all the rest such as handpicking each piece of designer lingerie for her and packaging it in our keepsake box with freeze dried rose petals, so she receives a stunning personalized gift without any work for the gift giver. Our monthly subscription ensures she has something to look forward to even long after Christmas is over!
For $20 USD off your first subscription, use coupon code RUGBY during checkout, cannot be combined with any other offer. For more information about our service, please visit our website and peek through our lovely selection of Christmas Knickers! http://theenclosed.com/
A Glass Above
www.aglassabove.com
These products are handcrafted using fusible glass that is fired in a kiln, refined with cold working equipment and then fired once again in the kiln to create the perfect finish.
Their bottle stoppers are great for wine and food lovers of all ages. The jewelry pendants, earrings and sets appeal to girls/woman of all ages.
Check out  www.aglassabove.com.
Also check out this great Christmas themed bottle stopper here: https://www.aglassabove.com/store1/Fused-Glass-Snowman-Wine-Bottle-Stopper-p95251332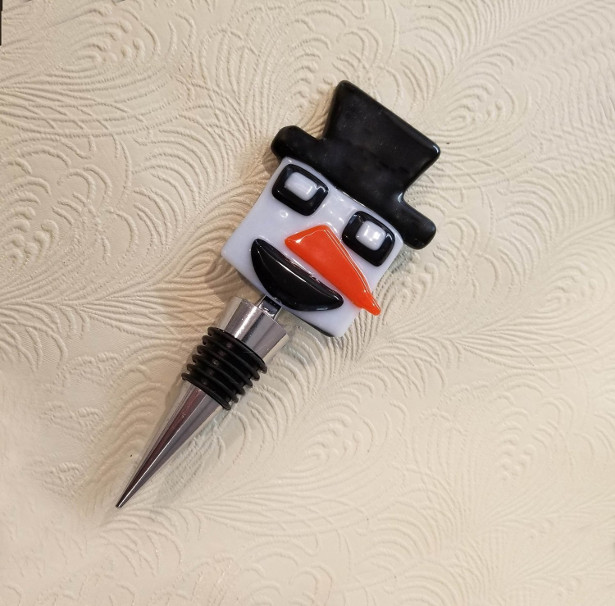 Wise Apple, a healthy, kid-inspired, ready-to-eat meal delivery service, that provide parents with a stress and time-saving solution to preparing and packing lunch as the kids.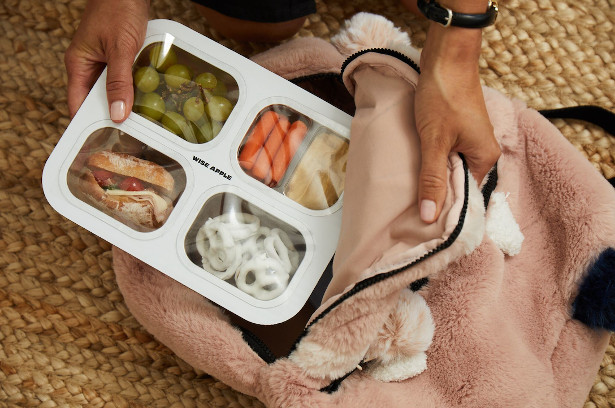 The company delivers customized weekly means for kids aged 12 months to 12 years and delivers all throughout the midwest. The service makes a great gift for any busy or new parent and consumers can gift anything from 1 week of meals to a whole year, whatever is in their budget.
For parents, going to the grocery store, planing meals and cooking from scratch is not your idea of fun. Wise Apple's subscription service makes meal-planning a snap. Choose from Wise Apple's menu, give them your child's meal preferences, wait for your box to be delivery and… bon appetit! Each week you and your kids can choose from a variety of simple to more adventurous menu options. All these kid-friendly meals include a main dish (like fan favorite mac and cheese), fruit, vegetable, and a sweet treat. No matter how picky your sweetie, you should be able to find something that suits his or her palette. Plus, there are a number of allergy considerations taken into account, with options for dairy, gluten, and nut-free meals. Moreover, all meals are said to be created as a joint effort between the company's culinary team and pediatric dietician, and promise to incorporate the highest quality protein, produce, and ingredients into each meal.
We would love to work with you to feature Wise Apple in any of your upcoming product roundup articles for the holidays. Wise Apple will also be offering gift cards this holiday season, so that consumers can redeem their gifted meals whenever they want throughout the new year. Plans start at $34.95 + shipping, save with larger orders. More at www.getwiseapple.com.