We all know that royal endorsement helps, but for one of Britain's biggest Christmas tree firms it's enabled expansion and fuelled talks of spreading overseas.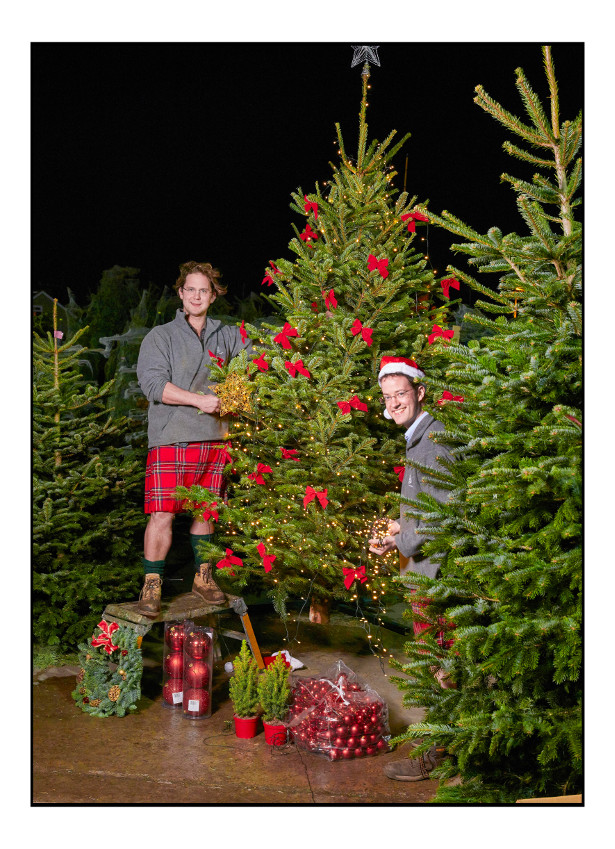 Pines and Needles is run by Tate & Lyle grandsons Sam and Josh Lyle. It's a £2.5m business – until last year when Prince Harry and Meghan Markle chose to buy their tree from the company's store in Battersea Park, sparking a buying frenzy. This year they're predicting to increase turnover by 20% and hoping to launch in the US next year.
All their trees are grown on their own plantations in Scotland and this could make a nice business piece in the run up to the big day. Other A-listers who buy from them include Madonna, One Direction and Sir Elton John.
Santa's sleigh hits a bumper £76 billion for Christmas spending
Annual study reveals the cost of this year's festivities
Santa Claus is coming to town, and so is the festive shopping season. According to new research from American Express, Brits are set to spend on average £1,551 on everything from parties and pantomimes to presents – £51 more than last year. This equates to a bumper £76 billion* spent across the nation to celebrate Christmas.
Those enjoying all the sparkling season has to offer are spending the most on getaways, such as visits to Lapland or Christmas markets outside the UK (£457) – a £71 increase from last year. The next top Christmas cost is on gifts for loved ones; with an average spend of £341, up £25 since last year.
Some Brits are particularly savvy Santas when it comes to their seasonal shopping, with a quarter (25%) using loyalty points, rewards or cashback, and 44% saving up rewards points throughout the year to make the most of their shopping at Christmas. Mrs Claus might be better at bagging bargains this year, with 51% of women saving up hard-earned points versus 37% of male shoppers. Brits estimate they save a very merry £60 on Christmas shopping by saving their points or rewards for the festive season.
The top 10 costs of Christmas:
Brits' Christmas wish list
Average cost in £
1
Christmas getaways outside the UK
£457
2
Gifts
£341
3
Christmas getaways in the UK
£255
4
Hosting parties (e.g. food, drink)
£90
5
Travel (train, bus etc. to visit relatives, travel home)
£88
6
Christmas gatherings with friends and family outside the home
£80
7
Christmas day food shopping
£75
8
New clothes
£69
9
Festive experiences (e.g. pantomime tickets, ice skating)
£60
10
Christmas decorations for your home
£36
While 27% are of Brits are eager elves, shopping at early sales and taking advantage of promotions to keep costs down, one quarter (25%) say they haven't yet thought about how they will spend smartly this Christmas.
Jenny Cheung, Director at American Express, commented: "Our research shows Santa's sack will be brimming with presents this year, but it's great to see so many shoppers taking advantage of early sales and saving up rewards points to avoid costs adding up. Using a card with cashback can help you enjoy even more of the Christmas season by knowing you are making the most of your money. The American Express Platinum Cashback Everyday Card offers 5% cashback up to £100 for purchases made in the first three months, so you can get something back for each present you put under the tree." **
American Express offers the following tips to keep your festive finances in order:
1) Plan your presents – Nearly a third (31%) of people have a budget for Christmas but say they don't always stick to it. With so much going on during the holidays, it is important to keep a track of your festive spending. Take a leaf out of Santa's book and make a list of the number of presents you need to buy and for whom, and check it twice. This way you can work out the right amount of money to set aside and spread the cost.
2) Secret Santa – Rather than buying gifts for each friend, bring back the Christmas classic, Secret Santa. Set a budget so there's no stress about finding the 'perfect gift'. By not having to buy individual presents, you will also save yourself some time – all the better to put your feet up by the fire and enjoy a hot chocolate.
3) Book flights and hotels early – Whether you're dreaming of a white Christmas or heading off to warmer weather to shake the chill, holiday travel costs can grow if you don't book in advance. Even a trip within the UK can be costly: Brits will be spending an average of £88 each travelling to visit their friends and family over the festive period. Check if you have rewards points to put towards a hotel room deal, and book your room and flights or train fares early to secure the best prices.
4) Shop local – You can support your local businesses while earning something back for yourself. If you have an American Express Card you can shop on your local high street and visit participating 'Shop Small' retailers from 2 – 17 December 2017, and you'll receive a £5 statement credit each time you spend £10 or more. For more info, visit amexshopsmall.co.uk
5) Check your offers – Make sure you're up to date on all the rewards and offers available to you, and check how many points you have on your credit, charge or store card. The holidays can get hectic when there are parties to attend and trees to trim, so check now before Christmas gets into full swing. You may well have enough to get a little something back for yourself or your Secret Santa.
Omnibus research was conducted by Opinium, 2004 adults were surveyed between 13th and 18th October 2017.
* 51,767,543 UK adults living in the UK (ONS), 95% of which are celebrating Christmas in 2017 = 49,179,166 x £1550.91 = £76,272,460,341.06
**American Express Platinum Cashback Everyday Credit Cardmembers can get 5% cashback on purchases up to £100 in their first three months of Cardmembership. For more information or to apply for an American Express Credit Card visit: https://www.americanexpress.com/uk/compare-platinum-cash-back-cards/
CHRISTMAS GIFTS THAT REALLY TAKE OFF:
MANCHESTER AIRPORT'S RUNWAY VISITOR PARK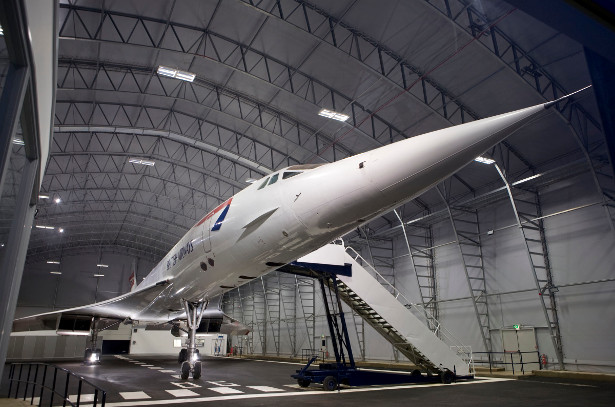 Tours of Concorde and other iconic aircraft
Stunning views of the UK's third biggest airport's runways
Xmas lunches and VIP champagne tours
Gift vouchers start from just £10
Looking for a Christmas gift that reaches new heights?
Well the Runway Visitor Park at Manchester Airport will satisfy any high flyer's festive needs this Christmas.
With a host of gift vouchers available for tours of unique aircraft, including Concorde, it is an aviation fan's dream this Yuletide.
The Runway Visitor Park is a unique visitor centre overlooking Manchester Airport's two runways. From its elevated viewing spots, the park enables aviation enthusiasts to watch the take off and landings of the hundreds of daily flights at the airport.
A popular day out for families, the Runway Visitor Park offers tours of retired aircraft including the iconic British Airways Concorde and the RAF Nimrod. For those not touring aircraft or plane spotting, there is also a play area, restaurant and gift shop to peruse.
Gift Vouchers (available online)
https://book.manchesterairport.co.uk/Rwvp/Purchase?cmd=entryPoint3
Mum, dad, little brother, big sister? The Runway Visitor Park's gift vouchers are perfect for all the family.
With classic and VIP Concorde tours there is something for everyone this Christmas. Tour prices start from £13 online.
The Aviation Shop also sell Gift Vouchers in £10 or £20 so your special someone can put these towards whichever tour they choose.
Concorde Tour and Xmas Lunch £30pp – 17th December https://book.manchesterairport.co.uk/Rwvp/Purchase?cmd=entryPoint1
Treat your special someone to a Christmas lunch they'll never forget. Tour the legendary British Airways Concorde before feasting on a delicious Christmas lunch overlooking Manchester Airport's runways. Tickets cost £30pp and even include a special Concorde keepsake to remember your day, but make sure to book in advance.
Concorde Champagne VIP Tour
https://book.manchesterairport.co.uk/Rwvp/Purchase?cmd=entryPoint1
Celebrate the festive season in style with a Champagne VIP tour of the supersonic Concorde for just £31pp. Toast in Christmas and the New Year on a two-hour tour of the iconic aircraft, before enjoying a glass of fizz underneath its wings. Booking is essential to guarantee your space.
For the techie who wants it all this holiday, choosing between Apple Mac and Microsoft Windows is no longer an issue.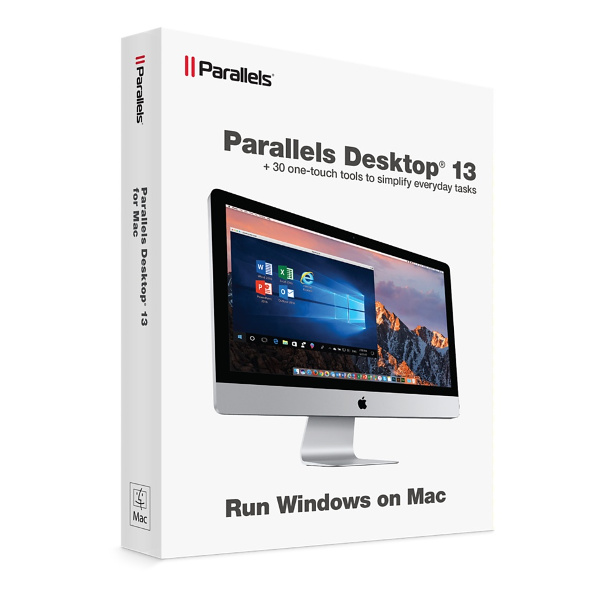 A leading desktop virtualization software, Parallels Desktop 13 for Mac, boasts macOS High Sierra compatibility, with the latest version the first to bring:
· Windows apps to the Mac Touch Bar
· Windows 10 People Bar to the Mac – including integration with the Mac Doc and Spotlight
Parallels Desktop is the easiest, feasiest, and most powerful application for running Windows on Mac—without rebooting. Get up and running in minutes. Easily bring all of your files, applications, browser bookmarks, and more from your PC to your Mac. You can now purchase Parallels Desktop 13 for the holidays here: https://www.apple.com/shop/product/HLHQ2LL/A/parallels-desktop-13-for-mac
Air Fryer Pan

This air fryer baking pan is a must have for any air fryer owner. This non-stick pan allows you to prepare so many more healthy dishes using the air fryer including different types of cakes, macaroni with cheese, Asian style fish, BBQ pork strips, air fried omelettes and many more
The diameter of the pan is 6.1 inches and height is 3 inches making it compatible with all main brands of air fryers.
This will also be a great gift idea for anyone who owns an air fryer.
Product also comes with a free recipe ebook with 15 mouth-watering air fryer recipes and a 100% money back guarantee.
https://www.amazon.com/dp/B06XKZTBYJ
Baking Mats
How often do you end up spending hours trying to clean your oven trays after baking something?
With Makewell non-stick baking mats, you can completely forget the cleaning hustle. Just place these mats in the oven and place the food on top. You can remove the food from the mat after baking effortlessly making your life that much easier.
The mats are PREMIUM grade with a thickness of 0.7mm ensuring years of lifetime.
Makewell non-stick baking mats are thoughtfully sized at 16 ½" x 11 5/8" to fit standard half size baking pans and can withstand temperatures of -40F to 450F.
The unique packaging and eye catching colors makes it a wonderful gift item too.
Product also comes with a free recipe ebook and a 100% money back guarantee.
https://www.amazon.com/Makewell-Non-Stick-Silicone-Reusable-Dishwasher-Safe/dp/B06XFWVK7P/ref=sr_1_1?m=A326EU46HS97K7&s=merchant-items&ie=UTF8&qid=1511085268&sr=1-1&keywords=silicone+baking+mat&dpID=5180%252BJWFXzL&preST=_SX300_QL70_&dpSrc=srch
Wooden BBQ Grill Cleaner
Do you know how dangerous is using wire brushes to clean your grill? There are many cases reported where wire bristles ended up in stomach causing serious health issues.
An estimated 1,700 Americans went to an emergency room between 2002 and 2014 after having ingested wire bristles in grilled food, according to a study published in 2016 in the journal Otolaryngology-Head and Neck Surgery.
The good news is that now you have a safe alternative for wire brushes. The Good Life wooden BBQ grill scraper is made of 100% natural bamboo and the unique design makes it a perfect grill cleaning tool.
Whether you have a charcoal, char broil, electric, propane or gas grill, whether you're dealing with iron, ceramic, or porcelain grates, this wooden scraper complements it all with standout quality.
https://www.amazon.com/dp/B074YKPGZL
Perfect gift for the Rugby lover!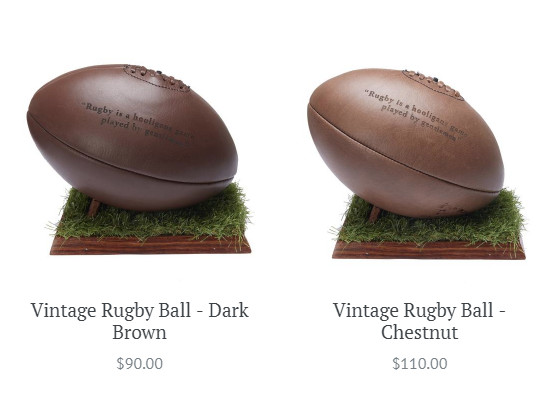 This vintage handmade leather rugby ball is a blast from the past, when all rugby balls were made of leather and when wet, near impossible to pass, let alone catch! They make the perfect gift or presentation piece for anyone that loves rugby.
The rugby balls are made from premium hide leather and presented on either a timber plinth or artificial grass.
What makes our balls unique is the personalisation with laser engraving; balls can be personalised with your special message, rugby logo or one of our classic rugby quotes.
www.resoluterugby.com
Hab Shifa (http://www.habshifa.com.au)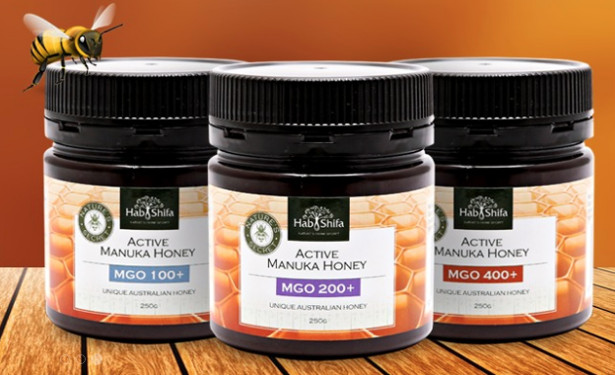 Hab Shifa sells a whole range natural products made out of black seed oil and seeds. The products – which ranges from capsules, oil form and condiments to shampoo, conditioner and body wash – are all Australian made and owned. Hab Shifa's black seed oil is the first in the world to be included in the Australian Register of Therapeutic Goods (TGA).
Hab Shifa also has a Manuka Honey range.
Hab Shifa's products are suitable for both women and men of all ages. They are available in most pharmacies and health food retailers across Australia. They are also exported in 8 countries, including the UK.
The black seed, which is also known as Nigella Sativa, has a long reputation as both a culinary spice and an important medical herb in many parts of Asia, Africa and the Middle East. Over the past 50 years, the seeds and its oil have been investigated in more than. 800 scientific studies. Research suggests that it supports the functioning of the immune system, and has antihistamine-like effects and therefore may aid the management of allergic reactions such as hay fever and eczema. It also supports the health of the skin and liver, and healthy cholesterol and blog sugar levels.
The Urban Greens Windowsill Grow kit allows you to gift the health benefit of growing your own microgreens!
Packed with nutrients and a go-to superfood, growing your own microgreens is healthy and rewarding.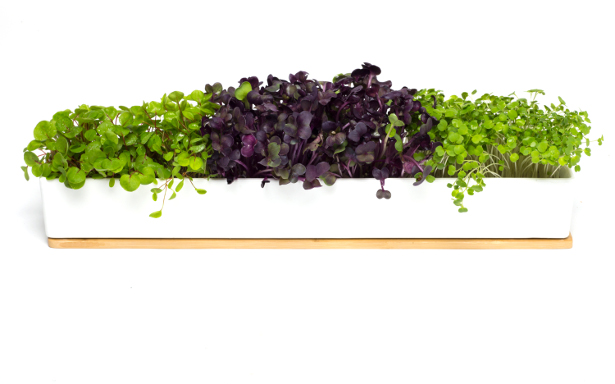 The beautiful porcelain windowsill box contains organic growing substrate and three varieties of microgreen sprouting seeds.
The bamboo lid flips over to double as a drip tray.
A stunning gift this Christmas!
RRP:$49.95
Available at https://www.urbangreens.com.au/
Christmas gift suggestions from BWS
St Hugo – Cabernet Sauvignon
Perfect for a gift for Dad. A smooth medium- full bodied red wine from the Coonawarra Region. Slight mint and oak flavours with a slight vanilla aftertaste. Great for a gift for someone or to have yourself with some barbecued steak. Can be cellared for the next 8 to 10 years.Named after the famed Johann Gramp's grandson, Hugo, this is the very best Cabernet Sauvignon in the stable. From the very best sites in the region of Coonawarra, this wine shows classic regional mint and blackcurrant on the nose with a silky supple palate, elegant fruit characters, toasty oak and lon g, fine tannins.
Other suggestions include Singleton Spey Cascade (Speyside Single Malt whisky), Veuve Clicquot Brut and Four Pillars Dry Gin.
www.thegoodseedkefir.com.au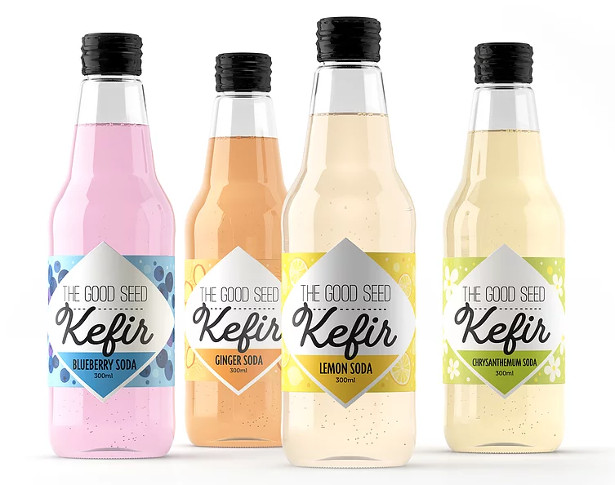 The Good Seed has been up and running 2 years now, we started from a small shared kitchen space at back of cafe and now our small start up company is based in the Mornington Peninsula of Victoria. Purveyors of fermented foods. Our passion is to promote wellness through the probiotics in our creations (recent studies has shown the importance of having a balanced gut micro-biome as it affects our overall health and wellness, the second brain/gut plays an incredibly important role in regulating the immune system, mood and energy levels).
We have 2 part timers and ourselves (a husband and wife team), our drinks 'Water Kefir' are being distributed in Victoria and WA. We've got lots to share and learn. Would to collaborate anyway we can.
Appleton Estate Rare Blend 12 Year Old
The Appleton Estate Rare Blend 12 Year Old has joined the existing range of award-winning premium aged rums, all of which are produced from 'cane to cocktail' on the Appleton Estate in the lush Nassau Valley in Jamaica. Appleton Estate is Jamaica's oldest distillery and has been crafting rum for over 265 years.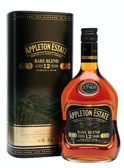 This special rum is a true expression of the Master Blender's craft and passion. The rare, golden rums that make up Rare Blend are hand-selected, and have all been aged for a minimum of 12 years. The long years of tropical ageing give it its rich mahogany hue, confident woody character, and smooth robust taste – all of which make a bold statement of extraordinary quality.
RRP: £35.00
Appleton Estate Rare Blend 12 Year Old is available from selected specialist retailers
NEW Burt's Bees® All-Weather SPF 15 Lip Balm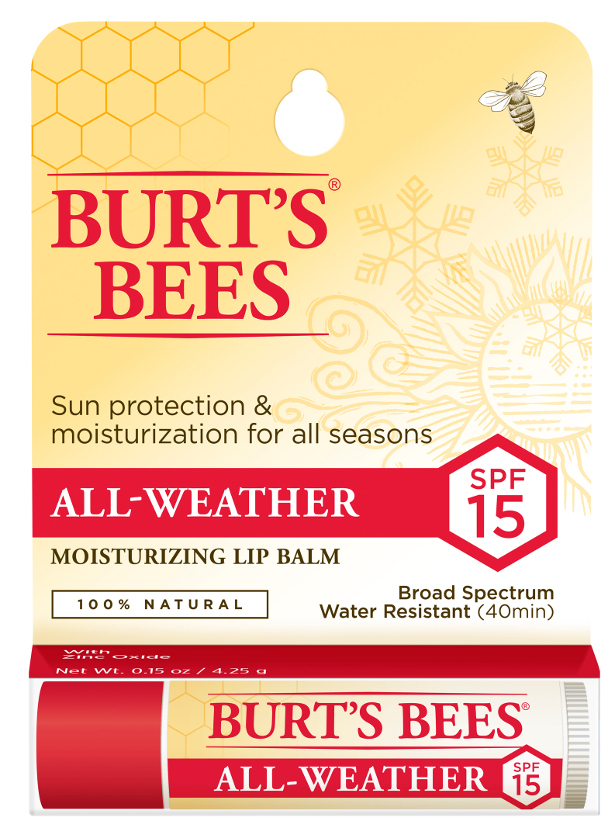 For almost 30 years, Burt's Bees has looked to nature to create skincare that works. Nature lovers, rejoice! Now, you can revel in the outdoors all day long without the worry of dry or sun-scorched lips. Instead, keep lips hydrated and protected year-round with new Burt's Bees All-Weather SPF 15 Lip Balm. Formulated with Zinc Oxide – a physical, mineral-based sunscreen that reflects UV rays naturally – the balm's formula moisturises lips with nourishing ingredients Beeswax, Meadowfoam Oil, Cocoa Seed Butter and Olive Fruit Oil. Unlike some natural SPF formulas that can produce an uncomfortable white cast on the skin, Burt's Bees All-Weather SPF 15 Lip Balm is formulated to provide 100% natural protection without an unsightly tradeoff. The result is all-weather protection and safe, superior moisturisation that your lips will love – winter, spring, summer and fall.
Cheers to….
Skin Health – for skin that glows from the inside out
Natural Beauty – using the very best and purest from nature to allow your natural beauty to shine through
Happiness – through the power of The Greater Good: the idea that everything we do should be good for you, good for us and good for all.
Give your skin
THE LOVE & CARE IT DESERVES.
BUSH TUCK-IN TRIAL: UK'S FIRST CRICKET-LOADED DOUGHNUT GOES ON SALE TO MARK I'M A CELEB KICK OFF
To mark the return of I'm A Celebrity Get Me Out Of Here, Australian-made Doughnut Time has announced today that they will be selling the UK's first doughnut – loaded with creepy crawlers.
For Brits, the highlight of any edition of I'm A Celebrity is the legendary Bushtucker Trial. With the nation's insatiable appetite for watching famous faces put themselves through hell in the name of entertainment, the doughnut doyens have created their very own challenge for fans.
Coined 'The Bushtucker', the baked good includes similar critters that the likes of Scarlett Moffatt, Gillian McKeith and Gemma Collins have been seen chomping on. Those who want to confront their fears won't need to go all the way down under to take part, as the limited-edition treat will be available from today (Monday 20th November) until Friday 24th November at their London store located on Shaftesbury Avenue.
For most diners, the thought of eating insects might prove to be one culinary step too far – even if it meant going hungry in the jungle. However, those who are brave enough to endure the trial can expect a milk chocolate glazed ring doughnut, laden with salt and vinegar-flavoured crickets. The makers of the stomach-churning treat have described the taste as 'sweet and tangy with a serious crunch'. The doughnut also includes a generous helping of Oreo crumb, Shredded Wheat and raspberry jam to sweeten the deal.
With the show hosted by national treasures Ant and Dec, the Australian doughnut brand has confirmed they will be offering ITV and the duo the chance to undergo the experience for themselves whilst in the bush.
Challengers back in the UK who complete the task in-store will walk away with their very own gold star, alike the ones that will be awarded to contestants throughout this years series. The gold star will entitle the champion to a FREE doughnut, that can be claimed until the 24th November 2017.
Laura Loubet, Marketing Director for Doughnut Time commented on the creation, stating: "Are you and your friends fans of I'm A Celeb and their tricky Bushtucker Trials? If so, this is the perfect way to see if you could hack a real life trial down under in the jungle!"
'The Bushtucker' will be available for £4.50 from Monday 20th and Friday 24th November whilst stocks last.
Make your Kitchen shine with Fritz Fryer
It's no secret that effective lighting can completely transform an interior scheme, and the kitchen is no different. Fritz Fryer's range of kitchen lighting spans from contemporary to traditional, meaning every home can benefit from their expertise.
WALKING IN A WINTER WONDERLAND WITH OFF GRID HIDEAWAYS
**If Christmas leaves you cold, swap the family bickering for fireside flickering with this collection of beautiful remote properties**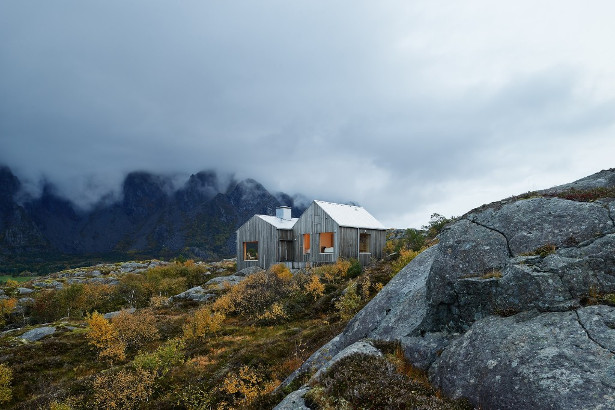 Looking to escape the commerciality of Christmas and its gaudy tinsel trimmings? The newly-launched Off Grid Hideaways has the answer: a handpicked collection of remote and stylish properties in some of the most beautiful and isolated locations across the world. Sufficiently remote that only the most special of Christmas visitors will find you – and your chimney – on his annual festive rounds…
Life is luxuriously slow with Off Grid Hideaways – a far cry from the frenzied festivities of Christmas at home. Spanning North and South America, Europe and Asia, Off Grid Hideaways champions slow and sustainable travel to remote destinations. Be it country, mountain or sea, these undiscovered getaways offer an antidote to Yuletide mayhem – kayak uninhabited coastlines, hike in the hills, fish for your own supper, ride across farmland or simply lie back and enjoy the perfect solitude of a deserted beach. From reclaimed fishing huts in ecologically significant nature reserves to contemporary mountain cabins in vast national parks, Off Grid Hideaways offers the ultimate silent night!
Chosen for their sustainable and low impact effect on the environment, each property's aesthetics also reflect the desire to showcase high impact design and outstanding architecture. Luckily 'going green' doesn't mean ditching the creature comforts: from Egyptian cotton bed linen and coffee machines to beauty therapists, swimming pools, kayaks, bikes and horses to rent, Off Grid Hideaways redefines the concept of luxury. Fewer possessions, more experiences – an opportunity to strip away the noise, reconnect with nature and have fun with friends and family. The true spirit of Christmas.
Co-founders Sina Murphy Chan and Flavia Kämpf Spahr comment: "Christmas is not only the time of year when we give to others but also a time for peace and rest. Our hideaways offer the perfect setting for this."
www.offgridhideaways.com
Brand-new campaign, from the International Olympic Committee 'Become The Light.'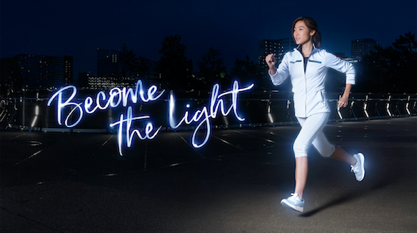 After a recent discovery that 9 out of 10 people in refugee camps have no access to electric lighting the IOC, UNHCR (United Nations High Commissioner For Refugees) and the UN Refugee Agency launches a new campaign today, inviting people from around the world to 'donate' their physical activity.
Participants can use the Olympic Channel to connect their fitness trackers and record their physical "donations" as "sparks". Participants can also compare their activity to the overall Olympic+ Community, their friends and Olympians!
Once the total goal is achieved, the IOC will make a donation to the UNHCR to light up streets, households and sports areas at the Mahama Refugee Camp in Rwanda, assisting over 55,000 refugees, by providing sustainable, solar powered lighting solutions.
Coco Fuzion 100 announces Chris Robshaw and Chris Eubank Jr as Brand Ambassadors
C7 Brands, one of the UK's leading independent drinks companies, has announced today that rugby and boxing stars Chris Robshaw and Chris Eubank Jr will become the latest ambassadors of the Coco Fuzion 100 range. The sporting stars will promote the range, which provides a healthier alternative to sugary sports drinks. The range includes the UK's first all-natural, carbonated coconut water, in four flavours and the still 330ml sports bottles, perfect for the leisure and fitness markets.
Jane O'Connor, Group Buying Director at C7 Brands said "Our team of ambassadors spans esports leadership and international sportsmen and women. The primary engagement point with them has been through the usage of the product, particularly as the health debate is so high on everyone's agenda. The Coco Fuzion 100 brand was initially created in response to a growing demand in the elite sports environment, where the health benefits of coconut water have been well understood for some years. Our multi-million pound marketing and engagement plans around our ambassadors are significant."
Sir Ian McGeechan, who heads up the ambassadorial team, commented "Given the prevalence of the health debate, I am truly excited by the balance and stature of the team and the plans for 2018/19 are truly impressive."
(RED) Special Edition Bottle, £38
Belvedere Vodka, clos19.com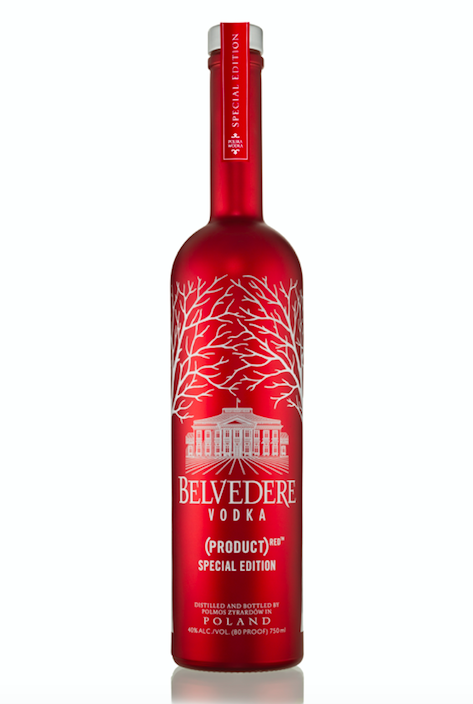 ASTROBOT JIMU Kit, RRP: £179.95
Perfect for: Kids & teens
What is it? An educational robot range for children 8-14 that promotes creative, logical programming to enhance STEM (science, technology, engineering, maths) skills through 3D dynamic tutorials and step-by-step coding adventures in the newly updated JIMU app.
ASTROBOT is the latest addition to the award-winning JIMU construction kit range, which includes MeeBot, BuzzBot and TankBot. Using Blockly coding, users can drag and drop blocks within the JIMU app to program their robot to move.
ASTROBOT's features include:
3D dynamic instructions – The intuitive Jimu App provides 3D, 360° animated instructions to help guide you step-by-step through the building process.
Upgraded Accessories – The Astrobot Kit includes two multi-colored LED lights that let you express 12 different emotions, a Bluetooth speaker that lets you program sounds, and an infrared sensor that detects objects to pick up or move around them.
Servo Motors – The Astrobot Kit includes five servos that can make your robot perform more movements like picking up objects and rolling on treads – the robot creation possibilities are endless.
Pose, Record, Play – With the PRP feature, it only takes three steps to program your own actions and have them played back to you instantly for hours of fun.
· Price: £179.95
· Retailers: Amazon, Selfridges, Harrods
Make your real life pet the star of a personalised storybook in this year's cutest gift for any pet-lover
"Some recipients can't stop smiling, others burst into tears."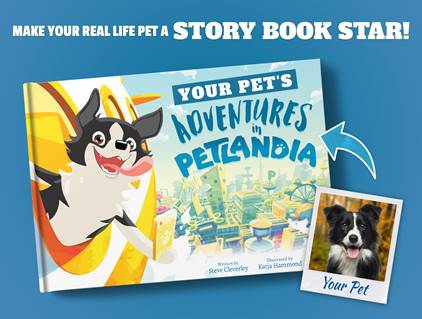 If you're looking for this year's cutest gift for any pet-lover, look no further than Petlandia.com, which lets you make your real-life pet – or anyone else's – the star of its own personalised storybook.
By visiting Petlandia.com (www.petlandia.com), and using a simple online tool, you can create an adorable lookalike of your dog or cat in just a few clicks.
This lovable likeness of your pet can then star in its very own 36-page personalised storybook, delivered in days – at the all-in price of just £19.99.
Hilarious but heartwarming, each supremely silly, hand-illustrated book also includes the name of the pet's owner and hometown.
You can also create a book starring two different pets – "Petlandia Roadtrip", a fur-raising tale of friendship, loneliness and love.
Or, if your pet prefers some famous company, it can even star alongside Grumpy Cat, everyone's favorite sourpuss, in an all-new grumpy adventure, called "[Your Pet] meets Grumpy Cat in Petlandia" http://bit.ly/GrumpyCatInPetlandia.
Can your pet make Grumpy Cat smile? Now's your chance to find out. To quote Grumpy Cat, "It's the worst book ever!"
The first 1,000 buyers of the new "Grumpy Cat in Petlandia" book – launched October 18th – each get a special limited and numbered edition, complete with Grumpy Cat's paw print.
Petlandia books are perfect keepsakes for pet-owners of all ages. Buy one for yourself, a friend, loved one or anyone else.
"Even we've been surprised by how much people really seem to love their Petlandia books – and how emotional they get on receiving one", says Steve Cleverley, Chief Barketing Officer of Petlandia. "Some can't stop smiling, others burst into tears."
From Mew York and Hollywoof to San Franbiscuits and beyond, Petlandia is the place where all pets want to be, including yours.
Simply enter the name and details of your pet – or anyone's – to fetch your storybook.
BUT DON'T TAKE IT FROM US…
This is what others are already saying and posting about Petlandia's unique personalised storybooks.
• "These personalised pet books might just be the best thing I've ever been sent."
Sam Chapman from Pixiwoo: star YouTuber, blogger, professional make-up artist, cat lover,
co-author of beauty book FACE and co-founder of Real Techniques makeup brush brand.
• "This is one of my favourite presents because it made me laugh so hard. I absolutely love it. So cute. Such a cute present."
Fleur de Force, star YouTuber, blogger, author of The Luxe Life & The Glam Guide.
• "@petlandiapost just sent me this. I miss my dogs. I actually welled up a bit."
Niki Albon, YouTube star and radio presenter.
• "Worst. Book. Ever."
Grumpy Cat.
• "Omg @petlandiapost Thanks so much for our amazing personalised pet stories! This is such a fantastic surprise."
Roxetera, YouTuber and social media star.
• "This is one of the cutest things that I have ever seen … I would just like to thank team Petlandia for these amazing books."
Charlotte Crosby, British reality TV star of Geordie Shore and Celebrity Big Brother.
• "The book is amazing – everyone here is wowed! I wish I had filmed the reaction when my colleague read it."
Dina Ahmad, Senior Marketing Officer at The Kennel Club.
Anti Monkey Butt – a body powder that fights frictions and keeps skin silky smooth.
www.antimonkeybutt.com
Though Anti Monkey Butt has a silly name, it's the solution to a not-so-silly problem many fitness enthusiasts face: chafing. A study commissioned by Anti Monkey Butt found that more than half of adults (60%) have experienced chafing and the three most common activities in which irritation occurs are walking (26%), exercising (25%), and running (21%).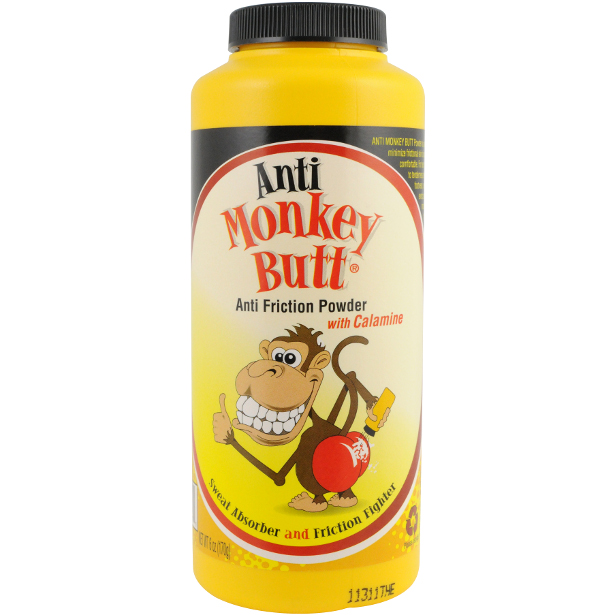 Luca Faloni Cashmere Hoodie
Priced at: £265
Available from: www.lucafaloni.com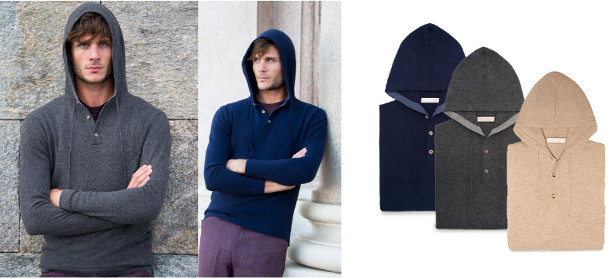 How about we create special Dad and Son bow tie sets.
Uber cute!
mensfinest.co.uk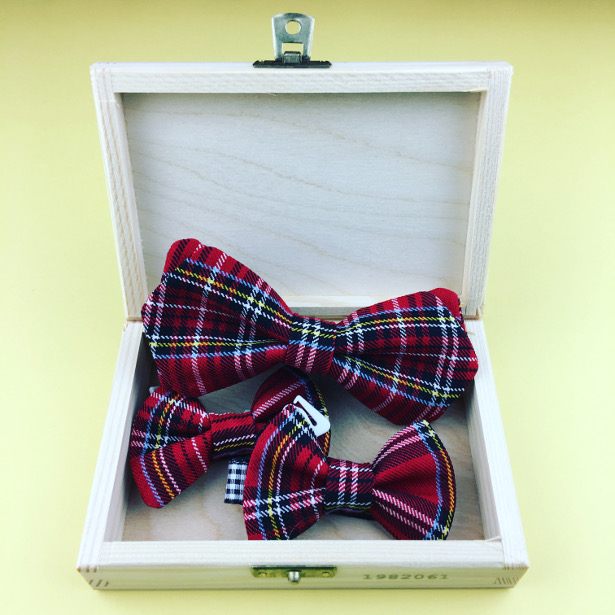 Transatlantic rugby league team Toronto Wolfpack will use Manchester Metropolitan University sports facility as UK training base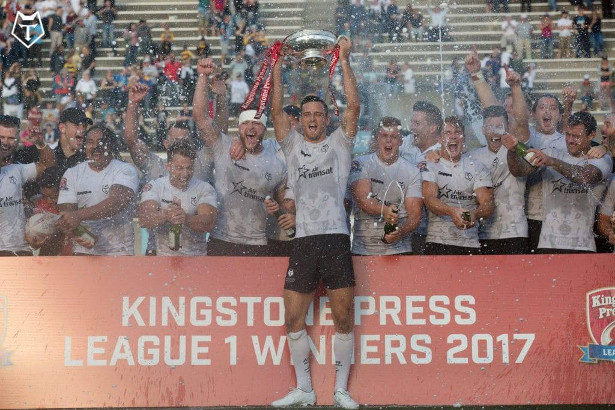 Pioneering ocean-hopping rugby league team Toronto Wolfpack will make Manchester their home away from home — by using Manchester Metropolitan University's Platt Lane Sports Complex as their UK training base.
Canada's first professional rugby league side will compete next season in the Kingstone Press Championship, the second tier of British rugby league, after winning automatic promotion as champions from the division below with two games remaining.
As the world's first transatlantic sports franchise, Toronto Wolfpack play blocks of back-to-back away league matches during extended stays on British soil as part of a unique fixture arrangement to minimise disruption and travel costs for them and opponents.
Through a partnership with Manchester Metropolitan University's MMU Sport, the club will use Platt Lane Sports Complex in Fallowfield, south Manchester, as their full-time base between home games in Toronto.
Players and backroom staff will have access to not only the 3G pitch but also the strength and conditioning suite, physio room, video analysis equipment and lounge.
Brian Noble, Toronto Wolfpack's Director of Rugby, said: "Manchester Metropolitan's first-class facilities are on a par with the best in the game and we're excited to see what opportunities this partnership with bring for our players.
"As one of the finest universities in the UK, Manchester Metropolitan's expertise, support and knowledge will be extremely valuable to us.
"There's never been a better time for Toronto and Manchester to be collaborating – and as two pioneering organisations, I predict the year ahead to be very, very exciting."
The partnership will bring a number of exciting prospects for the University, which is keen to strengthen its international reputation and use the partnership to highlight its world-class sporting facilities and innovation.
It includes a coaching agreement in which one of the club's players take on the role of coach for the University's Rugby League first team.
Professor Richard Greene, Manchester Metropolitan University's Pro-Vice-Chancellor for Research and Knowledge Exchange, said: "As a University we are known for our innovation in education and this partnership with Toronto Wolfpack – one of the most pioneering clubs in the world – will create all sorts of exciting opportunities, both sporting and academically.
"Manchester Metropolitan has a world-class brand and we envisage that the club's potentially huge international fan base will enable us to reach a much wider and diverse audience."
Toronto Wolfpack began using Platt Lane Sports Complex this month in preparation for their debut Kingstone Press Championship campaign in February 2018.
Notes to editors
For more information contact Ian Proctor in the Manchester Metropolitan University press office on 0161 247 2026 or i.proctor@mmu.ac.uk or contact Toronto Wolfpack press officer Martin Vickers at martin@torontowolfpack.com or 07808556315
For more about Toronto Wolfpack see:
www.torontowolfpack.com
www.facebook.com/TorontoWolfpack
www.twitter.com/TOwolfpack
www.instagram.com/torontowolfpackofficial
SMITH & SINCLAIR
MRRP £15.99 for eight // £25.99 for sixteen
Available at smithandsinclair.com/shop
Also available at John Lewis, Not On The High Street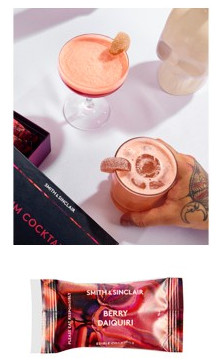 Edible Cocktail pioneers Smith & Sinclair have updated flavours and introduced new gift options for its hugely successful range of Edible Cocktails, and all just in time Christmas. A truly unique way of enjoying your favourite cocktail, Smith & Sinclair's Edible Cocktails are made in London using only fresh fruit, real spices and high quality alcohol. Each one holds a subtle kick at 7% ABV (the equivalent of half a shot of alcohol) and now come conveniently wrapped in pick 'n mix-inspired single serves, packaged in beautiful premium gift boxes of eight and sixteen. Flavours:
Gin – Gin & Tonic // Elderflower Spritz
Vodka – Rhuby Mule // Long Island High Tea
Rum – Berry Daiquiri // Spiced Rum
Whisky – Whisky Sour // Godson
Perfect for friends, loved ones, family or even yourself this Christmas, these Edible Cocktails are a festive treat guaranteed to get you merry!
Amin Aquatics' fish tanks!
Amin Aquatics, a service which specialises in designing, installing and maintaining bespoke aquariums and fish tanks, offers custom designed aquariums for sale or rental for those who want to bring nature into their home or office. The tanks are made from high-quality materials and come with a filter and heater which is perfect for any fish keeper from a complete novice to someone more experienced. With their small desktop fish tanks selling for up to £300, we feel they could be a perfect Christmas gift for animal lovers.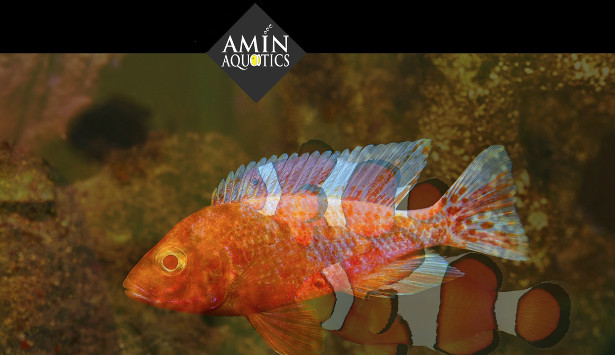 The Kickbike is the ultimate adult scooter!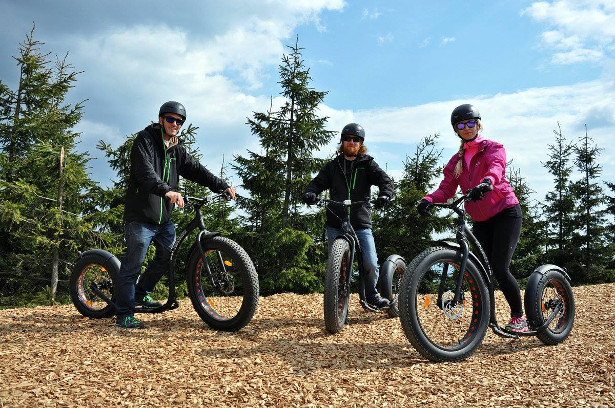 Just like the ones we rode as kids, but made for the guy (and girl) that refuses to grow up. These are super fun, but they are no toy. Made with aircraft grade aluminum alloy and top of the line race and mountain bike components, the Kickbike is made for extreme competitive racing, but is super easy and safe for anyone to ride.
They have 11 totally different models covering every person and adventure. Below is a picture of the legendary FatMax as an example.
Here is a link to their website for more info – https://www.kickbikeus.com/
TheraGun G2PRO
The product is now available for purchase within the Australian market via the following website: www.theragun-australia.myshopify.com.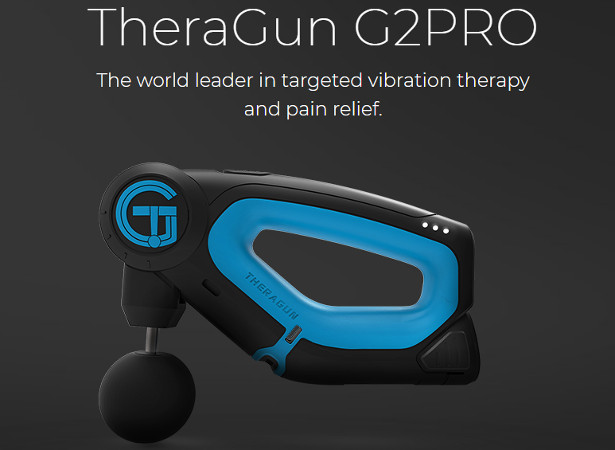 TheraGun G2PRO
$599..00 (USD), www.theragun.com or
www.Amazon.com
Lightweight, compact and battery-operated, the TheraGun G2PRO isthe muscle treatment device taking the fitness world by storm, making it one of the hottest commodities on the market.
From pro-athletes the likes of Kevin Love and the New York Jets, to celebrities such as Kevin Hart and Nick Lachey, the product has become a must-have for anyone that lives an active lifestyle, providing targetedvibration therapy, which:
Increases blood flow
Accelerates muscle recovery
Prevents injuries
Improves performance
Activate muscles (ideal for warming up before a workout, or strenuous activity)
Flushes out lactic acid build-up (perfect for your post-workout recovery)
Consumers have also been using the G2PRO for muscular pain relief by treating spasms, knots, soreness and medical conditions such as plantar fasciitis and multiple sclerosis.
Awesome up-and-coming natural leather shop, Linny Kenney Leather (linnykenney.com)
Insanely good stuff, custom art available, all natural leather and dyes.
Sock Fancy
A monthly sock subscription service that is the perfect gift for the Rugby player/lover on your list.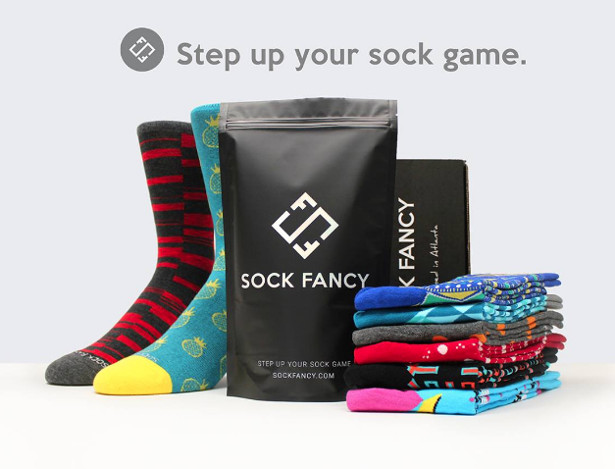 They design fun, wearable socks for men and women and deliver a random pair to you each month (with free shipping worldwide)!
1. We're not a sock of the month club. We ship a random assortment of awesome socks to our members each month (versus a single design to everyone). Members receive one, two or six socks per month (depending on their subscription). Memberships start at $11 per month. All of our subscriptions are here: sockfancy.com/product/adult-subscription/
2. Our designs are exclusive. We design our socks in house (so you can't get them anywhere else), and have a number of limited edition versions for pop culture/holiday moments. Peep a few of my faves below!
3. Our socks last years. Our high quality socks feature 70% combed cotton, reinforced heel and toe, and a no-slip cuff band.
4. We make socks for men and women. While the men's and women's designs are different, everyone loves them (seriously). Men's fits: 8-14, Women's fits: 5-10.
sockfancy.com
instagram.com/sockfancy
#GIVESOCKFANCY
DogKnows
DogKnows, translate, illustrate and celebrate the unique qualities and thoughts of our four-legged philosophers who bring so much to our lives. They created a line of canine-inspired apparel for dog lovers. Check them out at dogknowsgear.com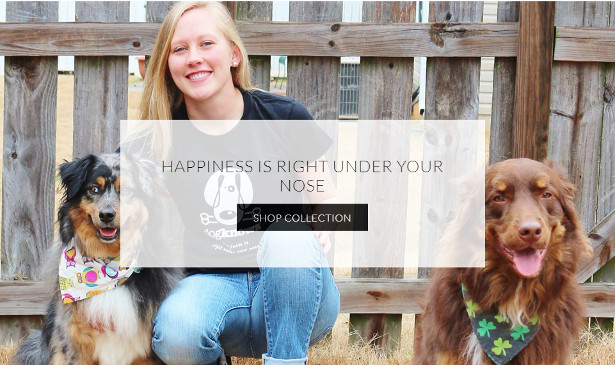 Picture It Quilts: www.PictureItQuilts.com.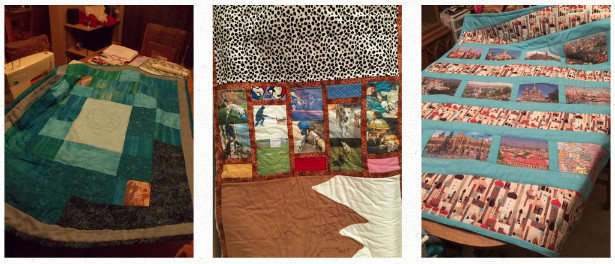 The business is owned by Karen Berman of New Jersey, a true lover of animals as you'll notice by the example quilt she made featuring her two dogs. They design custom quilts with customers memories in photos or documents to preserve an event, milestone or to give as gift to someone to remember them. It truly is a gift for someone who has everything including grandparents, graduates, teenagers and new parents!
pictureitquilts.com
GlobeIn, a social business dedicated to supporting remote artisans from around the world.
globein.com
Their main product is a monthly Artisan Box subscription, where every product fights poverty through job creation and fair wages.
Their "Chef" and Savour Artisan Boxes would make great gifts for food lovers! They also have a variety of individual lifestyle and home decor products available in their shop!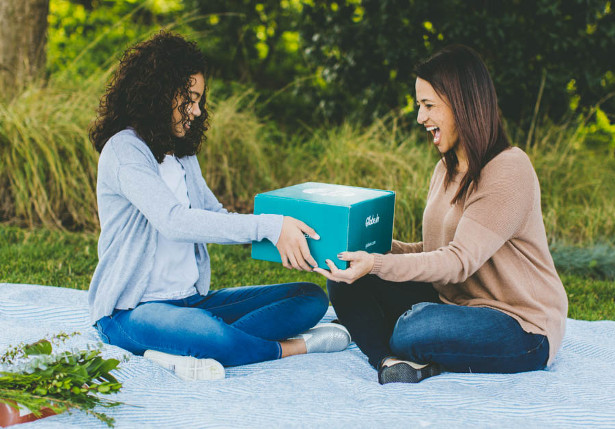 Name That Cookie

Specialize in personalized cookie cutters for dogs (…or the dog lover in your life)!
A very popular item for the holidays, as everyone KNOWS someone who would absolutely make these for their pup.
Shop, complete with 1300+ five star reviews at www.namethatcookie.etsy.com
namethatcookie.com
Cozy Reader Club
cozyreader.club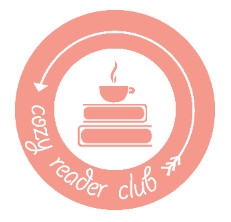 Cozy Reader Club Subscription boxes are hot right now! They feature a monthly box including a recently released women's fiction novel, beautiful handmade items, small craft artisan coffee or tea, and gourmet handcrafted treats. They focus on locally made and artisan products and support small businesses throughout the US. Their boxes provide everything busy women, especially moms, need to curl up with a good book and take some meaningful time for themselves.
Change your Mood By Changing Your Color
www.tinalensing.com
This personal growth, coloring book will transform your way of thinking so that you can expand your color palate, go from drab to fab and turn the illustration into your treasured masterpiece.
THIS GOES BEYOND JUST COLORING.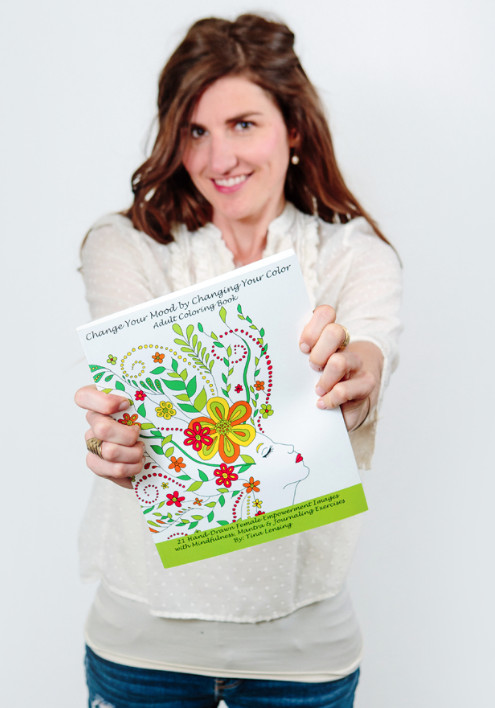 This ultimate coloring experience allows you spark creativity and feel inspired. Female empowerment images, along with journaling, mantras and mindfulness exercises help you step into your power and own your feminine gifts. Open up the book and begin to explore the uniqueness and passion that you bring to the world.
What's in it for you?
Reduces stress
Feel empowered and inspired
Create a positive mindset with journaling prompts
Unleash your inner child
Spark creativity, lightness, and playfulness
Self-Care: take time for yourself
Calm your mind and become more present
Have lots of fun!
Louie's Legacy Animal Rescue Announces its 2018 Annual Fundraising Calendar "Paws of Gotham" Photographed by Candy Kennedy

Photo Credit: Candy Kennedy
Celebrities, Influencers, Activists and Models pose with rescue pets for a charity calendar to raise funds for animal rescue
"Paws of Gotham" is Louie's Legacy's fourth annual calendar aimed at raising funds to rehabilitate and re-home animals from high-kill shelters across the United States. "Paws of Gotham" was shot by famed South African photographer Candy Kennedy. The images she captured focus on the diversity of both people and pets, and showcase the noise and colorful energy of New York City. Each month features a stunning photo of a real rescue pet, most from Louie's Legacy, with a celebrity, influencer or model, and is shot in front of an iconic New York scene.
Candy Kennedy, along with celebrities, influencers, activists and models such as Mario Cantone, Maggie Geha, KhrystyAna, Brett David and Chef Rōze Traore, just to name a few, have all donated their time and efforts in hopes to raise funds for Louie's Legacy's important cause.
"This project has given me the opportunity to combine my love for animal charities and New York," says Kennedy. "Not only was I able to work with some amazing and creative people on this calendar, but they all share the same love for animals, which makes this project very rewarding and special. I am very proud of how hard everyone worked to find the perfect locations, people to shoot, and most importantly, to fit the right pet with the right person. There is nothing better than the feeling of helping an animal or person in need."
Pre-orders start Monday, Oct 9th and can be made by going to http://www.louieslegacy.org/wp/calendar.
About Louie's Legacy Animal Rescue
Louie's Legacy Animal Rescue, Inc., is a non-profit, grassroots all-breed animal rescue, which saves, rehabilitates and re-homes animals from high-kill shelters across the United States. Louie's Legacy operates in Cincinnati, OH and Staten Island, NY. Since 2009, Louie's Legacy has saved over 10,000 animals. Recently, during the hurricane season of 2017, LLAR rescued more than 200 animals who were in shelters in Texas and Florida prior to Hurricane Harvey and Irma, taking on over $10,000 in additional non-routine medical expenses in addition to the cost of the rescue mission.
Louie's Legacy Animal Rescue is proudly foster based, meaning their animals live in homes, not shelters. This differentiates them and allows them to more thoroughly get to know the animals, ensuring they are matched with suitable, screened adoptive homes, which meet their high standards. As part of their commitment to the health and wellbeing of all of the animals and to reduce pet overpopulation within the community, every pet is spayed or neutered prior to adoption. They are committed to ensuring the safety of their animals for their entire lifetimes so that they will never suffer abuse, neglect or abandonment again.
For more information, please visit http://www.louieslegacy.org and follow them on Twitter and Facebook @louieslegacy and @LouiesLegacy on Instagram at louieslegacy.
About Candy Kennedy
Candy Kennedy is a South African born, New York based Commercial Advertising Photographer and Director that brings edge and excitement into traditional brands. Candy is a collector of moments and her images are both intimate and edgy. With a natural ability to relate to her subjects, the images she captures are known for being alive and packed with expression and emotion. She prides herself on seizing real moments with the ordinary, famous and bizarre, and turning them into beautiful photographs. Her passion, strong work ethic and professionalism have afforded her the opportunity to work with brands such as Virgin Mobile, Adidas, Nike, Vogue, GQ, Wrangler and Macy's just to name a few.
To learn more about Candy, please visit Candykennedy.com or TheKennedys.NYC and follow her on Instagram @CandyKennedy or Facebook @candykennedyphotographer.
Accell's Powramid Air Power Center and USB Charging Station and Dubreq's Stylophone GEN X-1.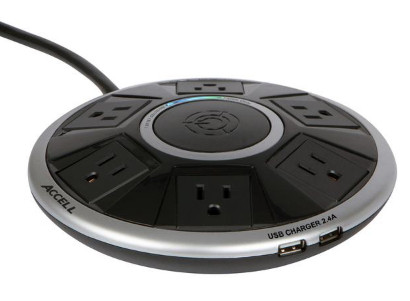 Accell's Powramid Air Power Center and USB Charging Station features six adapter-spaced outlets, as well as two USB charging ports to power devices such as mobile phones, tablets and portable music players. Its round, flat design is perfect for placement on a home desk, providing easy access to multiple power outlets. Plus, it's pretty cute! This item is currently available for $35.99. The link is below to more product information, and I have also attached a product image, which I hope you will find helpful.
Powramid® Air Power Center and USB Charging Station
Newly developed card game "Sip & Share: A fun way to be nosey.
There's nothing like a fun night with your friends! Add fresh spin to 'Ladies Night In' with this fun game of questions! Whether it's about relationships, careers, sex, or life overall, no topic is off limits, so sip…share…and be nosey!
https://www.iamsuccessfullyme.com/online-store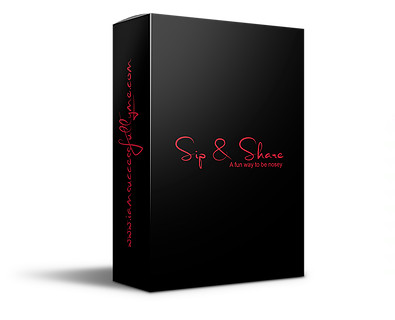 Soothe Serum: Sootheserum.com
Think Ben Gay but it smells great and works wonders with all natural ingredients. Born out of necessity. The founder tested positive for the BRCA1 gene and needed a chemical free pain relieving cream that actually worked!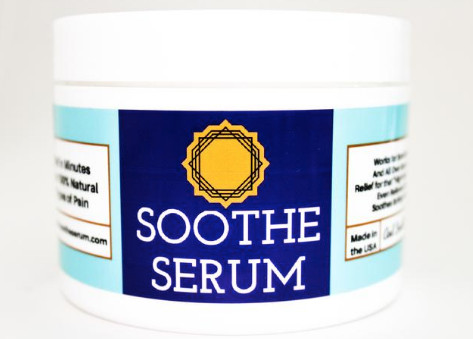 LingoLoop offers conversational English classes online via video chat.

Learners from all over the world connect with LingoLoop's expert tutors to improve their English online. LingoLoop only hires certified teachers who are native English speakers to ensure a premium experience.
The LingoLoop method is based on the communicative approach – essentially "learn by doing." Every student gets ample time to practice speaking English during the lessons. Practice makes perfect.
Whether you are learning alone (one-on-one class) or with others (small group class), Lingloop's expert tutors tailor each lesson to the student's needs and provide instant feedback. Whether you need help with IELTS or TOEFL test prep, a job interview or just basic communication, LingoLoop can be customized to your goals. In addition, LingoLoop classes are fun because you won't learn if you aren't enjoying yourself during class.
Learners can connect to LingoLoop from home or on the go with any device. It's like Uber or Lyft for English learners. Learn on your own time and at your own pace with our convenient scheduling tool.
Now you can give LingoLoop as a gift. Our E-gift cards are the perfect gift for the English learner in your life – friends, parents, grandparents… they will love it!
Give a little or a lot with our flexible price options. Since it is digital, there are no shipping costs or delivery nightmares. Just pick a package, set your delivery date and enter your payment information… we'll take care of the rest!
This year give a gift that someone can actually use. Give the gift of LingoLoop!
https://www.lingoloop.com/
alara smartphone case: For smartphone users concerned about the health effects of electromagnetic radiation, alara is the only case on the market delivering patented, built-in radiation protection without compromising performance, style or functionality. alara cases contain a precision engineered, micro-thin, multi-patented antenna which automatically pairs with the antenna in the wireless device it is protecting and redirects radiation away from the user. Results from rigorous lab testing, verified in an extensive, independent test by WIRED MAGAZINE show the alara case lowers user radiation exposure by up to 67%. There are new alara cases for the iPhone X, iPhone 8/8 Plus and the Galaxy S8/S8+. Price ranges from $39.99 to $49.99.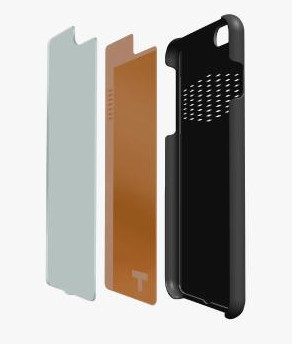 Wholesale Lanyards.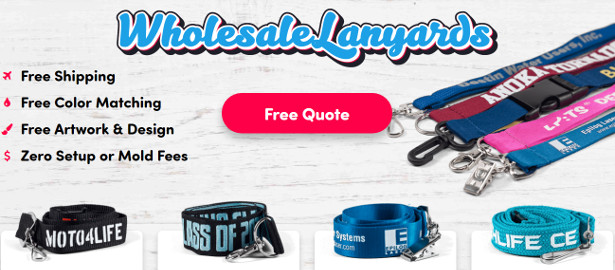 High quality personalized lanyards and we offer free artwork and free shipping. You can design your own lanyards and then choose from a variety of custom badge reels, badge holders, and logo clips. These are perfect for corporate gift giving because you can design them using company branding or other specific business related elements. We've created a coupon code that you can use to take 10% off any order. The code is: NOMAD10
Experience Ecuador at your Door Step with Free US Shipping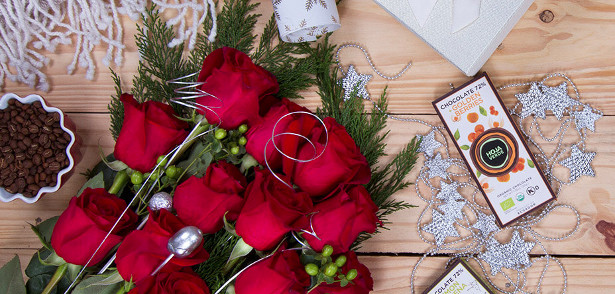 Looking for interesting gifts the whole family can enjoy? Try some great products from Ecuador. One out of every four roses bought in the U.S. comes from Ecuador.Myths surround how Ecuador's roses became so popular. Some believe its location on the equator makes roses grow perfectly straight, but more likely the natural light gives gardeners the ability to grow great roses all year round. Thier chocolate is considered best in the world, barely 5% of cacao produced in the world is given the prestigious label of Fine Aroma and Ecuador producesnearly 63% of that fine aroma flavored cacao worldwide. The list goes on and on to include comfy alpaca comforters and stylish Panama hats, however U.S. consumer's access to these products are limited by high shipping costs and inconvenient delivery methods.
Now,Sense Ecuador, the Ecuadorian experience destination website, is enabling shoppers to receive curated, premium products and gourmet foods from all regions of Ecuador to your doorstep. Best of all, it comes with free and quick shipping to the US at www.sensecuador.com. As a socially-focused shopping destination, all of our exclusive flowers, gourmet specialties and accessories are made by expert artisans and environmentally conscious farmers from our country.Through our process, we ensure that you receive the highest quality products, and in return, the persons and communities receive the benefits of your purchase. Whether you want a taste of chocolate, surprise a loved one with beautiful roses, handcrafted Panama hats or apparel created with comforting Alpaca wool, Sense Ecuador can provide it. We thought the chocolate and roses (both bouquet and preserved) would be great for your holiday list. The items are detailed below, if you want more information on other items, please let me know. Happy to send samples or different pictures if needed.
· Wonders Bouquet: Hoja Verde Flowers grows the most astonishing blooms in the highlands of Ecuador. Along with their fair trade frameworks, Hoja Verde develops people-focused projects. Their experts lead community orchards and develop training programs in self-sustaining practices. This pretty bouquet of freshly picked roses captures in its red and white colors the beauty and purity of love.
· Preserved Roses: Believe in Yourself: Hoja Verde also creates special preserved roses. For our loved ones without a green thumb, preserved roses are perfect. They can last over 6 months with watering.
· Superfoods Chocolate Pack with Chia, Quinoa, Golden Berries & Banana: These unique chocolates are made with premium organic cocoa beans grown in the tropical lowlands of Ecuador, the most biodiverse country on earth. Ecuadorian cocoa has long been recognized as the world's finest beans. Its 'Arriba' variety brings an unequalled depth in aroma and flavor. Now this superior cocoa is complimented with 4 incredible superfoods, chia, quinoa, golden berries and banana.
Clever Folding Travel Hangers to Take Everywhere Every Time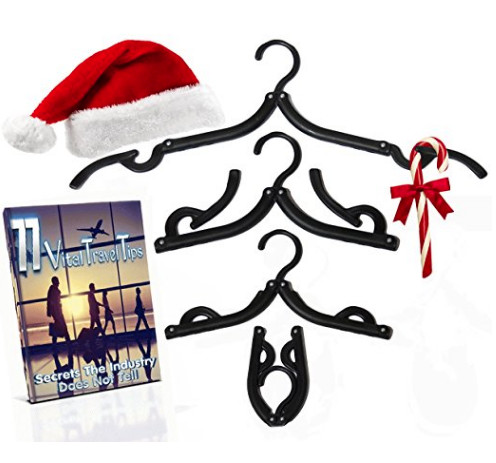 You arrive at your Vacation hotel to find only 3 hangers between 2 people in the closet. You unpack on a 14 day luxury Cruise to find there are only 5 hangers for your clothes. You trek to your hiking Cabin or Lodge to find nowhere to hang your wet clothes to dry. Sound familiar?
A1 Premium Products has released the A1PPHandy Travel Hangers Set – a pack of 8 clever folding light weight travel hangers to solve the problem. Moulded from quality black plastic with a non-slip finish, hang silk, flimsy or slinky garments with confidence and they won't slip off and end on the floor. And each hanger has grooves and indents, convenient for hanging camisoles, swimsuits and underwear and handy for hanging a few garments to dry overnight in a hotel bathroom.
The hangers are small and light enough to carry in your carry-on, handbag or briefcase.
Slip into the corner of a suitcase or inside shoes; tuck some into a backpack or overnight bag. They weigh almost nothing and will not affect a baggage weight limit.
Easily hold 5lbs of clothing like sweaters, jackets, blazers so sturdy construction.
Folded size of each is a tiny 5" x 2.75" wide. The first unfold fits asChildren's Clothes Hanger or Baby Clothes to 5.5" x 9" wide. Then unfold to full Adult Clothes size of 7" x 16" wide. Pack of 8 folds into a 9" x 3" x 2.75" parcel when stacked.
A thoughtful gift idea for College students and travelers, and essential for every business trip and vacation. And theA1PP Handy Travel Hangers Set includes a bonus download eBook of '77 Vital Travel Tips' the industry does not tell, when purchased fromHandyTravelHangers.com or Amazon at http://bit.ly/HandyTravelHangers Don't leave home without them.
A set of 8 Hangers is $14.95
MONONO gentlewasher.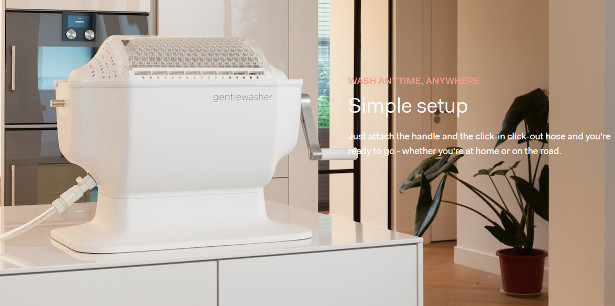 gentlewasher is a unique washing device for clothes, designed to make washing fast, easy, sustainable and hassle-free. This essential device is portable, operated by hand and cleans clothes without the use of electricity in only five minutes. It has been developed with the idea to treat delicate clothes with kindness and keep clothes in tip-top condition for as long as possible.
Primarily, gentlewasher is targeted at the fashion conscious, people who really love their clothes – be it beautiful lace lingerie, cosy cashmere jumpers, silk night wear, gym outfits, baby clothes or in-between loads – those who have a lot of hand-wash only garments. Additionally, the product appeals to parents with young children, gym bunnies, outdoor/RV enthusiasts, bachelors with small apartments and those who care for the environment. More on www.gentlewasher.com