Follow the adventures of Paddington in PaddingtonTM Spot The Difference, a fantastic new take on spot the difference, where players can follow the adventures of Paddington in two seemingly identical images!
RRP: £7.99 each, available from John Lewis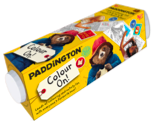 With over 80 different spot the difference PaddingtonTM scenes, find the differences to beat your opponent to find the infamous pot of marmalade! Get creative with Paddington Colour On, for hours of colouring and activity fun with everyone's favourite bear! With three metres of Paddington colouring scenes and activities, children of all ages can join Paddington on his adventures.
NOW That's What I Call 00s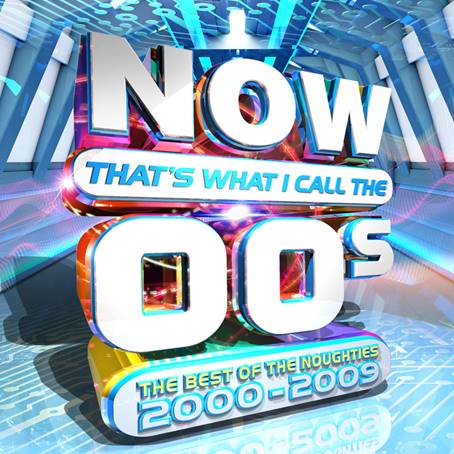 RRP: Under £15.00
Cat no: CDNNNOW61
Barcode: 889854767020
Link: https://www.nowmusic.com/album/now-thats-call-00s/
Image: https://www.dropbox.com/s/wy4fxb0t8rketn2/00s%20Final.jpg?dl=0
The Millennium Dome. Big Brother. Halternecks. The birth of Twitter. Kylie Minogue's bottom. It's no doubt that the Noughties was a legendary era, and no more so than in the world of pop music where the nation saw the rise of some of today's superstars like Pink and Craig David, icons such as Amy Winehouse bursting onto the scene and the stellar careers of 90s favourites such as Take That continue to shine.
NOW That's What I Call The 00s is the ultimate guide to the much love, pop-defining decade that gave us everything from perky pop MySpace star Kate Nash to Shaggy's instant classic and singalong 'It Wasn't Me' to Miley Cyrus' innocent early years, when twerking hadn't even been invented….
A glorious throwback to everyone's favourite era, the genre-defying album features something for everyone, from headbanging to Wheatus to raving along to grime legend Dizzee Rascal to lycra-clad lunging with Eric Prydz.
TRACK LIST
CD1
01. Amy Winehouse – Back To Black
02. Gnarls Barkley – Crazy
03. Duffy – Mercy
04. Kate Nash – Foundations
05. MIKA – Grace Kelly
06. Timbaland feat. OneRepublic – Apologize
07. Take That – Rule The World
08. Westlife – Uptown Girl
09. Katy Perry – I Kissed A Girl
10. Robbie Williams – Rock DJ
11. Elvis Presley vs. JXL – A Little Less Conversation (JXL Remix)
12. Britney Spears – Oops!…I Did It Again
13. Lady Gaga – Poker Face
14. The Pussycat Dolls – Don't Cha
15. P!nk – So What
16. Sugababes – About You Now
17. S Club 7 – Don't Stop Movin'
18. All Saints – Pure Shores
19. James Morrison feat. Nelly Furtado – Broken Strings
20. Miley Cyrus – The Climb
21. Leona Lewis – Bleeding Love
CD2
01. R. Kelly – Ignition (Remix)
02. Shaggy feat. Ricardo "RikRok" Ducent – It Wasn't Me
03. OutKast – Hey Ya! (Radio Mix / Club Mix)
04. 50 Cent – In Da Club
05. Destiny's Child – Independent Women, Pt. I
06. Justin Timberlake feat. Timbaland – SexyBack
07. Nelly feat. Kelly Rowland – Dilemma
08. Shakira feat. Wyclef Jean – Hips Don't Lie
09. Craig David – 7 Days
10. Estelle – American Boy
11. The Black Eyed Peas – I Gotta Feeling
12. Blu Cantrell feat. Sean Paul – Breathe
13. Sean Kingston – Beautiful Girls
14. Soulja Boy Tell'em – Crank That (Soulja Boy)
15. Dizzee Rascal & Armand Van Helden – Bonkers
16. Eric Prydz – Call On Me
17. Kid Cudi – Day 'N' Nite
18. Ne-Yo – So Sick
19. John Legend – Ordinary People
20. Jordin Sparks feat. Chris Brown – No Air
CD3
01. Coldplay – Viva La Vida
02. The Fray – How To Save A Life
03. Toploader – Dancing In The Moonlight (Stargate Radio Mix)
04. Maroon 5 – She Will Be Loved
05. The Kooks – Naïve
06. Jason Mraz – I'm Yours
07. Jack Johnson – Better Together
08. Razorlight – America
09. The Killers – Mr. Brightside
10. Wheatus – Teenage Dirtbag
11. blink-182 – All The Small Things
12. Nickelback – Rockstar
13. MGMT – Kids
14. Scouting For Girls – She's So Lovely
15. Noah And The Whale – 5 Years Time
16. Plain White T's – Hey There Delilah
17. Keane – Somewhere Only We Know
18. The Script – The Man Who Can't Be Moved
19. LeAnn Rimes – Can't Fight The Moonlight
20. Paolo Nutini – Last Request

TriggerPoint GRID VIBE vibrating foam roller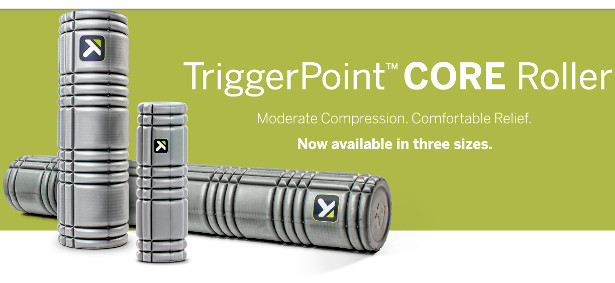 About the GRID VIBE:
The compact and travel-friendly GRID VIBE is clinically proven to relax muscles, reduce pain and maximize the effectiveness of your foam rolling routine for better recovery and improved mobility.
It does this by tuning into the optimal frequency of 33Hz (prior research has shown 20-50Hz is the ideal frequency for muscle relaxation).
The GRID VIBE is 12″ long and 3.5″ in diameter and easily fits in gym bags, suitcases and backpacks. It has an internal, rechargeable battery with AC charger and holds up to 2 hours of power.
TriggerPoint is one of only two companies in the recovery category who have invested in research testing to keep our products at the forefront of the latest research.
Price & Where Sold:
$99 and sold at tptherapy.com; Dick's Sporting Goods, Amazon and specialty fitness retailers
Canterbury is excited to release their new campaign video with Claude Littner from the Apprentice for their 'Individually Strong, Unbreakable as One' RFU campaign which was launched in the summer. The campaign focusses on the unbreakable bonds and mental strength of the England squad both on and off the field.

To test this, three England Rugby players including Joe Launchbury, Alex Lozowski and Danny Care faced the ultimate test of being interviewed by the UK's most feared interviewer to see if he could break them.
Were they broken? Find out by viewing the full video here https://youtu.be/VTVLUmJ7nXg
#committedtothegame
HARVEYS
Set the festive scene your way with Harveys this Christmas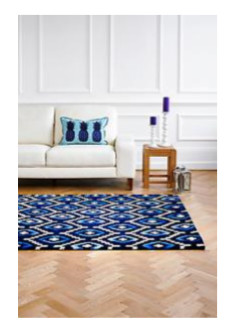 Festive fizz with friends, Christmas movie marathons, and entertaining the whole family is just around the corner with Christmas fast approaching. The days are getting shorter and nights are feeling colder, but with the Christmas lights already scattered across the high streets, it means we can officially start getting excited for the festive season.
Christmas is the season of giving, and with Harveys selection of premium furniture and accessories to choose from – you can help brighten up the homes of your friends and family, or alternatively treat yourself to something gorgeous this December!
Aruba Rug A perfect addition to any home this Christmas, the Aruba rug is available in two different designs, Diamond Blue or Geometric Mustard. Injecting colour and style into your living room, this soft Caribbean themed rug is both bright and bold, and made from 100% wool – available from just £249.
The brand spanking new Polaroid Pop is here! (Horary!)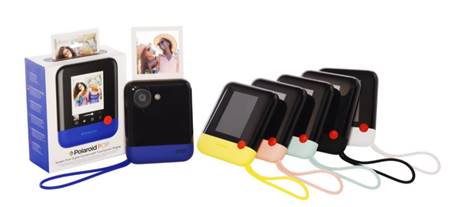 If you're a photography devotee and love to capture precious moments in print, the all-new Polaroid Pop instant digital camera is a festive must-have to bring your Christmas memories to life with 3.5×4.25" Polaroid prints. The camera combines a sleek, modern design and digital technology with the 3.5×4.25" Polaroid instant print format, reminiscent of the brand's iconic instant print cameras. The Polaroid Pop is the perfect gift for older family members with fond memories of the legacy instant cameras or youngsters with a love of all things retro.
The Polaroid Pop instant digital camera features an integrated printer using ZINK® Zero Ink Printing Technology that produces full colour photos in the 3.5×4.25" Polaroid border format. It also allows for black and white or sepia prints if preferred. The Polaroid Pop includes a traditional digital camera experience with its 3.97" touchscreen LCD, a 20-megapixel CMOS sensor and built-in flash for high quality images, image stabilisation, and 1080p full HD video recording capability. All images and video are stored safely on a micro SD card (up to 128GB).
https://www.argos.co.uk/search/polaroid-pop/ £199.99
BodyBrew is a cold/hot brew coffee system that creates heart, stomach, and smile-friendly coffee in less 12 hours or less, with no need for power or heat.
BodyBrew's patented cold brew coffee system makes up to 15% more extract than other cold brewers, while reducing unhealthy cholesterol, decreasing the chances of experiencing a burning stomach, and reducing teeth stains and acid wear.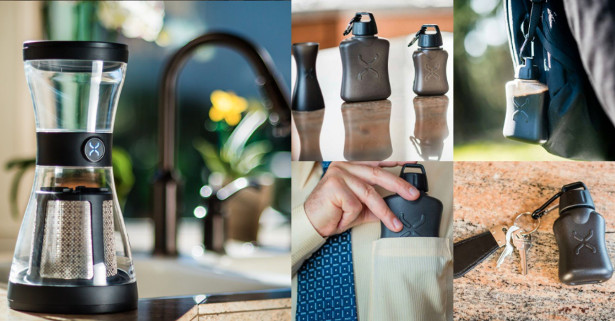 The BOD® Coffee System comes in three options:
The Bod Experience
The Bod Explorer
The Bod Expert
all of which produce coffee that's low in oily compounds.
With two different sizes of Travel Flask; with one specifically to fit TSA regulated liquid travel requirements, BodyBrew is the perfect brew system for life on the go.
Transform your favorite ground coffee into a delicious, super-concentrated coffee served cold or hot.
Our Moeloco community if full of fabulous people who want to dream crazy too.
We love hearing from you all and love being a part of your lives.
Here is what some of our customers are saying:
"Love love LOVE Moeloco flip flops! Not only the beautiful designs but also the inspirational messages and all for a good cause! Super comfy too, I literally live in mine!" – Christina Gill
"These are the best thongs/flip flops that I have owned! Very comfy and the thought of helping kids with my purchase is spot on!" – Irenenee Jenkins
"I live in flip flops so it was wonderful to see how comfortable Moelocos are. They are the best ladies sandals I have known. My message of Live Love too is super cool when I walk at the beach. I will be buying the womens flipflops for friends at Christmas this year because many of them have commented how nice they are." – Khyati Buch
**SPECIAL OFFER – LIMITED TIME ONLY**
Many of you suggested these special bundles so you could buy shoes for your whole family and help more kids at the same time. We listened and here it is for you.
To help reach our goal of helping 2,000 more kids get educated to prevent a life of poverty and the atrocious circumstances attached to being poor, Moeloco are now doing a SPECIAL bundle deals. •Buy ANY 2 pairs of adult Flip Flops usually $70 and now take another 20% off which is $56 – only $28 each
•Buy ANY 3 pairs of adult Flip Flops usually $90 and now take another 20% off which is $72 – only $24 each
•Buy 1 adult + 1 kids pair of Flip Flops usually $55 and now take another 20% off which is $44 – only $22 each
This offer is strictly limited time from now till December 31, 2017 so we can get 2000 more shoes to our children in time for when they start school again in mid January. We need to work fast as the manufacturers in India need the time to make the shoes.
Simply head on over to www.moeloco.com/shop and use code 20%bundles at checkout to take advantage of these amazing savings and find some great gifts for those hard to buy for friends and family this Christmas.

Unicorn faux fur blankets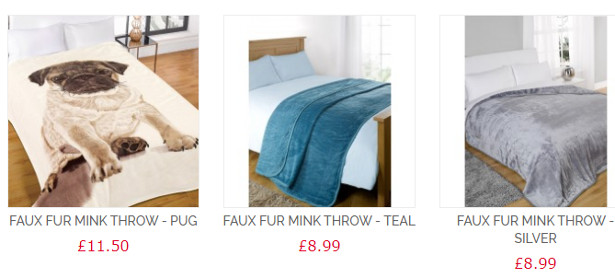 http://www.onlinehomeshop.com/index.php/dreamscene-large-unicorn-faux-fur-throw-fleece-blanket-thick-warm-150-x-200-cm.html
http://www.onlinehomeshop.com/index.php/kids-unicorn-dreams-duvet-cover-with-pillow-case-girls-bedding-set-mystical-pink.html
Gifts with a Conscience: The Stylish Reusable Ecoffee Cup, from only £7.95
For an original, beautifully designed, yet practical gift, which also happens to help reduce consumer waste, look no further than Ecoffee Cup.

The Ecoffee Cup is manufactured using bamboo fibre (the world's fastest-growing, most sustainable crop) and corn starch, which means it's BPA and phthalate free. Ecoffee Cup is sturdy but light, it has a resealable 'drip proof' lid for easy storage in bags, and it is fully dishwasher safe. Bamboo is naturally sterile and so it doesn't flavour-taint drinks, unlike some other reusables, making it the ideal choice for the hurried coffee-on-the-go commute. It also works to brighten up your train journey or your desk at home or work!
Ecoffee Cup offers a wide range of vibrant designs to suit all tastes; from block colours, striped or spotted, to geometric, feather or floral patterns. The very special William Morris collection (right) will make a unique gift for any interiors, art, or design lovers this Christmas, with 14oz cups priced at only £11.95.
With over 100 billion single use coffee cups going to landfill every year globally the Ecoffee Cup is the perfect choice for those looking for gifts with a conscience.
A huge number of British tea and coffee drinkers still believe that single use cups from coffee chains are recyclable. Sadly, the plastic or wax linings used to make the cups waterproof make the separation process very complicated, so the vast majority end up in landfill. Today, many coffee shops and cafes across the UK are already offering customers discounts on their hot drinks to incentivise the use of reusables, which means that the gift of an Ecoffee Cup this Christmas will be saving the British coffee consuming public money, as well as reducing their plastic footprint!
Tackling the ever-growing problem of single-use packaging waste while simultaneously providing a stylish, practical reusable cup for the coffee-consuming public, Ecoffee Cup, has set up the #stopthe100billion campaign in an attempt to raise awareness of the waste issue, educate the public and effect real change in the way we consume takeaway products.
For more information visit: https://ecoffeecup.co.uk/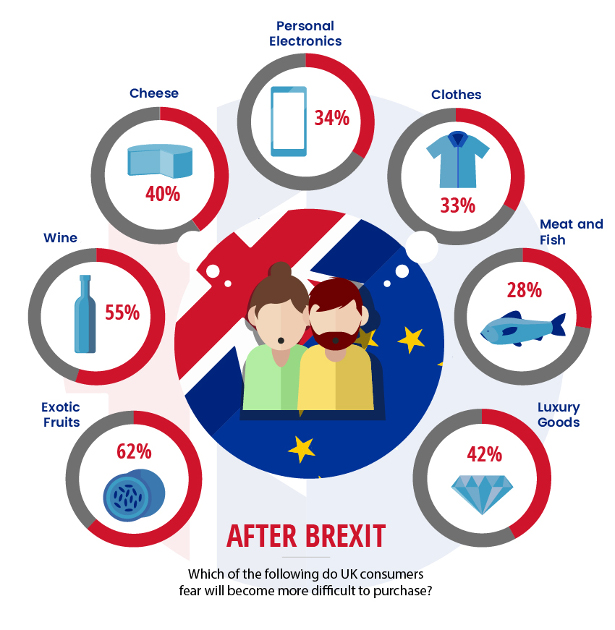 62% of Consumers Fear the loss of Exotic Fruits in Retail
• Post-Brexit, the top 3 goods consumers fear will be harder to buy are exotic fruits, wine and luxury goods!
• Consumers less interested in the availability of meat, clothes and electronics!
• HOWEVER, 64% of consumers feel proud of British retailers and the services they offer.
• A further 55% believe British retailers will help the country to withstand the economic uncertainty of Brexit.
As bonfire embers settle across Britain, the countdown to Christmas begins and suddenly, we begin to think about what to buy.
Products to purchase are seemingly endless, infinite opportunities at our fingertips – yet Online British marketplace, Onbuy.com has uncovered a report by Barclays that claims UK consumers are masking a fear: what if one day, we can't access all that we want?
The historic decision by the UK to leave the EU has generated huge uncertainty over the short and long-term outlook for the economy – not least within the retail sector. It is this uncertainty that is likely to bear down on economic activity and consumer demand. In fact, the products British consumers most fear will become difficult to purchase include: exotics fruits (62%), wine (55%), luxury goods (42%) and cheese (40%.)
It isn't just availability that is causing concern either. Per the release, Retail Sales, Great Britain 2017 we can see that store price inflation is on the rise too and these are the stores due to be affected:
❖ Predominantly food stores, 2.8% inflation. ❖ Predominantly non-food stores, 3% inflation. ❖ Non-specialised stores, 2.2% inflation. ❖ Textile, clothing and footwear stores, 3.3% inflation. ❖ Household goods stores, 3.5% inflation. ❖ Other stores, 2.6% inflation. ❖ Non-store retailing, 3.5% inflation. ❖ Fuel stores, 6% inflation.
HOWEVER, it appears British spirit knows no true fear – as consumers push through with optimism.
55% of the public believe British retailers will support the economy to withstand the uncertainty of Brexit, and a further 64% of consumers feel proud of British retailers and the services they offer. A majority even expect the quality of goods to improve.
Press Information for Immediate Release Onbuy.com
Additionally, Brexit could create an opportunity for retailers to think about how they can capitalise on the global demand for British-made goods – adequately padding out Christmas stockings the world over.
Managing director of Onbuy.com, Cas Paton comments:
"The very fact that UK consumers are most concerned about the loss of luxury goods, such as exotic fruits and wine, proves the frivolous nature of the British spirit. At our core, we are confident in retailers up and down the country and we know high-quality goods will come our way no matter the Brexit outcome."
Notes to editors: Please see the infographic for visual representation of the goods UK consumers fear will be difficult to purchase following Brexit. If used, please credit https://www.onbuy.com/ with a clickable link.
Press Information for Immediate Release Onbuy.com
8 Reasons to Shop British This Christmas
1. Support British Craftmanship Many of the products made in Britain are finished by hand, using skills that have been passed on through generations – think woodworking, glass blowing, weaving and knitting.
2. Invest in Quality British products may cost more than the mass-produced, but because they are often of a higher quality the cost-per-use or wear is much lower. You will therefore invest in a gift that lasts.
3. Buy Unique Products manufactured in the UK are usually produced on a much smaller scale, so a Britishmade gift will be unlike any gift your intended is likely to receive.
4. Leave a Small Footprint Ever thought about how mass-produced, foreign products make it from the factory to the shop floor? Often, flown here from the other side of the world, these products leave a large carbon footprint in their wake – shopping British may be kinder to the environment.
5. Celebrate British Employment Why pay for goods that have been manufactured overseas, when you can help boost the British economy by supporting their workers?
6. Nurture Home-Grown Talent Many UK designers struggling to find work in larger corporations set up their own brands to fulfil their passions. By buying their products, you are helping to keep the British retail market innovative and vibrant.
7. Add a Local Touch What's more exciting than giving a gift where you know its provenance and the story behind its creation? In keeping your gifts local, you are not only supporting your community but buying an item loaded with character.
8. Preserve British Manufacturing In uncertain times, actively seeking a gift made in Britain will help to keep the skill of British manufacturing alive and in demand. An increasing demand by consumers for items made in the UK will encourage retailers to invest in British, which only serves to benefit us all.
Log Storage from ACR Stoves:
Combining Cosiness with Convenience
How do you combine your need for a New Year decluttering with keeping your house warm in the Winter months? While heavy duvets and chunky throws might be tricky to keep out of sight, ACR Stoves have a great solution for making sure your fireplace is both neat and cosy.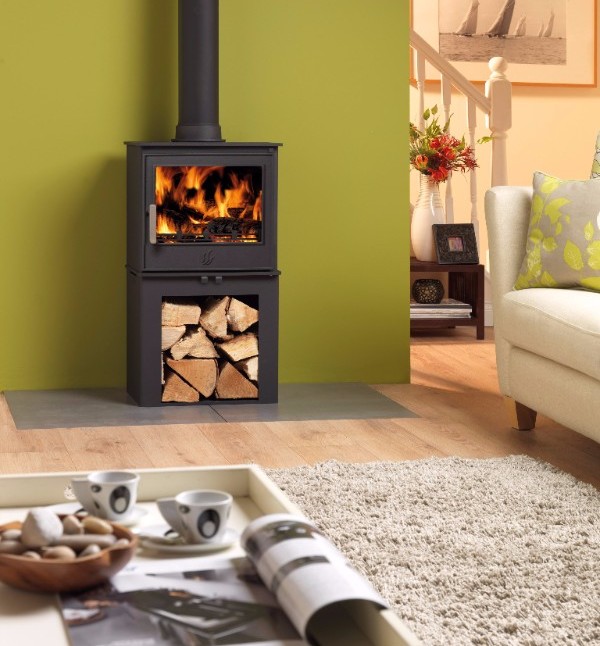 Jägermeister's first super-premium herbal liqueur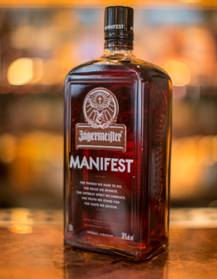 Designed to appeal to the more discerning drinker, Jägermeister Manifest is based on the brand's original secret recipe, but in true Jägermeister style, breaks the rules with additional botanicals added to the 56 herbs, roots and spices. The result – a new and unique taste profile, albeit one that is distinctly Jägermeister, with a higher ABV of 38%. Manifest provides a full-bodied, robust mix of flavours which are skilfully blended to boast notes of rich oak, sweet aniseed and dried fruit, which give way to subtle spices and vanilla elements. The Jägermeister Manifest is the perfect spirit for those wanting to ensure every guests tastes are catered for; choose from the vanilla infused Manifest Frisch, (aperol and fresh grapefruit), the fruity Manifest Maniposh with apricot flavours topped with prosecco or for the gin lovers, a Manifest Negroni, served with gin, sweet vermouth and Campari (all cocktails attached). For those of you who appreciate the simple things in life, there is no better way to enjoy Manifest than neat and slightly chilled, where the flavours from the botanicals can really shine through.
As the first super-premium line extension in the brand's 80 year history, Jägermeister Manifest sets itself apart from other spirits on the market through its unique production process. The spirit is expertly crafted using a two-fold maturation process and is double-barrelled matured in both small and large oak casks for over a year, to intensify flavours.
A truly unique gift: the gift of knowledge.
With the Magna Carta, handwritten lyrics by the Beatles and the notebooks of Leonardo da Vinci and Jane Austen's notebook all on offer as part of their outstanding collections, the British Library remains one of the UK's most valuable resources and place of national interest. This year, why not make it a truly unique gift for your loved ones? For just £80 a year (just over £6 per month!) gift a British Library membership this Christmas, offering exclusive discounts, events, and insider access to some of the world's most treasures.
Recent exhibits have included the highly anticipated Harry Potter: A History of Magic, a journey to where magic and myth began – just one of countless fascinating exhibits and events that the Library offers throughout the year to visitors.
As you will have seen in the last few episodes of this year's most popular TV show, Blue Planet II, the problem of plastic polluting the oceans is greater than ever before.
Sir David Attenborough recently said: "We could actually do something about plastic right now, I just wish we would. There are so many sequences that every single one of us have been involved in – even in the most peripheral way – where we have seen tragedies happen because of the plastic in the ocean."
Every year, 13 billion plastic bottles are used in the UK alone and one way we can work to prevent this issue is to encourage fitness enthusiasts or sports players to use reusable water bottles instead of single use plastic bottles whilst they are taking part in their physical activities.
The BRITA fill&go Active bottle is a sustainable, reusable option that filters whilst you drink your water.
See further info below, please let know if you would like a sample for a feature..
BRITA fill&go Active is a squeezy sports bottle, £13.20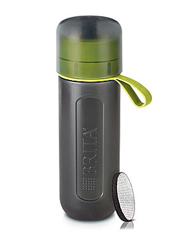 Available at Brita.co.uk, Ocado
Currently on offer at Argos for £11.99
Available from www.annabeljames.co.uk Tel 0345 548 0210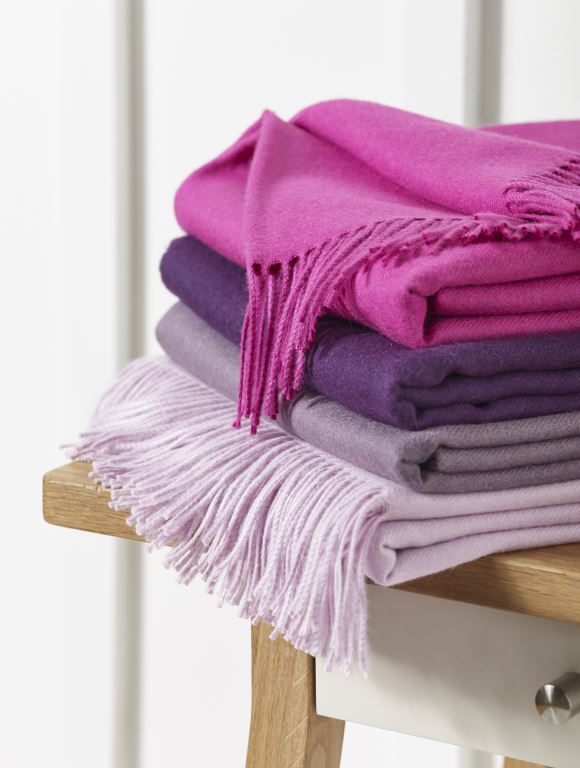 FOR SOFT KISSABLE LIPS – NATURALLY
Rosalena Skincare Launches Lip Conditioning Balm
100% natural lip balm designed to moisturise and soothe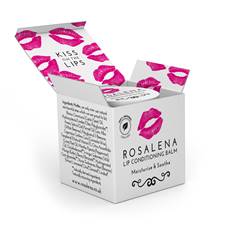 With their signature blend of 100% natural ingredients, British beauty brand, Rosalena Skincare, announces the launch of their newest product – a Lip Conditioning Balm that uses only the finest natural plant oils, with innovative bio-active ingredients to deliver a deeply nourishing balm for lips. Free from petroleum, parabens, artificial fragrance & colourants, paraffin wax, silicone, PEGs and lanolin, Rosalena Skincare's Lip Conditioning Balm retails for £18 for a 10g pot and is available online at www.rosalena.co.uk from 16th November 2017.
Rosalena's Lip Conditioning Balm uses natural ingredients chosen for their lip specific restorative, moisturising and protective benefits. These include:
Castor oil – world renowned for its healing properties. It is an anti-inflammatory, anti-bacterial and anti-oxidant powerhouse which due to its high fatty acid content, soothes chapped lips and makes them super smooth.
Oat Lipid E – a premium form of oat oil with a unique lipid profile. It is readily absorbed, leaving a non-greasy feel, minimizing lipid loss, locking in moisture levels by forming a physical barrier to epidermal water loss, thus preventing further drying. Rich in vitamin E and Linoleic acid, Oat Lipid can help maintain the lips natural balance by replacing lipids lost.
Peppermint Essential oil – creates a refreshing and cooling sensation when applied and helps to stimulate the circulation under the lips resulting in a gentle plumping effect for ultra-kissable lips!
A British brand based in London, Rosalena Skincare is the brainchild of Helena Chapman & Maja Griffith. Their vision is to develop a serious skincare range that delivers better skin, naturally, and is a joy to use. The application is as important as the results and Helena and Maja are big advocates of the intrinsic mind and skin connection, that natural skincare really benefits our overall wellbeing. Their three-word mantra – Pause, Breathe, Be – influences their entire ethos and encourages their customers to make a mindful moment every day.
The Lip Conditioning Balm joins Rosalena Skincare's product line that includes a range of four multi-tasking 100% natural moisturising face oils and a refreshing & revitalizing face mist all of which use only the finest natural ingredients and essential oils.
Special Offer – Introducing the Rosalena BeYOUtiful Bag
To give or to keep, this travel size make-up bag includes 3 of Rosalena's natural skincare products: the brand new LIP CONDITIONING BALM (10g) plus ROCK & ROSE FACE OIL, a limited edition, super-deluxe size bottle of Rosalena's award-winning, best-selling face oil to brighten and revitalise your complexion for glowing skin. (5ml) and GOODNESS & TONIC FACE MIST, a portable go-to skin refresher that rejuvenates, tones & lifts tired looking skin in a spritz. (15ml). The Rosalena BeYOUtiful Bag is available for £29 while stock lasts.
For more information visit www.rosalena.co.uk
Facebook: Rosalena Skincare * Instagram: @rosalenaskincare *Twitter: @RosalenaOils
Christmas Gifts for Coffee Lovers

Help the coffee lover in your life take their appreciation of the bean to a higher level this Christmas with the latest caffeinated gift ideas from Exeter based coffee house The Foodies Larder, including a UK coffee capsule first.
The perfect guilt free coffee stocking filler
Nespresso machine owners can rejoice this Christmas thanks to a new range of ethical and sustainable coffee capsules from The Foodies Larder.
Not only are the trio of capsules in their new 'Delectable Range' filled with the finest organic and ethical coffee from around the world, but the capsules themselves are 100% compostable and biodegradable.
In stark contrast to regular aluminium and plastic coffee capsules, which can take anywhere between 150 and 500 years to breakdown in landfill, The Foodies Larder capsules will completely disintegrate within 6 months, whether thrown into standard rubbish bins or council food waste collection bins.
The good news doesn't stop there though, especially for Decaff lovers who can now enjoy the UK's very first compostable, organic Swiss Water Decaff coffee capsule. Using an all-natural and 100% chemical-free decaffeination process, these capsules really are good for you and the environment and produce a smooth mug of coffee with roasted peanut and cookie dough notes.
Alongside the Decaff sits a single origin, 'Strictly High Grown' and Fairtrade organic coffee from the Ethiopian region of Yirgacheffe, considered the birthplace of coffee and known for producing some of the most prized Arabica beans in the world.
Completing the range is their single origin Peruvian capsules which contain high-grown, organic, Fairtrade and Rainforest Alliance certified coffee for a wonderful mouthful in every sense.
Filled with 10% more coffee than standard Nespresso capsules, the range is the perfect pressie to help Nespresso lovers switch to capsules that don't cost the earth!
thefoodieslarder.com; £20 via Amazon UK with free Prime next day delivery available for last minute Festive shoppers!
Move over wine buffs, there's a new kind of connoisseur in town
They may have dipped into drip filter and love their latte art, but the chances are the cool coffee buff in your life hasn't cupped like a connoisseur.
Well that's all about to change thanks to The Foodies Larder's exclusive 'Taza Sommelier' gift set of 4 fine porcelain coffee cups and saucers, complete with presentation box.
Designed by Barcelona based Master Roaster Lluis Saula, the set also includes a comprehensive 15-page 'Coffee Cupping and Tasting Guide', helping coffee buffs perfect the art of espresso cupping and the tasting techniques used to evaluate a coffee's aroma and flavour profile.
You wouldn't drink a fine wine in a tumbler so why treat espresso to anything less than porcelain perfection?
thefoodieslarder.com; £49.99 via Amazon UK with free Prime next day delivery available for last minute Festive shoppers!
World Rugby council opens in London. Rugby's new passionate frontier: Africa

The World Rugby Council opened today in London and will vote on Wednesday for the country to host the 2023 World Rugby Cup. South Africa is very likely to win.
When it comes to the world's biggest rugby nations, it would be easy to assume that the most fanatical supporters would be in the old guard countries of international rugby. England, New Zealand and South Africa all come to mind but few can rival the passion and energy of African rugby.
In a continent known for great footballing nations, the oval ball has been Africa's best kept love affair for decades and one that continues to blossom. The number of registered players on the continent jumped up from 770 000 to over a million in the last year alone. In 2013, World Rugby's "Get Into Rugby" initiative attracted 22 000 players, in 2017, that number was 384 000. The number of female rugby players in Africa has seen a 50% increase between 2016 and 2017. In 2017, 20% of rugby players in Africa are women and girls.
These numbers are echoed by the real passion and dedication of African rugby fans across the continent. Madagascar is a perfect illustration of this passion. With rugby as their national sport, they have more rugby clubs per capita than any other country with 160 Rugby clubs in the capital city alone. This surge of interest seems likely to continue with 22 000 schools now including rugby in their curriculums across Africa, up from 20 000 in 2016. Africa is rapidly becoming the world's largest youth pool with 60% of the continent's population under the age of 24 and that number is predicted to grow.
With South Africa likely to be announced as the host for the 2023 Rugby World Cup this week and the African Gold cup in 2018, the profile of African rugby has never been higher and the continent's governing body for rugby is rising to the occasion.
As a result of this spotlight and Africa's huge potential for the sport, World Rugby's African association, Rugby Africa has partnered up with Africa's leading media relations consulting firm, the APO Group. The partnership was formalised by APO Group's CEO, Nicolas Pompigne-Mognard and The Chairman of Rugby Africa, Abdelaziz Bougja at the World Rugby's annual executive council meeting in London on November 12th 2017.
\\ CHRISTMAS GIFTING //
We've got you covered for the best Christmas gift ideas, for all ages and price ranges.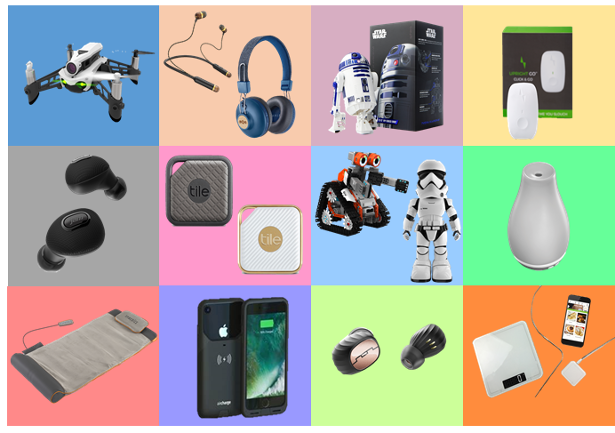 From wireless headphones, and Bluetooth trackers to aromatherapy diffusers and Star Wars robots; there's something for everyone! For more information on each product please see below.
From left to right..
1. Parrot MAMBO FPV – RRP £159.99, 2. House of Marley Smile Jamaica BTs & Positive Vibration 2 BTs – RRP £49.99 & £69.99, 3. Sphero R2-D2™ App-Enabled Droid™ – RRP £179.99, 4. UPRIGHT GO – RRP £75.99,
5. JAM Ultra – RRP £99.99, 6. Tile Sport & Tile Style – RRP £29.99, 7. JIMU ASTROBOT – RRP £179.95 & UBTECH First Order Stormtrooper, RRP £299.99 8. Ellia Blossom – RRP £69.99,
9. HoMedics STRETCH – RRP £249.99, 10. AIRCHARGE iPhone 7/7 Plus Wireless Charging Case – RRP £44.99 , 11. Sol Republic Amps Air – RRP £149.99 12. Salter Cook Connected Scales and Thermometer – RRP £99.99

DELICIOUS BREWS FROM BROOKLYN BREWERY
The quenching beers available in the UK in 2017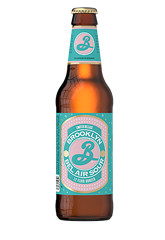 London, April 2017 – Lead by award winning brewmaster Garrett Oliver, Brooklyn Brewery is renowned for creating exceptionally great tasting craft beers that set trends, introduce new and innovative brewing methods and always deliver on flavour.
This year is set to be a busy one for the brewery as it launches a series of new, seasonal and limited edition brews in the UK for the first time.
As well as creating fantastic beers, Brooklyn Brewery specialises in food and beer pairing. Head of culinary programming at Brooklyn Brewery, Andrew Gerson, pairs each new beer with a variety of food suggestions to bring the culinary and brewing worlds together in a mash of tantalising, mouth-watering flavours.
Launching this summer are:
NEW: Brooklyn Bel Air Sour (limited edition seasonal bottle) 5.8% ABV
Launched in April 2017 straight out of the imagination of Brooklyn's brew-team, the Bel Air Sour is one tasty magic trick – a thrilling jolt of tartness up front opens onto a riot of tropical fruit. Limited edition Brooklyn Bel Air Sour is a racy little number that is effortlessly cool, breezy and undeniably compelling.
Food pairing suggestions: Sorbets, fruit, grilled chicken, seafood, goats cheese and margherita pizzas.
NEW: Brooklyn Scorcher IPA (year-round draft, bottle and can) 4.5% ABV
Brooklyn Scorcher IPA is a surprisingly light IPA that is perfect for those looking for a beer that delivers big flavours. A floral, piney aroma goes on to deliver a mouth-watering bitterness as the hops hit your taste buds, followed by a hint of toasty malt and a clean and lively finish. Launching nationwide in May 2017.
Food pairing suggestions: Spicy foods, sandwiches, salads, grilled meats, fresh cheeses, cheddars, and goat cheeses.
RETURNING: Brooklyn Summer Ale (limited edition seasonal bottle) 5% ABV
Brooklyn Summer Ale is a refreshing, flavourful pale ale made for beaches, barbeques and balmy nights. A rich bready flavour is capped off with hops that provide a snappy, clean bitterness and bright floral aroma. Look our for Brooklyn Summer Ale when it hits UK shores from May until August 2017.
Food pairing suggestions: Salads, seafood, quiches, lightly spicy dishes, brunch, cheddar and feta.
As well as all the new and returning brews, Brooklyn has a wide variety of great beers available all year round:
CLASSIC: Brooklyn Lager (year-round draft, bottle and can)
In the late 1800's Brooklyn was one of the largest brewing centers in the country, home to more than 45 breweries. Brooklyn Lager is amber-gold in colour and displays a firm malt centre supported by a refreshing bitterness and floral hop aroma with caramel malts.
Food pairing suggestions: Pizza, burgers, salads, steaks, Mexican food, roast chicken, barbecue, fried fish, pork, Chinese dishes, manchego, Stilton, farmhouse cheddar and mild Gruyere.
CLASSIC: Brooklyn Sorachi Ace (year-round draft and bottle) 7.6% ABV
Brooklyn Sorachi Ace is a bright, citrusy saison beer built around the unique flavour of the Sorachi Hop. Developed in Japan, the hop brings a zesty lemongrass scent and complex citrus flavours, that the skilled brewers at Brooklyn have worked their magic with to create a highly aromatic beer with a herbal flavour and a crackling dry finish.
Food pairing suggestions: Pork buns, fish tacos, prawns, smoked salmon, sushi, prosciutto, curries, salads, grilled meats and fresh goats cheese.
CLASSIC: Brooklyn East IPA (year-round draft and bottle and can) 6.9% ABV
Brooklyn East IPA is a clean, drinkable ale that's packed with flavour and offers a bold balance. Its bright piney aroma is combined with a firm fruity bitterness that sets the standard for hop-driven deliciousness.
Food pairing suggestions: Spicy foods, especially Thai, Indian, Vietnamese, Malaysian, Szcheuan and Mexican dishes; crab cakes, salmon, and English farmhouse cheddar.
CLASSIC: Brooklyn Brown Ale (year-round draft and bottle) 4.5% ABV
Brooklyn Brown Ale combines strong and dry with mild and sweet to create a deep russet-brown coloured ale with a roasty complex malt flavor, fruity, smooth and rich, with a caramel, chocolate and coffee background.
Food pairing suggestions: Steaks, burgers, stews, barbecue, venison, ham, roasted pork, aged cheddar, Gouda, Gruyere and sheep's milk cheeses.
CLASSIC: Brooklyn American Ale (year-round bottle and can)
Brooklyn American Ale is easygoing, versatile, and dependable. It's a beer you and your friends can hang out with, no matter where you're from.
Food pairing suggestions: Pizza, burgers, spicy foods, Thai, Mexican, salads, fresh cheeses, and sharp cheddars
CLASSIC: Brooklyn ½ Ale (year-round bottle) 3.4% ABV
Brooklyn Brewery 1/2 Ale harks back to traditional farmhouse ales, which used to quench the thirst of farmhands and other labourers on hot sunny days. These beers were complex yet clean, low in alcohol and high in refreshment.
Brooklyn Half Ale is unfiltered, clean, and balanced with a hazy, pale yellow colour that packs a symphony of citrusy hops over a gentle malt base.
Food pairing suggestions: Seafood, salads, spicy dishes, light pastries and fresh cheeses.
Brooklyn Brewery UK
www.brooklynbrewery.com
Instagram: @BklynBreweryUK / Twitter: @BklynBreweryUK
Facebook: https://www.facebook.com/bklynbreweryuk/
Fill Your Holiday Stockings with JanSport's Miniature Pouches and Accessories
Featuring a Tiny Backpack that Fits in the Palm of Your Hand
JanSport®, the original outdoor Brand since 1967, presents their latest range of stocking stuffer-ready accessories. From digital-friendly pouches to insulated lunch bags, the collection includes over ten unique styles designed to store daily necessities. Fan favorites includes the Right Pouch and Lil' Break, which are scaled down versions of JanSport's iconic backpacks that fit in the palm of your hand. The Burrito Pouch resembles a life-size burrito, and unravels to reveal a smart cord storage system and mesh pockets. Main highlights from the accessory collection include the following features:
From tiny backpacks to digital friendly pouches, JanSport offers over ten unique pouches for holiday gifting.
From tiny backpacks to digital friendly pouches, JanSport offers over ten unique pouches for holiday gifting.
Burrito Pouch
Innovative wrap style accessory pouch securely stores electronic cords, power bricks and daily essentials. Not edible.
Right Pouch
Modeled after the Right Pack, the pouch includes a leather base, one main compartment, and two zip pockets.
Lil' Break
This is a shrunken down version of the classic SuperBreak backpack. Keeps accessories organized and features two zip pockets and a handle.
Pixel Pouch
Wallet style design with a zippered pocket, mesh divider, and tricot lined pocket to securely store daily essentials.
All JanSport packs and gear are backed by a lifetime warranty. For more information on JanSport products, visit www.jansport.com.
About JanSport®
JanSport, a division of VF Outdoor, LLC, was founded in 1967 in Seattle, by three pioneers in the outdoor industry. Though the Company began by manufacturing world-class outdoor backpacks, today the product offering includes outdoor gear, daypacks, and travel gear sold on www.jansport.com, and through department stores, specialty stores, and boutique retail locations worldwide.
www.facebook.com/jansport
www.instagram.com/jansport
www.twitter.com/jansport
Beach Lane
Out On A Limb | Framed Art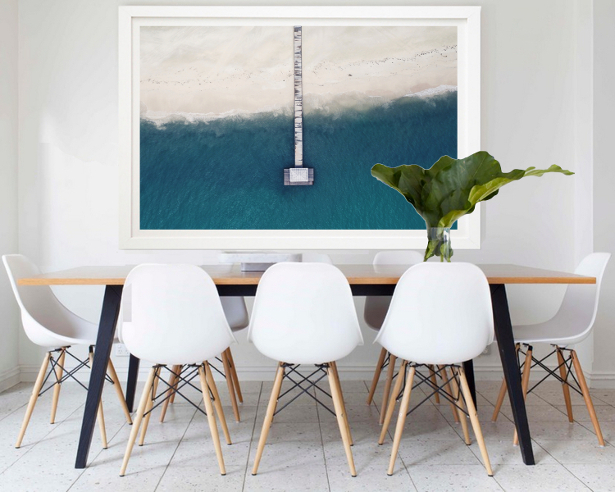 A beautiful piece of framed art designed to bring the beauty and magic of being by the coast into your home.
Our framed prints are created using the latest printing techniques to masterfully transfer the original design onto premium fine art paper, which is then framed by-hand behind a white wooden frame and plexiglass. The back of the frame is then attached with a hanging hook and comes delivered free to your door ready for instant hanging.
Available in 4 sizes:
50cm x 70cm
75cm x 100cm
90cm x 120cm
View product on company website:https://beachlaneart.com/collections/framed-art/products/out-on-a-limb-framed-art
Price: £145.00
Company: Beach Lane
Telephone number: 07730979720
Press Loft link: http://www.pressloft.com/product.php?pid=1875722&tid=1
Stockist information: beachlaneart.com/
t By William Peter Blatty, Illustrated by Jeremy Caniglia
£39.95 www.foliosociety.com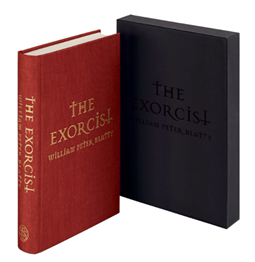 Few novels have shocked the world like The Exorcist. William Peter Blatty's gripping tale of a young girl thought possessed, and the small group of determined individuals who race against time to save her, is as iconic as it is horrifying. But it is also a satisfyingly complex exploration of Catholic notions of suffering, guilt and redemption, and The Folio Society edition is a fitting tribute to an unforgettable work of psychological horror. This iconic title – a milestone of the genre – has often been requested by The Folio Society readers.
Simona Maghen's fit-to-flatter cocktail dresses are the new darling of classy holiday fashion!
www.simonamaghen.com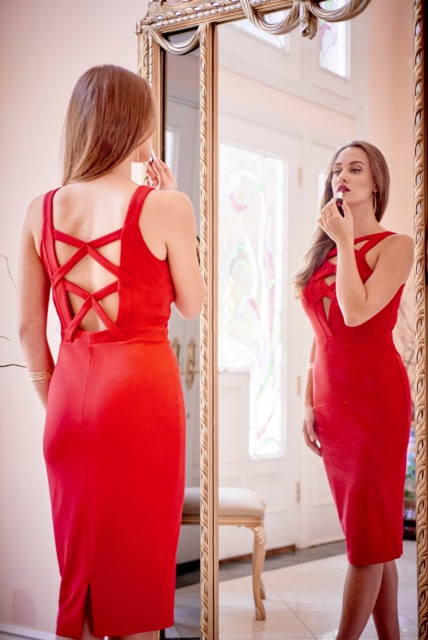 New fashion line, Simona Maghen's elegant cocktail dresses are getting sold out fast among the holiday shoppers. The fit to flatter edgy yet sophisticated styles assure great comfort, unmatched style and reasonable pricing.
For all those gorgeous divas looking forward to shop classy cocktail dresses come holiday season, time is running out! New fashion line Simona Maghen, has introduced an exclusive range of cocktail dresses that have fashion lovers lining up for them from all over. Based in LA, her brand's DNA and essence is all about creating innately modern yet sophisticated, fit-to-flatter dresses within a moderate budget. She designs for the modern woman who is confident, cool yet bold, and not afraid to embrace her femininity and accentuate her curves.
From design lines, to choice of fabric and construction, Simona has particularly chosen a quality driven substantive weight of rayon, nylon, spandex blend for fabric as it creates a breezy feeling against the body, and assures easy maneuver. Moreover, the choice in fabrics coupled with the fact that the dresses are lined enable the dresses to be flattering as they smoothly conform and highlight every woman's individual feminine form. They also boast an unmatched flair to make you the sure-shot head turner at the holiday parties."
Simona Maghen's collection is geared to all the beautiful women out there who desire to be both stylish yet crave for modern sophistication at reasonable prices. The company website features a "Buy Now" section under the "Shop" menu which boasts 6 new styles from edgy sophistication to modern classic. Dresses featured include – Bondage dress, Taylor dress, Gina dress, Homa dress, Jayla dress, and Emma dress. All the styles are available in 2 charming colors.
Get you holiday dress now at www.simonamaghen.com and be the one everyone can't keep there eyes off! For a limited time we are offering 60% off, just type in code "60OFF" at checkout, from Nov. 22nd – Nov 28th, and as always receive free shipping!
THE TOUCHPOINT SOLUTION™ IS HERE!!
Stressed out? Can't sleep? Having trouble focusing? Your troubles are almost over. Give the gift of calm!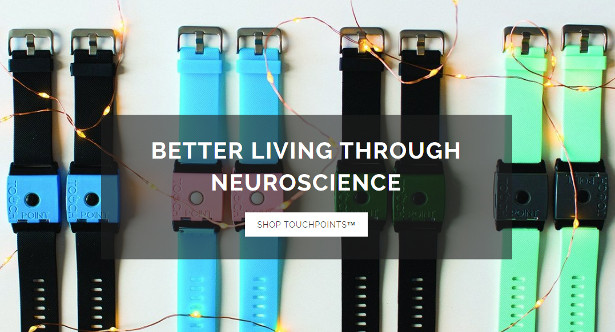 I know you will be excited with TOUCHPOINTS™, the first ever wearable devices to reduce stress by over 70% in as little as 30 seconds!
This new and effective method of helping to create calm, sleep and much more, created by neuroscientist Dr. Amy Serin, TOUCHPOINTS™ use embedded BLAST (Bi-Lateral Alternating Stimulation-Tactile) technology to help to reduce stress — by over 70% in as little as 30 seconds. The devices are non-invasive, drug free and have shown great success not only for day to day anxiety and stress, for cravings, to promote restful sleep, deal with anger, and help us to focus and therefore increase performance.
What a great holiday gift! Who wouldn't want your significant other, close friends, family members and even kids more relaxed and less stressed? This is the gift that keeps on giving throughout the year as everyday pressures, workloads, social situations, and family dynamics (not to mention reading the news!) create stress on an ongoing basis. It beats a bottle or two of wine which would likely be good only for one evening.
The original TOUCHPOINTS™ work with an app and have six settings; the new, basic model has three settings and does not require an app, making it easier for children with ADHD or autism to use them in school or elsewhere more easily. Parents and teachers both rave about their effectiveness. TOUCHPOINTS™ basic and original are available at www.ilovetouchpoints.com and numerous other e-tailers and are reasonably priced to make them accessible, one of the goals of the company's founders, Dr. Amy Serin and Vicki Mayo.
www.thetouchpointsolution.com
Elevate her beauty with all natural fresh skin care that hydrates and glamorises.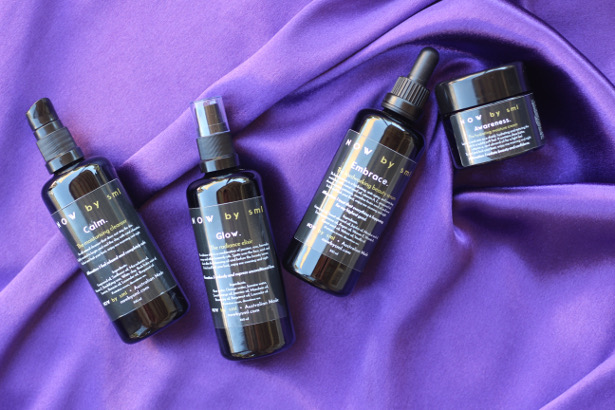 Indulge her in a 4-part beauty regimen by NOW by sml. This beauty regimen includes a cleanser, toner, serum and moisturiser. You can't stop aging but you can look good for your age. Welcome to the Now Regimen. A skin care line that helps women embrace their individual beauty. It's not a time machine, but it will help her embrace the now and bring beauty to the present moment. It will open her heart up to who she is, not only on a surface level, but who she is beneath the surface. By enjoying the entire range of Now, she will find yourself awakening to something more – to more beauty, more glamour and more confidence. Some people say it's a spark, a glow, and even a radiance that transcends time which awakens within the woman that uses the Now Regimen.
She will start to see the changes within herself, when she starts making time for yourself, and this includes proper skin care that is free from chemicals. Her confidence will soar because she is no longer fretting over those insecurities which once bothered her. Indulge your lover in the very best skin care, and watch as she embraces a new attitude to life, love and herself.
Hopewood provided guidance and support at its health retreat for over 55 years with a goal to help people understand and maximize their unique, inner potential for good health and wellbeing through a holistic, natural approach.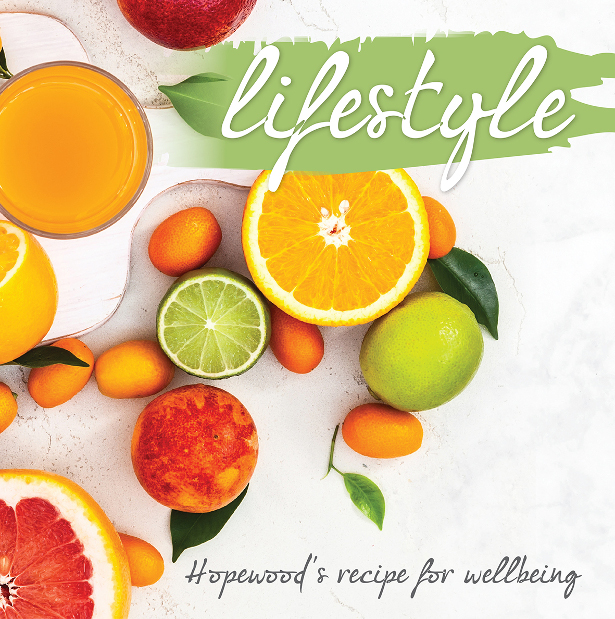 Check out their recipe book, Lifestyle – Hopewood's recipe for wellbeing. It includes over 100 easy to prepare, mouth wateringly delicious and incredibly healthy vegetarian recipes with inspirational quotes and gorgeous pictures. There's also loads of healthy lifestyle information on food combining, detoxing and juicing, weight and stress management.
This is the PERFECT Christmas gift and is on SALE NOW!
1 book: $39.95
2 books: $69.95
3 books: $99.95
Website: www.hopewood.com.au to learn more today!
We at thankfulmail.co work on bringing back the magic of gratitude.
By delivering artisan 'thank you' cards on regular basis we help people cultivate gratitude habit, which is scientifically linked with higher happiness level! Our cards are also present in specialty coffee places across the world as a perfect match with their reflective mood.
Divino Classic Education: Perfect for travel time and downtime for your Rugby Aficionado

From the Rugby sidelines, driving to tournaments and to entertain the non-rugby crowd, you need a high-tech gift that entertains. Actually, you can get a double win with Divino Classic Education: it is fun and educational.
The InTouch Rugby team needs Apps that will challenge and entertain. The developers of this iOS app are providing Divino – Classic Education for free with optional in-app purchases for hints.
Download it at the App Store and include a pack of 500 hints for $1.99.
https://itunes.apple.com/us/app/divino-classical-edition/id1176724988?ls=1&mt=8
The development of the Divino Classical Edition app was inspired by a variety of dinner conversations after busy games of rugby. Topics of discussion in one evening included the Sword of Damocles, Special Relativity, Las Meninas, Ada Lovelace, Bosnia and Herzegovina, Jack London and Fibonacci Numbers. The next evening the topics flipped to the Higgs Boson, the Odyssey, the Samothrace Temple, Jack Kerouac, Macbeth, Minkowski Space and Schrödinger's Cat. If you have been on the periphery of one of these conversations, wouldn't you have just loved to join in the conversation?
Kids who play this family-friendly app will become motivated to augment their rugby obsession with visits to art museums, reading beloved classic books, adding mythological references to conversations or retaking the SAT with new-found vocabulary knowledge. The possibilities are limitless.
The App includes Easter Eggs – interesting stories to pepper into conversation or to entertain kids or adults of any age.
The six free categories are Greek Mythology, Literature, Latin, Science, Geography and Art. It is the educational alternative to hours of mindless matching games.
Imagine the surprise when your 12-year old correctly references the Greek king, Sisyphus, by name when you mention that a task is like rolling a boulder up a hill for eternity? Or that Ceasar said his famous words, "Veni, vidi, vici" after defeating King Pharnaces II and then immediately returned to Cleopatra's side? Or that the citizens of Monaco are not allowed to enter the Monte Carlo casino? Or that the movie "She's the Man", starring Amanda Bynes and Channing Tatum, is actually an adaptation of Skakespeare's "Twelfth Night"? Or that Hedy Lamarr, the actress, developed and patented the technology that is used for Wi-Fi and Bluetooth? Or that the model for Botticelli's "Birth of Venus" painting was likely a cousin-in-law of Amerigo Vespucci, the explorer for whom America was named?
Hugomatica LLC
NOW That's What I Call Music! 98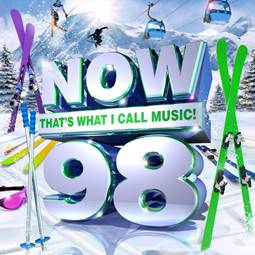 RRP: Under £15.00
Cat no: CDNOW98
Barcode: 889854244125
Link: https://www.nowmusic.com/album/now-98/
Image: https://www.dropbox.com/sh/j256cxzpaof6p2u/AAD6roSEw5R0bAHmjUW90UrSa?dl=0
As we hurtle towards the monumental heights of NOW 100, NOW That's What I Call Music has released NOW 98, their final numbered album of the year. Jam packed with the bestselling hits, it is the ultimate soundtrack for those office parties and cosy nights in.
Top tracks on NOW 98 include comedian and cult phenomenon Michael Dapaah aka. Big Shaq who has shot to stardom with his brand new single 'Mans Not Hot', the upbeat 'Havana' by Camila Cabella and Young Thug, the smooth, chilling vocals of ZAYN feat. Sia in 'Dusk Till Dawn' and the return of Sam Smith with his brand new single 'Too Good at Goodbyes'. London artist Stefflon Don has had a sensational year, working with some of the biggest US talent from Jax Jones to her brand-new single with French Montana 'Hurtin Me'.
2017 has been a breakout year for a number of music genres; we've seen the rise of the Latino rhythms of reggaetón; popstars Justin Bieber and Little Mix have all been getting in on the action, grime has made its stamp on the mainstream market and even viral and reality stars have created some of the most banging tunes. Take Cardi B's 'Bodak Yellow', who made waves reaching No.1 on the Billboard Hot 100, the first solo female rapper to do so since Lauryn Hill in 1998. Since 1982 NOW has captured these historical musical moments and mapped the journey of the world's newest and hottest artists, curating the ultimate playlists and soundtracks to people's lives.
NOW is dominating The Compilation Chart with 6 NOW albums currently smashing the listings, with NOW 98 is set to become a household favourite too. You can also listen to this album and more via the NOW Music App www.nowmusicplus.co.uk .
TRACK LIST
CD ONE
01. Camila Cabello feat. Young Thug – Havana
02. Post Malone feat. 21 Savage – rockstar
03. Sam Smith – Too Good At Goodbyes
04. P!nk – What About Us
05. Dua Lipa – New Rules
06. Ed Sheeran – Galway Girl
07. Charlie Puth – How Long
08. CNCO & Little Mix – Reggaetón Lento (Remix)
09. J Balvin & Willy William – Mi Gente
10. Justin Bieber & BloodPop® – Friends
11. ZAYN feat. Sia – Dusk Till Dawn
12. Katy Perry feat. Nicki Minaj – Swish Swish
13. Demi Lovato – Sorry Not Sorry
14. Stefflon Don & French Montana – Hurtin' Me
15. Louis Tomlinson feat. Bebe Rexha & Digital Farm Animals – Back To You
16. Khalid – Young Dumb & Broke
17. Maroon 5 feat. SZA – What Lovers Do
18. Jason Derulo – If I'm Lucky
19. Clean Bandit feat. Julia Michaels – I Miss You
20. ALMA – Chasing Highs
21. Zedd & Liam Payne – Get Low
22. Charli XCX – Boys
23. Rita Ora – Anywhere
CD TWO
01. Marshmello feat. Khalid – Silence
02. Avicii feat. Rita Ora – Lonely Together
03. James Hype feat. Kelli-Leigh – More Than Friends
04. Yungen feat. Yxng Bane – Bestie
05. Mabel feat. Kojo Funds – Finders Keepers
06. Chris Brown – Questions
07. Craig David – Heartline
08. Selena Gomez & Marshmello – Wolves
09. MK – 17
10. Axwell Ʌ Ingrosso – More Than You Know
11. Liam Payne – Bedroom Floor
12. Duke Dumont & Gorgon City feat. Naations – Real Life
13. CamelPhat & Elderbrook – Cola
14. Lil Uzi Vert – XO TOUR Llif3
15. Big Shaq – Man's Not Hot
16. Chris & Kem – Little Bit Leave It
17. Cardi B – Bodak Yellow
18. Logic feat. Alessia Cara & Khalid – 1-800-273-8255
19. Paloma Faith – Crybaby
20. The Script – Rain
21. Rag'n'Bone Man – Grace (We All Try)
22. Liam Gallagher – Wall Of Glass
23. The Killers – The Man
Our Legacy of Gratitude Journal – A Ritual of Thanks: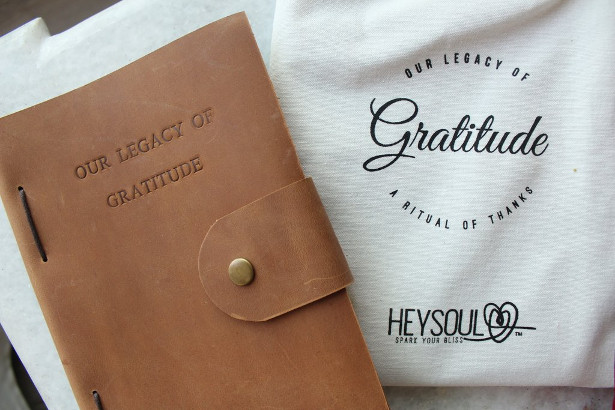 A journal to document what your family is thankful for year after year, creating a legacy of gratitude and new ritual for this year and generations to come.
Pass the journal around the table. Have everyone write down what they are thankful for, the date and their name. Each person shares what they wrote. The impact comes years and years down the road as your family continues the ritual year after year.
This journal becomes a family heirloom to last lifetimes and links generations with the mindful and critical value of gratitude.
You get a handcrafted leather journal, a canvas bag for safe storage over the years and a gratitude card with instructions on the ritual to keep it alive for generations to come.
https://heysoul.com/collections/all/products/our-legacy-of-gratitude-book-a-ritual-of-thanks
12 Emerging Wellness Spa Travel Trends for 2018 and Beyond
Forecasting the next big trends in wellness travel for 2018, Health and Fitness Travel live up to their reputation as the wellness holiday specialists. From mindful movement holidays, to happiness retreats and architectural wellness, discover the hottest new trends that will influence the wellness world in 2018.

Preventative Health to Eliminate Disease
With preventable diseases responsible for approximately 70% of premature deaths worldwide each year[1], it's more important than ever that we start to take our health in our own hands. As people become increasingly aware of how unhealthy habits and lifestyle can significantly increase the risks of illness, including heart disease, diabetes and cancer, there has been an increase in preventative health holidays to keep your well-being in check. Medi-spas usually involving a comprehensive health check-up, counselling and spa therapies are advancing to cater to disease prevention.
Top 3 Destinations: Palacio Estoril Preventative Health (Portugal), Kurotel Healthy Longevity (Brazil), The Farm Heart Health & Stress Reduction (Philippines)
Architectural Wellness
A growing trend in the wellness industry[2], 'wellness architecture' is reshaping the luxury travel sector, providing spaces that are not only structurally beautiful, but also comfortable, functional and sustainable. With guest welfare at the forefront, more 'healthy-for-human' hotels are emerging, where both the design and materials used address the physical and mental health of the people inside. This includes 'living' buildings, with greenery that grows inside, and design that encourages human movement and mindfulness.
Top 3 Destinations: Aro Ha (New Zealand), Soneva Kiri (Thailand), Santani Wellness Resort (Sri Lanka)
Food as Medicine
A worrying 7 in 10 people take prescription medication[3], and this unhealthy pill-popping culture has led to an awareness of the need to replace pharmaceuticals with more natural remedies. We're now seeing a growing trend towards 'food as medicine', with more people ditching the drugs in favour of treating their ailments with the right nutrients. This has also led to an increase in nutrition-friendly holidays, where guests can discover the best diet for their body type and health concerns.
Top 3 Destinations: SHA Wellness Clinic (Spain), Samahita Candida Detox (Thailand), Sianji Master Detox (Turkey)
Break-up Breaks
Contrary to the belief that holidays are reserved for celebratory events such as honeymoons and anniversaries, more people are planning wellness holidays following the breakdown of a relationship. The stress and anxiety caused by major life changes like divorce, lead many individuals on a solo wellness trip, in order to tap into the transformative power of travel. Retreats are responding to this growing trend, with an array of emotional healing therapies, stress management and life coaching services.
Top 3 Destinations: Phuket Cleanse (Thailand), Kamalaya Embracing Change (Thailand), BodyHoliday September Solos (St Lucia)
Mindful Movement
Mindfulness has been a major buzzword in the wellness world over the last few years, and 2018 is set to be the year of 'mindful movement'. With increased awareness of the connection between the mind and body, a shift towards mindful exercise is occurring, bringing attention and focus to one's workout, whilst reaping the physical and psychological benefits of exercise. Next year will see a significant emergence of such workouts, as well as more retreats offering wellness programmes with equal focus on being active and mindful.
Top 3 Destinations: Marbella Club Mindful Triathlon (Spain), Epic Sana Mindfulness Retreat (Portugal), Shreyas Silent Retreat (India)
Technology for Wellness
It will come as no surprise that in this tech-dependent digital age, one of the biggest trends in the wellness industry is still technology. Spa and fitness technology has become increasingly sophisticated, with traditional treatments and activities being adapted to enhance results using technical approaches, from measuring your body composition to high-tech anti-aging medi-spa treatments. Despite the growing awareness of the need for regular 'digital detoxing', technological advances in wellness will only continue to accelerate to meet consumer demands.
Top 3 Destinations: Six Senses Douro Valley Integrated Wellness (Portugal), Longevity Medical Spa (Portugal), SHA Rejuvenation (Spain)
Skip Gen Holidays
While last year we saw a rising trend for family and 'multi-generational' holidays; 2018 is set to be the year of 'skip-gen' trips, where grandparents take grandchildren on once-in-a-lifetime holidays, leaving parents behind. The reason for this shift can be attributed to the fact that the baby boomer generation are now retiring, with their top priorities being family and travel. Skip-gen holidays combine the two, providing the opportunity for major milestones such as graduations and special birthdays to be celebrated in style.
Top 3 Destinations: Zighy Bay (Oman), Sun Gardens Dubrovnik (Croatia), Kamalaya (Thailand)
Happy Retreats
According to recent studies, experiences, not things, make us happy[4]; therefore, it's no surprise that people are investing more on satisfying their wanderlust than buying material goods. English author Leigh Hunt writes, "The groundwork of all happiness is good health" and in the same vein, health resorts are highlighting the importance of wellness to achieve joyful bliss. Activities like morning hikes and beach circuit training all foster the production of serotonin (the 'happy hormone') and the likes of laughter yoga, smile-asanas and inner-smile meditation will soon fill your retreat schedule.
Top 3 Destinations: The Mind Coaching Retreat at MacDonald Monchique (Portugal), SwaSwara (India), Shanti Maurice De-stress (Mauritius)
'Now Age' Holidays
Not shying away from the mystical world, more wellness retreats are beginning to tap into the healing powers of spirituality. The eclectic new-age practices of the 70's are alive and flourishing in the 'now' society, with the integration of holistic or alternative healing therapies to modern western medicine. From crystal and energy healing, to reiki and light therapy, wellness retreats are bringing these unconventional healing techniques to achieve harmony of the mind, body and spirit.
Top 3 Destinations: Lefay SPA (Italy), Fusion Maia (Vietnam), Ocean Soul Holistic Retreat (Bali)
Community Wellness
The wellness tourism industry is placing an emphasis on social responsibility and are starting to take steps to 'pay it forward' and give back to their communities. From championing locally-made commodities, supporting farmers by procuring home-grown harvests to arranging community exercises to nearby villages, schools or orphanages, resorts are spreading the essence of wellness to those who need it. The rise of 'eco-tourism' complements these humanitarian efforts with a focus on community, environmental preservation and self-sustainability.
Top 3 Destinations: The Retreat (Costa Rica), Shreyas Joy of Giving (India), SwaSwara (India)
Health DNA Testing
In recent years, personalisation has been taking the wellness industry by storm, with consumers increasingly demanding tailor-made fitness programmes and spa treatments to accelerate results. Taking this one step further, people can now discover the role their genes play in their overall well-being with the emerging science of DNA testing. More spas and retreats now offer DNA analysis and consultations, to really tailor guests' treatment plans to their health needs, and determine any predispositions they might have to certain types of diet, exercise and lifestyle choices.
Top 3 Destinations: BodyHoliday BodyScience (St Lucia), SHA Rejuvenation (Spain), Longevity Wellness Booster (Portugal)
Healthy Ageing Population
It's no secret that we're living longer, but want to look and feel younger, resulting in a boom of healthy-aging holidays to help maintain a youthful glow. Already highly popular with the Baby Boomer generation, the appeal of healthy-aging holidays are also rising in popularity with millennials; the oldest of whom are now in their mid-thirties! From collagen facials and vitamin C injections to non-surgical facelifts and menopause relief, spas and health retreats are offering consumers the opportunity to help slow down the clock.
Top 3 Destinations: Forte Village Anti-Aging (Sardinia), Divani Apollon Rejuvenation (Greece), Santani Anti-Ageing (Sri Lanka)
For advice, guidance and booking visit www.healthandfitnesstravel.com or call 0203 397 8891
Accessorize!
http://uk.accessorize.com/view/blog/the-best-ever-luxury-christmas-gifts-for-your-bffs-9396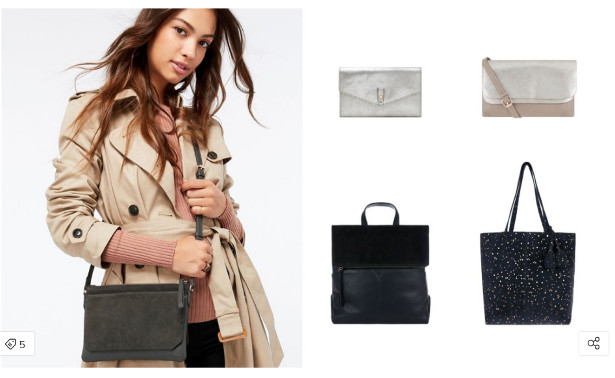 We all need to look after our PCs to get the most out of them. Products such as Boost Speed let you optimize and speed up your PC for Peak Performance.
https://www.auslogics.com/en/software/boost-speed/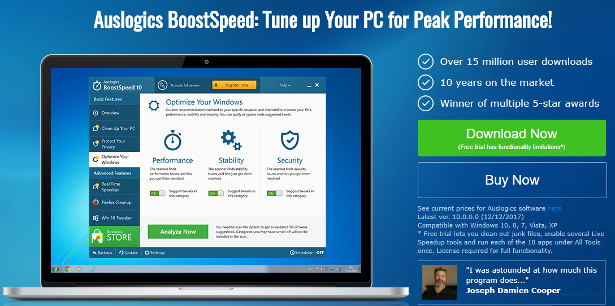 Bit Replica lets ensures that all your precious memories and kept safe. It protects your photos, music, documents and any other data from being lost due to a hard drive crash, virus attack or accidental deletion.
http://www.bitreplica.com/

JetClass, a new way of air travel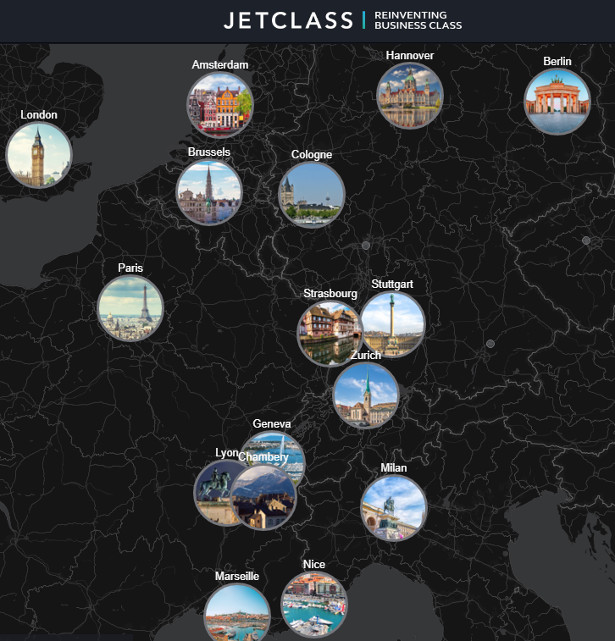 JetClass allows to book seats on scheduled private jet flights across Europe for prices starting from 290EUR. Now private jet flights are accessible for everyone, and what can be a better Christmas gift that a private flight for affordable prices?
JetClas has launched recently and already gained a number of frequent travellers that appreciate superior experience and substantial time savings during their journeys, business and leisure ones.
www.jetclass.com