From South Africa With Love – New Kalahari Truffle Infused Gin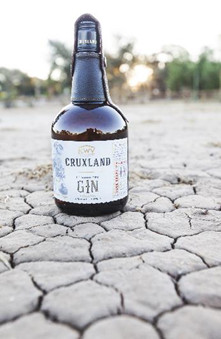 South African producer KWV's Cruxland Gin – the first Gin to be infused with the rare Kalahari truffle – is available in Morrisons at RRP £27.
Known as !N'abbas in the Nama language, these rare Kalahari desert truffles grow far apart and are difficult to find without the help of a skilled !N'abbas hunter.
Made from 100% grape spirit, infused with the elusive Kalahari truffle and eight other botanicals, including indigenous honeybush and rooibos, this premium Gin is made only in small batches and draws on KWV's rich South African heritage.
Well balanced and complex, KWV's delicious Cruxland Gin has fresh aromas of juniper and lemon, enhanced by coriander and spice and an earthy character from the truffles, as well as a soft, creamy and sweetish long finish from the honeybush, rooibos and almond.
They just won World's Best London Dry Gin from South Africa in the recent World Gin Awards! (http://www.worldginawards.com/winner/gin/2018/worlds-best-london-dry-gin-world-gin-awards-2018)