A quick search online using 'buy ink cartridge for printer' reveals today in 2018 branded ink cartridge at £253, another at £86, an original branded toner at £59.99.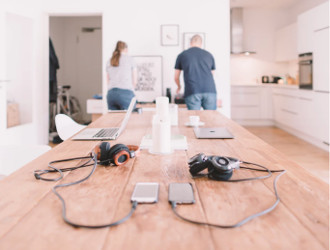 This is a significant cost, to any business, to use an ink, many printers are cheaper than the dearer of those two prices and many even are cheaper than the second price.
So how many pages will it print. Good question, right? Again a quick search online reveals a range of yields, some say 550 pages in Black & White and 750 pages in colour. This is where it gets subjective in that it actually depends on what you are asking the printer to print. For example if you are asking the print to print an entirely black page with a small white box in the center you will get a lot less than the stated 550 pages in black and white, same with printing a full colour page with just a small white box in the center. However if you are cutting back your costs which is a fundamental value of business (without sacrificing quality where necessary) means that you may take the typical printer in your company or at home and actually look at typical consumption in a typical month, say over 6 months and get a good picture of what is happening with that cost. Yet, you don;t have to even go to that level when you are faced with a simple clear professional choice between the price of a branded cartridge and the price of an unlabeled compatible cartridge. Here is an available example right now from WhichCartridge.co.uk . This example is a real live example that can be purchased today, here it is > Compatible HP 85A toner (Original HP ink £55.49 / compatible HP ink £12.67 a saving of 77%!). Worth trying right? These are incredible differences in prices. Just 3 cartridges represents a saving of £128.46. So instead of spending £166.47 the expense is £38.01. three of the compatible cartridges is over 20% cheaper than one of the dearer cartridges.
A reliable service that provides this type of saving is something that makes a real difference immediately implementable at home or in your business, extrapolate the reduced costs over a year, 2 years and its actually for many businesses adding a really tangible percentage to their end of year profits ar taking down those annual household expenses. Savings like these are hard to come by and a lot of people have made the switch to compatible ink cartridges from companies who trade locally in their neighbourhood or online with reputable safe and secure services providing years of reliable service to their customers and picking up super reviews from happy satisfied customers who are taking the great savings and investing that suddenly surplus cash into R&D in their businesses to develop products for the next generation, or at home using the money to bring the kids out once a month to their favourite classical music performance or for a Christmas trip to the Christmas live drama shows!
As always delighted to communicate recently acquired knowledge and pass on any tips like this that we can. Look around and check out things, do your own research and then test out your findings!
Very best wishes!
InTouch Rugby Money Editor.