Troo Foods Granola… Functional Fibre, Low Sugar, Gluten Free + Vegan !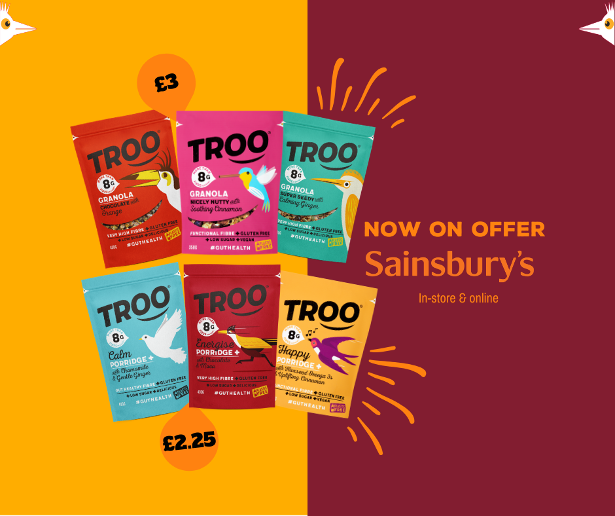 FACEBOOK | TWITTER | INSTAGRAM | YOUTUBE
"Our company's mission is to make people as passionate about gut-health as we are. We want our brand 'Troo' to be synonymous with gut-health and recognised as the lead brand for really delicious, naturally functional food – no compromises. We are not about taking away life's pleasures, we're about helping people make the right choices most of the time; about bringing a smile to gut-healthy eating.
There is growing evidence that shows how fundamental gut health is for us to live a long, happy and healthy life. Our gut health can have a huge impact on our physical and mental health and wellbeing. Learning more about gut health has inspired us to create a range of gut-healthy food. Our first products will help you get the day off to a gut-healthy start; delicious, award-winning breakfast granola packed with natural ingredients – plant based, gluten free, low sugar, high fibre packed in 100% plastic free, compostable pouches. Probably the healthiest granola on the market…
We want to do more though; we aim to share the latest scientific evidence with people along with inspirational recipes and new product news – building a community and communication platform under 'eattroo' using our website and social media.
We always want to be simple, straightforward and fun too – this is reflected in our bold, colourful packaging and branding." Troo Foods.