'Why Men Are Like Shoes'
Ms Pink Herself (aka Kerry Howard) is a best-selling author, psychologist and executive coach and realist. She is a straight talker who is dedicated to helping you create the 'Life You Love!'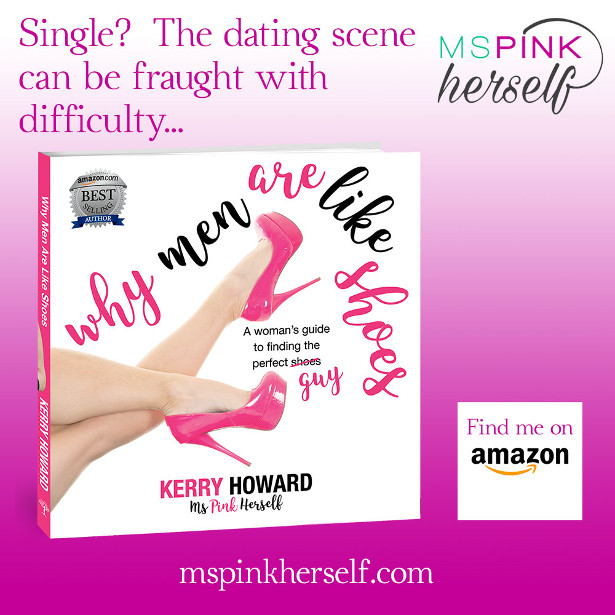 Her second book, 'Why Men Are Like Shoes' is a light-hearted look at dating and romance, using an analogy that most women understand – a love of shoes.
Ms Pink Herself is passionate about helping people to experience their best life, even when they are not sure it is possible, that includes having fun with dating and relationships.
Her mission is to help you see yourself as you 'truly' are – unique, valued and gorgeous – a Diva! She's the creator of DivaTV and founder of multiple Diva programs. Her work is devoted to sharing ideas, tools and resources that will help you create the Life You Love… Body You Want… and Relationships You Desire…
'Define Your Inner Diva: Turn your mid-life crisis into a mid-life revolution' launched last year and became an Amazon No. 1 best-seller within 4 days! This a serious "how to" book written by a woman who has literally 'been there and done that'.
She has not only made this personal transformation herself, but also worked with 500+ clients, assisting them to transform their lives.
"I would love it if we lived in a world where we could just accept people for who they were, how they wanted to live and we are not trying to change them, but just embrace their difference," she says.
She has been described as insightful, inspirational and amazingly intuitive…
A perfect Valentine's Day and book that will appeal to single women of all ages.
Bensons for Beds
Get Between The Sheets With Bensons for Beds This Valentine's Day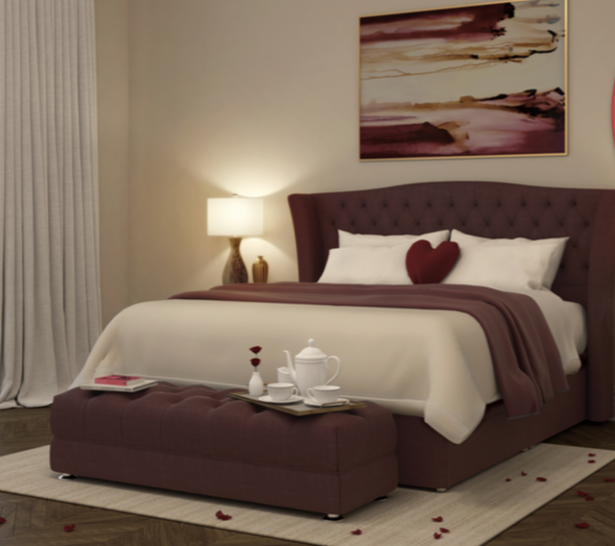 Bensons for Beds sell more King Size Divan Beds in February than any other month of the year and with Valentine's Day just around the corner there has never been a better time to update your bedroom!
The King Size Divan Beds from Bensons offer the ultimate in comfort, storage and style – you won't ever want to leave the sheets. And with hidden storage built-in your bedroom will be a serene room to relax in for years to come.
Products: The Heirloom Bed with Belgravia Buttoned Headboard in Highland Thistle RRP – £2088 for both:
Buy: www.bensonsforbeds.co.uk
Harvey's Furniture
Harvey's Love Seats – Perfect for Valentine's Day Cuddles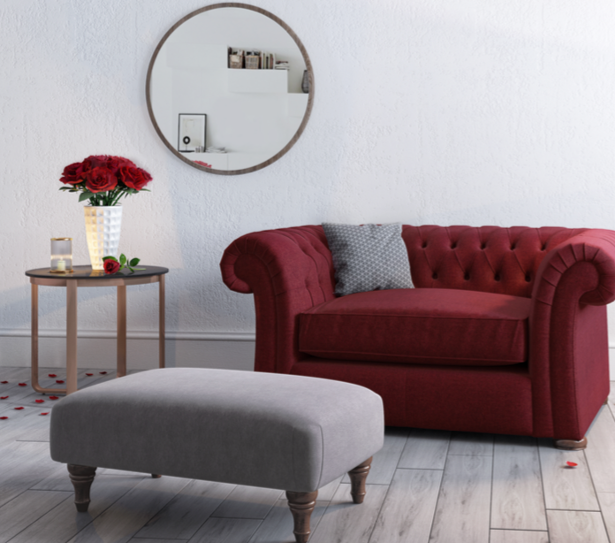 Valentine's Day is here and what better way to make your home a cosy haven for two than with a Love Seat?
Perfect for snuggling, cuddling and nights in with nothing more than each other's company, these Love Seats from Harveys are the perfect size for cosy couples. Available in a variety of trend-led colours and fabrics, they make a great statement in any room.
Products: Winslet Footstall (RRP £209), Hedley Lamp Table (RRP £199) and Haydon Mirror (RRP £99)Winslet Footstall (RRP £209), Hedley Lamp Table (RRP £199) and Haydon Mirror (RRP £99)
Buy: www.harveysfurniture.co.uk
Gin lollies for your loved one this Valentine's Day? 'You're the Brighton Gin to my tonic' lollies from UK's favourite gin
The UK's favourite gin* has launched a gin flavoured lollipop for lovers this Valentine's Day.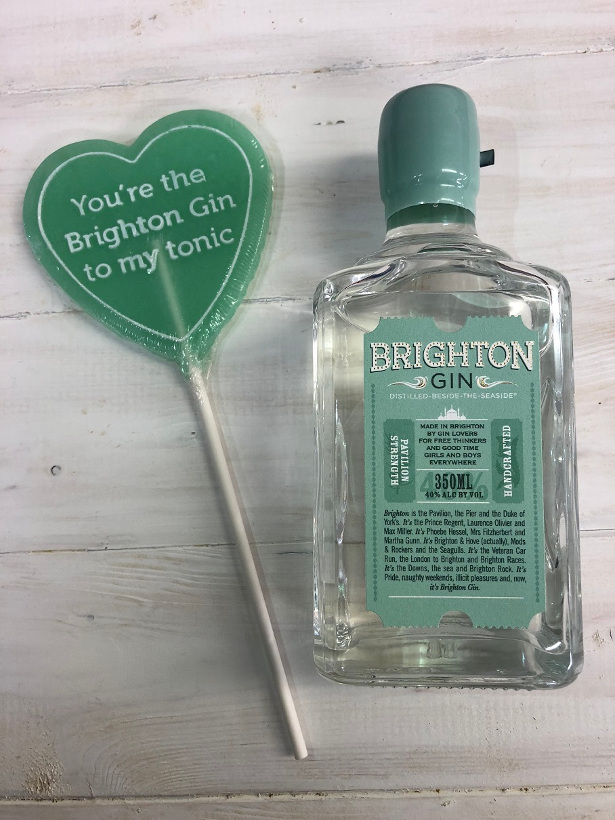 With the phrase "You're the Brighton Gin to my tonic' engraved on to them and in Brighton Gin's distinctive 'seafront railings' blue/green colour the heart-shaped lollies come as a pack of three at £8, in a couples kit of 2 lollies and 2 cute miniature bottles (50ml) at £17, as a lollipop and half bottle gift (350ml) at £25, or a lollipop and full bottle gift at £41.50.
On sale this week from Brightongin.com (which has launched an online shop in time for Valentine's Day) the lollies are flying out of the Brighton distillery.
Secret admirers should place orders by 9am on Monday 12th February for delivery on or before 14th.
*Voted the UK's best gin in the 2017 People's Drinks awards, Brighton Gin is smooth, gentle and approachable and is mellow enough to be sipped neat over ice. It is particularly delicious as part of a classic G&T, served with a fine tonic and a slice of orange – the better to bring out the citrus botanicals – and works brilliantly in a Martini, a Negroni and a French 75 (or a Sussex 75 with your favourite Sussex sparkling wine).
Locals often drink it as a unique Brighton Gin Rocktail – with tonic, ice and a chunk of Brighton rock.
The 'You're the Brighton Gin to my tonic' lollipops weigh 85g and are made with Brighton Gin.
VALENTINE'S DAY WITH MORE MORE MORE….
With Valentine's Day just around the corner, it's probably about time you start thinking about how to celebrate.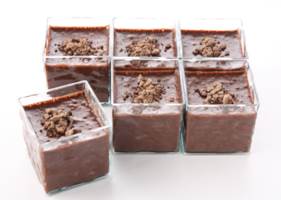 If you don't fancy dining out and want to opt for a more intimate affair then the More More More delivery service is just for you!
More More More delivers a bespoke box of delicious, premium-quality ready-to-cook dishes, direct to your door. Every dish is lovingly prepared and made from the finest and freshest ingredients, free from preservatives.
For Valentine's Day, More More More have created a special menu just for two. Simply choose a starter, main, dessert and get your Valentine's Day feast delivered straight to your door.
Choose from starters of red onion and goats' cheese tart; smoked mackerel pate; chicken liver parfait or king prawn skewers with a sweet chilli dipping sauce.
Mains include chargrilled salmon with coriander and mint yoghurt; beef wellington; grilled field mushroom with dolcelatte or parmesan, pancetta and spinach stuffed chicken.
Choose from a selection of sides including celeriac and roasted garlic puree, sautéed potato cubes with sea salt and rosemary or roasted root vegetables with maple syrup to name a few.
What better way to finish than with a chocolate pot; sticky toffee pudding with salted caramel; white chocolate and blueberry mousse or fresh berry lime infused creams.
Simply pre-order straight to your door and look no further! Enjoy Valentine's Day without the fuss!
Order online at https://www.more-more-more.co.uk/buy-online/menu/valentines-menu/#starter
Cost: Valentines Menu for Two £80 (1 starter, 1 main and 1 dessert to share between 2)
Additional cocktails: £23.90 (4 portions) Add a bottle of Veuve Cliquot Champagne for £49.50
Frezyderm glitter toothpaste!
It retails at 7.99 and is packed full of healthy vitamins for the teeth gums – a must for getting close!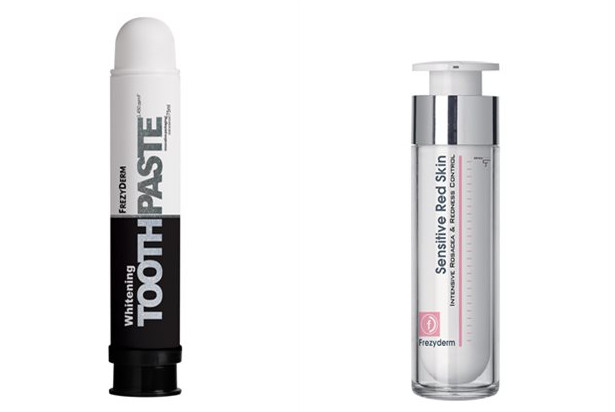 & Frezyderm sensitive red moisturiser, which will save a red face or blushes on Valentine's day, priced at 21.50.
Will You Beer My Valentine?
Give the gift of beer this Valentine's Day with Beer Hawk's Valentine Gift Box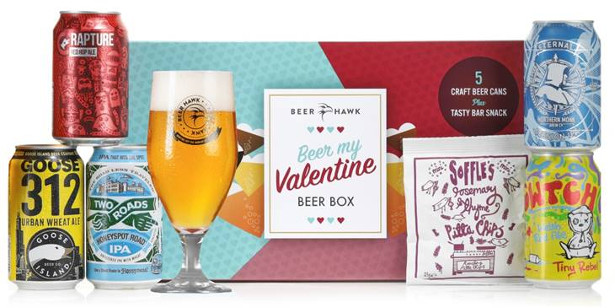 A stack of flyers on a table Description generated with high confidence
Nothing says "Beer My Valentine" more than Beer Hawk's Valentine gift box. Each gift box contains five craft beer cans, a tasty bar snack and a Beer Hawk glass – it's the perfect gift for the beer lover in your life this Valentine's Day.
RRP: £20
Available exclusively from: Beer Hawk – https://www.beerhawk.co.uk/valentines-gift-box
Each box contains:
Magic Rock Rapture
Goose Island 312 Urban Wheat Ale
Tiny Rebel Cwtch Can
Two Roads Honeyspot
Northern Monk Eternal
Soffles Pitta Chips Rosemary & Thyme Mini
Beer Hawk Aviero Glass
Kama Sutra Workout
Price: £8.99 |Paperback
Who needs to join a gym this January when you can get all the exercise you need in the bedroom?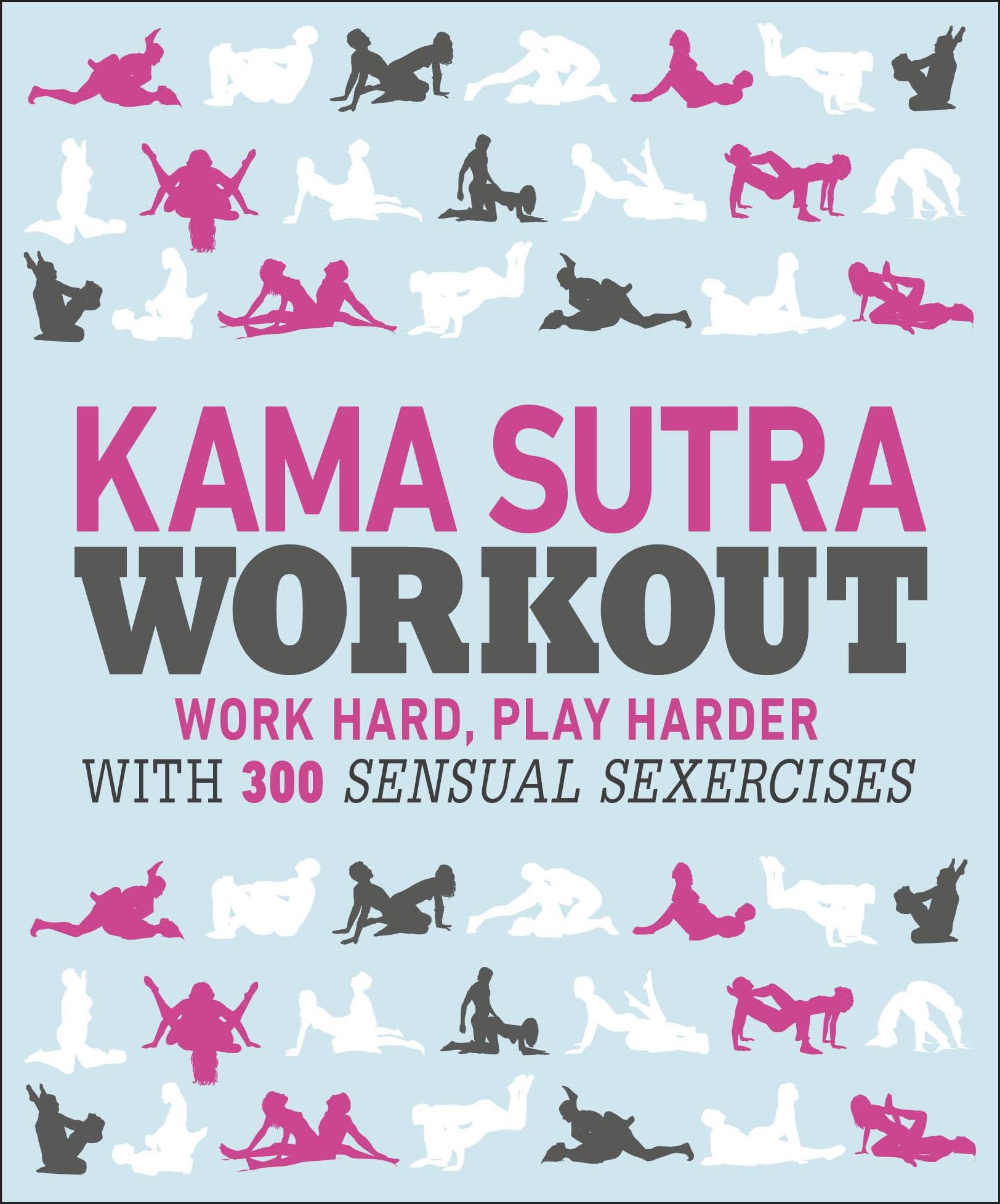 Get a fit, toned body while reaching new heights of sexual bliss with 300 exciting sex positions designed to work key muscle groups for both partners.
Each sexercise is clearly illustrated, and includes stats and tips to help maximize your workout. Energy burn and flexibility ratings allow you to choose positions based on your level of fitness, then build your strength for more challenging positions. Whether you're in the mood for a high-intensity quickie or a lovemaking marathon, Kama Sutra Workout will help to get you physically fit and sexually satisfied.
You'll never want to skip your workout when it feels this good!
Shower your baby with love this Valentine's Day,
with BabyBjorn, Diono, Yoomi and Strepelle
With Valentine's Day soon approaching, BabyBjorn are spreading love to new parents everywhere with the launch of the new versions of the popular Baby Carrier One (RRP £139) and Baby Carrier One Air (RRP £159) alongside the latest campaign: A LOVE MANIFESTO.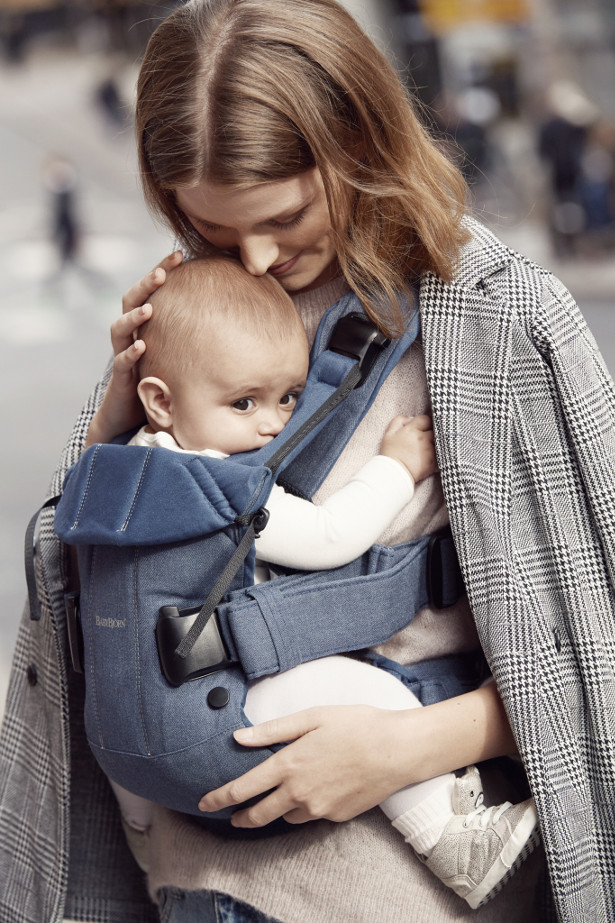 To celebrate the launch of the new carriers and to support new parents, the BabyBjörn campaign focuses on the powerful love in parenthood, with A Love Manifesto dedicated to all parents:
Trust yourself
Create your own rules
Invent your own parenting
BabyBjörn have seen that unrealistic expectations and demands put a lot of pressure on soon-to-be and new 'millennial mums' particularly. Many women go to the internet for help and find themselves the target of negative comments and harsh criticism for their parenting style. BabyBjörn believe that being a parent is not a competition and should be about what is real. BabyBjörn want to put things into perspective by empowering new mums and dads to have faith in their own instincts, set their own standards and develop their own unique parenting style. The one thing that all parents have in common is the love they have for their children.
The new collection of carriers was designed with the help of 100 real families, along with paediatricians, babywearing practitioners and medical experts, every feature of the new carriers have been analysed and created for hours of happy babywearing and support for your growing baby's neck, hips and spine.
As with the original One carrier, these new versions are suitable from birth all the way to three years old; carry your baby on your front close to your heart, inward or outward facing, and when they are one year old you can carry them on your back, turning the carrier with one simple movement. The new carrier is available in a variety of new colours such as Grey/Powder Pink, Black, Grey, Classic Denim/midnight blue, Anthracite, Silver and Frost Green and more to suit everyone.
To celebrate the launch of the new Baby Carrier One and One Air, BabyBjorn are offering 10% off anything with the code Love2018 on the webshop. The code is live until the 26 Feb 2018.
www.babybjorn.co.uk
BE WOOED AT WARWICK CASTLE,
WHERE CHIVALRY KNOWS NO BOUNDS
Romantic Riverside Retreats from £289
Early Booking Offer: 25 per cent off
Bring the Kids and Still Enjoy a Castle Romance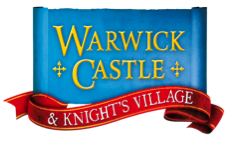 5 February 2018: For a truly romantic retreat this February, Warwick Castle offers a contemporary take on love whilst embracing the fairy-tale of centuries of passion and devotion.
Exuding romance at every turn, Warwick Castle has entranced the romantically-minded for centuries. From elegant opulence of The Great Hall and State Rooms, to epic love stories from the pages of history, fall in love with one of the country's most romantic settings.
Snuggle up in a cosy Lodge, nestled in woodland by the River Avon within the Castle's grounds, from only £289*, including two days' Castle entrance, buffet breakfast and car parking.
For a truly royal experience, the Castle's two Tower Suites – lavishly adorned and boasting bespoke hard-carved four poster beds alongside contemporary comforts – offer a supremely private bolthole. Once the gates close for the day, Tower Suite guests enjoy the Castle to themselves, quite an idyllic setting for an anniversary, mini-moon, or even a proposal. From £550 per night per Suite.
Stories of true love abound at the Castle, such as Guy of Warwick and his social superior, Princess Felice whose legend has enthralled lovers for over one thousand years and inspired the thirteenth century Earls of Warwick to name their heir after its hero. Falling in love with Felice, the humble Guy demonstrated his knightly prowess to prove his worthiness to claim her hand in marriage: the medieval stories tell of Guy bounding around Europe, slaying fantastical foes such as dragons and giants. Happily, the couple married.
Melissa Paniccia, Head of History at Warwick Castle, said: "Our towers, battlements and legends imbue the Castle with air of fairy tale romance, making Warwick the perfect place to woo and be wooed. We have knights on horseback and notably one of our finest is a woman. We actively celebrate the proactive roles played by women in our history, from Anne Neville who married Richard III to Her Majesty the Queen, who recently marked her own platinum wedding anniversary."
She added: "Chivalry no longer involves swinging swords, scaling castle walls or slaying dragons as Guy of Warwick did to win Felice. Chivalry today is more about the application of 'knightly virtues' – such as mercy, kindness and fairness – and that applies as much to women as to men. We believe there are many women today who choose to be the knights in shining armour of the twenty-first century: Warwick Castle is for them."
Take a hand-in-hand stroll up The Mound, the site of the first fortress built on the site at the order of William the Conqueror in 1068; or down by the grassy banks of the River Avon that flows on to Stratford-upon-Avon, where Shakespeare created romantic masterpieces aplenty. The Georgian Conservatory with views across the 'Capability' Brown-designed grounds and The Great Hall, with its soaring ceilings and gleaming treasures – much admired by Queen Victoria and other members of the Royal Family for generations – provide perfect spots for romance.
The Castle and its 64 acres of sweeping grounds provide the chance to enjoy 'together time' – think sunset hot chocolates on a private lodge veranda. Those with children can also enjoy a romantic break, stealing a kiss in a secret passageway, confident that the family will find more than enough to keep themselves entertained amongst the year-round attractions including Birds of Prey and Mighty Trebuchet shows, the Princess Tower and more.
Book and discover more at www.warwick-castle.com
WORLD'S MOST EXPENSIVE 18CT GOLD MARMITE JAR UNVEILED
· Marmite has created an 18ct gold-plated jar valued at £1,500 – making it the most expensive Marmite jar ever made
· The one-of-a-kind jar will be up for grabs for one lucky person, available to win on the popular gaming app, Snatch
· For those who don't get their hands on the prize, the iconic British brand will be selling limited-edition jars with 18ct gold plated lids for one month for extreme Marmite lovers
The world's most expensive jar of Marmite has been unveiled, created for those who were born lovers of Britain's most divisive yeast spread.
The iconic British brand has created the one-off luxury item to honor its Marmite loving fans, following the recent research from one of the UK's leading genetics labs, DNAFit. The study unveiled that Brits are genetically predisposed to loving or hating Marmite.
Dipped in 18ct gold, the plated jar weighs in at a whopping 498g1 and is rumoured to be worth an eye watering £1,500 according to independent valuators, Boningtons Auctioneers.
Engraved to replicate the style of the famous 250g glass jar, Marmite will be giving away the coveted item to one lucky person.
Those who are keen to get their hands on the golden wonder will need to simply download the augmented reality treasure hunt app, Snatch, for a chance to win. There, they will be treated to an exclusive AR experience from Marmite.
Free to download and play, Snatch works by using a player's smartphone location paired with augmented reality to transform their surroundings into an interactive playground. Players compete to capture parcels and claim real prizes hidden within this virtual world. As well as the Golden Marmite jar, there are also 1,000 personalised Marmite jars to be won, available for one week only from 5th February – 11th February.
For extreme Marmite lovers who may have some spare cash lying around, from 2nd February – 28th February, Marmite will be selling a limited-edition jar topped with an 18ct gold-plated lid, developed with Engravers Guild of London. Available to purchase at social.marmite.co.uk, the made-to-order jar will be on sale for £145.00 and will take up to 21 days to create.
Visit the GooglePlay or Apple store to download the Snatch app and start exploring your maps for the chance to win.
Celebrate Valentine's Day with Aqua Sana Spas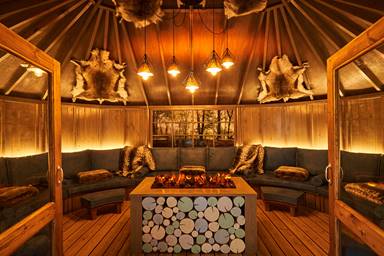 Treat your loved one to the gift of relaxation this Valentine's Day with a Spa Day or Break at one of Aqua Sana's five forest spas.
Aqua Sana Spas also have a range of treatments perfect for couples, including the self-applied mud bath treatment, a harmony back, neck and shoulder massage for two and a dual energy massage.
Please find a selection of Aqua Sana Spa Days and Breaks below – gift inspiration, sorted!
Twilight Taster for Two, from £45pp.
A perfect date for the busy working couple. Following a glass of bubbly on arrival, enjoy all 15 spa experiences from 4pm – 9pm for a romantic, relaxing evening.
Time Together Day for Two, from £115pp.
Make the most of every minute together with this dedicated couples spa day. Relax and explore the spa, then enjoy a bespoke facial and back, neck and shoulder massage with a lovely lunch in the Vitalé Café Bar. You'll both be floating out of the treatment room…
Luxury Spa Break, from £219pp.
Make this Valentine's Day one to remember by indulging in the ultimate Luxury Spa Break, with overnight accommodation in Aqua Sana's beautiful Luxury Spa Suites which boast direct entry to the spa. You can both enjoy welcome drinks on arrival, a 55 minute Signature treatment, breakfast, lunch, an evening meal voucher and complete access to the amazing range of spa experiences.
For more information on Aqua Sana Spas, please visit www.aquasana.co.uk

Valentine's Day Chocolate Gem Assortment, £20
Godiva, Covent Garden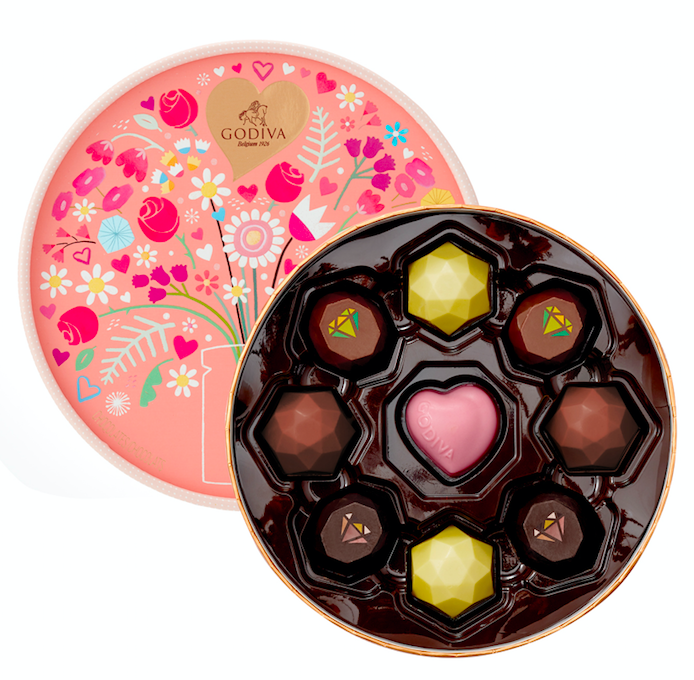 Rouge Bunny Rouge!

Rouge Bunny Rouge is a whimsical and elegant British brand with strong Victorian roots. They feature a wide range of products and are sold at Bloomingdales.com and in their Glow House department.
Their XXX Lip Plump Swell Bliss is perfect for Valentine's Day as it is infused with the "Kiss-Me-Quick" extract from the plant Portulaca to help accomplish irresistibly voluptuous lips. Available at Bloomingdales.com for $31.
Nintendo Switch

Whether you are planning a romantic getaway this Valentine's Day or planning a cozy night in, Nintendo Switch is perfect to play with your loved one or on your own. In addition to providing single- and multiplayer thrills at home on your television, Nintendo Switch can be taken on the go so players can enjoy a full home console experience anytime, anywhere. Price: $299.99
Potions Of Power Enamel Lapel Pins
£9.50ea or set of 4 for £32
www.jubly-umph.com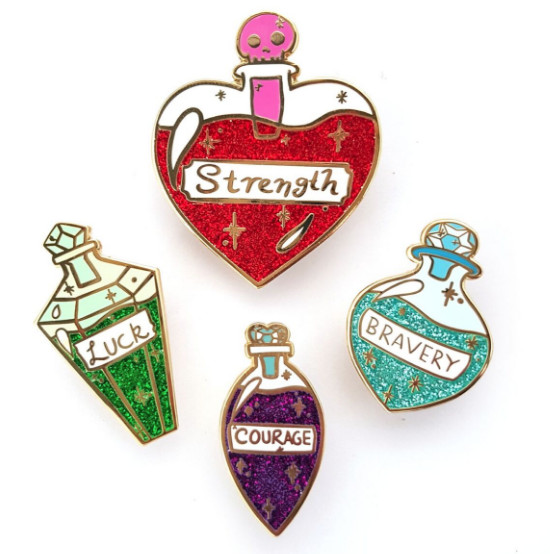 https://www.jubly-umph.com/products/set-of-4-potions-of-power-lapel-pins
These little lapel pins are the perfect gift to remind yourself or the one you love that you are brave and strong and courageous and lucky, because it is easy to forget.
Each pin is designed to be a little brew of bravery and potion of power. A symbol that can be worn every day.
These colourful, gold-backed, hard enamel lapel pins come beautifully presented on Jubly-Umph backing cards. They are one of a limited edition.
Send Stunning Flowers to Australia this Valentine's Day
What better time than Valentine's Day 2018 to show your special someone how much they mean to you. And what better way to do so than with romantic roses!
www.freshflowers.com.au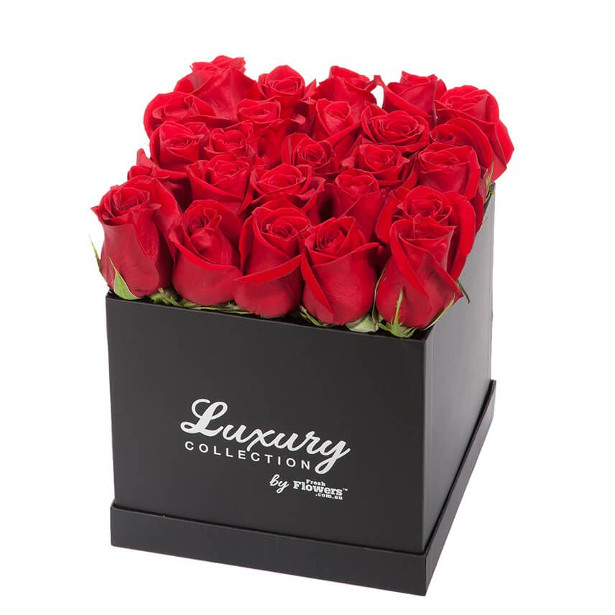 This Valentine's Day, Fresh Flowers, one of Australia's leading florists, are offering a range of premium roses in a variety of styles.
– If you're in the mood to indulge, sweep your partner off her feet with Romantic Intrigue, 16 deep red roses styled stylishly in a box.
– If it's a classic, timeless gift you're after, you will love their 12 Premium Red Roses in a classy presentation box.
– Feeling flamboyant? Order their Roses Love Story 25 stems to delight your sweetheart.
– Celebrate your multi-hued romance with 12 stems of bold and colourful Rainbow Roses
– If it is simplicity you're after, order their Single Stem Red Rose. It'll go perfectly with your gifts!
Everyone loves roses, but if you'd like to stand out from the crowd, their range also includes expertly styled tulips, lilies, orchids and more! Fresh Flowers also offer same day delivery on all orders placed before 2 pm AEDT on weekdays and 10 am AEDT on Saturdays.
The Fresh Flowers delivery team operate in most Australian metropolitan areas, including Sydney, Melbourne, Perth, Brisbane, Canberra, and Adelaide, as well as regional Australia.
Even men love being gifted on Valentine's Day! To pamper the man in your life, choose from the luxurious gift hampers on the Fresh Flowers website. It's perfect if you don't have time to hit the shops or you've simply found yourself too close to the mark for an online gift delivery.
Romance Your Partner at Windjammer Landing Villa Beach Resort, Saint Lucia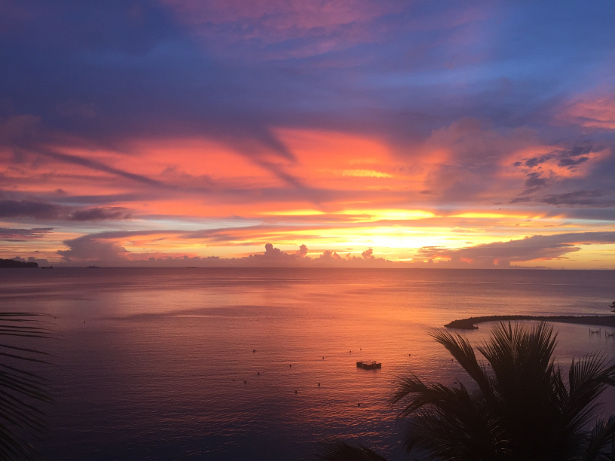 Give the gift of travel this Valentine's Day to the top spot for couples: Windjammer Landing Villa Beach Resort in Saint Lucia. There is nothing more romantic than this Caribbean island's magical sunsets, spectacular beaches and secluded inlets. Perfect for Valentine's Day, Windjammer Landing is offering a very special "Romance" package complete with sparkling wine, flowers and a couples massage available for booking to travel now through December 20, 2018.
Book a three-, five-, or seven-night stay and you will be whisked from the airport in a complimentary transfer to your beautiful ocean view accommodations. There, you will be greeted with flowers and a bottle of sparkling wine. Next you will get to indulge yourselves at your leisure in a couples massage at Windjammer Landing's world-class spa. Plus, the romance package comes complete with all-inclusive access which includes unlimited dining at five al fresco restaurants, all premium drinks at four bars, the luxury of enjoying six on property swimming pools, a 24-hour fitness center, all motorized and non-motorized water sports such as waterskiing, snorkeling and windsurfing, resort-wide Wi-Fi and the convenience of a mini-mart and boutique shops.
Windjammer Landing was designed to look like a Mediterranean village set into the hillside of Saint Lucia overlooking the Caribbean Sea. Brick paths meander through more than 60 acres of lush landscaping, scented gardens, sparkling pools, covered walkways and hand-painted tiles. Ideal for couples, Windjammer Landing is renowned for its welcoming atmosphere, friendly staff, extensive activities and breathtaking ocean views.
Coupes will enjoy "Barefoot Luxury" with the perfect balance of culture, entertainment, adventure, and most importantly, romance. Windjammer Landing's Romance Package is the perfect way to say I love you this Valentine's Day.
For more information or to check available dates and rates, please visit http://www.windjammer-landing.com/specials/romance-package.
These gorgeous Batgirl, Supergirl, Batman and Superman doggy costumes are perfect for your SuperPet this Valentine's Day.
Your pooch is a perfect Valentine with big wet kisses and a wagging tail on this special day. The SuperPet costumes will fit tiny pooches and very large dogs. The RRP is AUD$29.00.
www.morethanpaws.com.au is a leading lifestyle online pet shop for pets with personality!!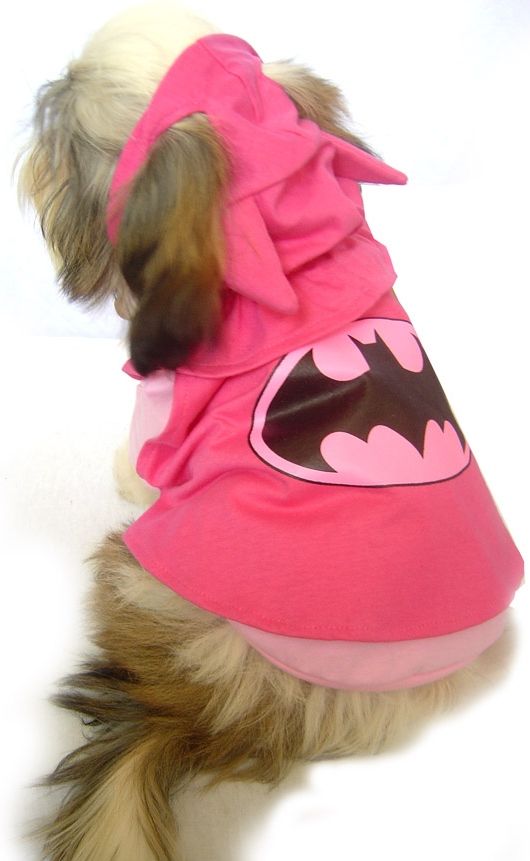 A poll conducted at jorj.com proves that most people wanna stay in on Valentine's Day.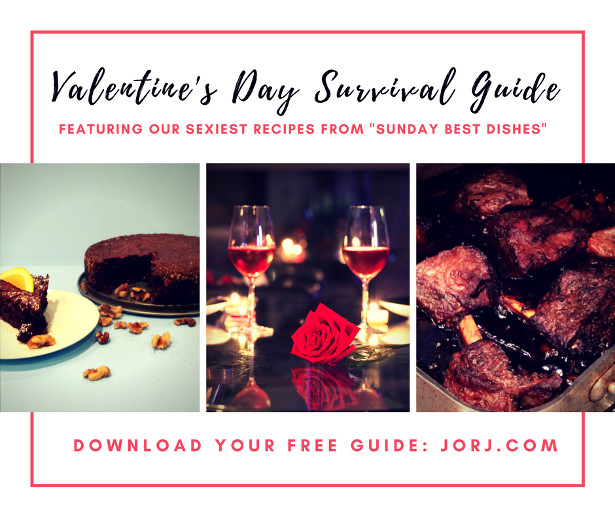 With this in mind, we've whipped up a delectable menu that both you are your honey won't soon forget. With Jorj Morgan's February 14th Survival Guide, you and your honey get a complete shopping list to help you create FIVE sexy recipes, including a chocolate walnut torte for dessert. The recipes are yours free, with your (also free) subscription to Jorj's newsletter – recipes delivered hot and fresh to your inbox once a week.
The recipes developers and party planners at jorj.com know you'll love her FUN approach to cooking, with recommendations for the best in ingredients, kitchen gadgets and techniques. At jorj.com, we understand that family style cooking doesn't have to be boring or rushed – that it can and should be equal parts elegant and delicious. In her Valentine's Day Survival Guide, you'll find advice for laying a beautiful table setting 365 days a year.
We encourage you to not only sign up for yummy updates, but order her marvelous cookbook, SUNDAY BEST DISHES: a Cookbook for Passionate Chefs, available on Amazon, iBooks and iTunes – as well as through Dorrance Publishing, 585 Alpha Drive Pittsburgh, Pennsylvania 15238. From tailgate parties to holiday spreads, Jorj shares time-saving secrets and personal anecdotes, while teaching readers about crafting meals meant to be shared. Recipes include Citrus Popovers with Tropical Chutney, Cocoa-Spiced Beef Stew over Chipotle Sweet Potato Mash, Grilled Swordfish Steaks with Cracker Crumb Butter and Sunshine Cake.
Sound delicious? We think so too! We can't wait to meet you once you subscribe, and please know that we love your "feed"back on social media too! Look for jorj on Facebook, twitter and @jorjmorgancooking on Instagram. Happy February, happy winter and see you all soon!
You can never go wrong with wine. Repeat: You can never go wrong with wine. Especially wines that are love-themed. Here are our top picks for a love-themed wine dinner.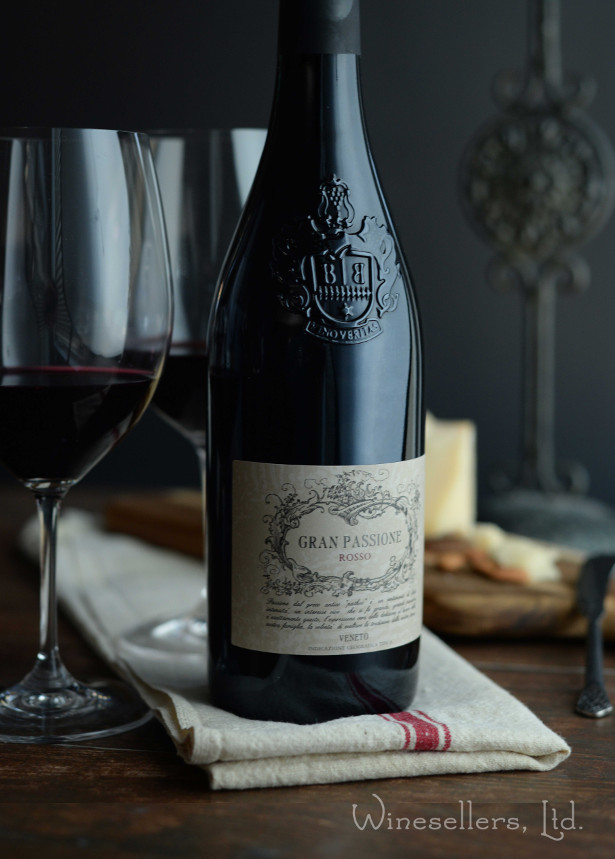 Piazza del Castello ROSSO IGT TOSCANA (SRP $14.00)
Appellation – Tuscany
Packaged in a very traditional bottle design, it's a classy Valentine's Day dinner choice. This is a Super Tuscan style made with 50% Sangiovese, 30% Cabernet Sauvignon and 10% Merlot. You'll enjoy beautiful aromas ripe berries that give way to chocolate and nuances of dark earthy tones.
Gran Passione Rosso (SRP $13.00)
Appellation: Veneto, Italy
Valentine's Day is about beautiful things, and when you combine Italian wine with the old school bottle design, it just emanates romance. This is one of our go-to food wines, a nice complement to hearty Italian food. The wine is made int he traditional Appassimento style – "Apassimento" (to dry and shrivel) is the same style as Amarone wines of the region. This technique has its roots in an ancient past dating back to the Roman era. Over the centuries, this technique of "drying" the grapes before crushing has been honed, resulting in this unique expression of northern Italy.
Besserat de Bellefon Brut Rose (SRP $65.00)
Appellation: Champagne, France
It's really one of our go-to Valentine's Day picks because you just can't go wrong with Champagne, especially a consistent 90+ point Brut Rose. This is made in the crémant style of winemaking technique reduces the dosage, which lowers the bottle pressure about one atmosphere, so that the Champagne is soft, creamy and packed with tiny bubbles. You'll enjoy this Brut Rose's intense notes of wild strawberry on the nose.
Tiamo Prosecco (SRP $15 750ml, $5.50 187ml)
Appellation: Veneto
We chose this one for obvious reasons – Tiamo means "I love you" in Italian, and it's sparkling, it's a no-brainer Valentine's Day go-to. Also made with organics grapes, it's a nice clean, affordable aperitif wine or just anytime wine.
—-
Please check out Winesellers, Ltd.'s Instagram, Facebook, and twitter (@winesellersltd) for more photos, ideas and videos about the world of wine. Also visit www.winesellersltd.com.
Cheese of the Month Club
Give the gift of cheese this Valentine's Day! You can get your loved one a selection of 3 different cheeses, totaling 1.5 pounds (1/2 pound of each cheese), hand-picked by Murry's Cheese cheesemongers. The package will include detailed descriptions of each cheese including what milk type they are, what country they're from, tasting notes and pairing suggestions. It's the perfect Valentine's Day gift to enjoy for a beautiful night in with your significant other. A one-month subscription is $75, 4 months is $275, 6 months is $400 and 12 months is $775. For more information, please visit: http://www.murrayscheese.com/cheese-of-the-month.
It's that time of year to show the one you love just how much you love them.
Valentine's Day is the perfect time to create an atmosphere to be talked about for years to come! It's not the usual flowers and a card. You have to move away from the pack on this one.

Do you want to create an unforgettable you? It's right under your nose, literally. Scent is heavily attached to memory. That's something Renea Hanks, the founder of Candles By Me, discovered in 2003, after an accident at work. Since then it has been her driving force and motivation.
In 2003, Renea suffered a blow to the head with a steel cross bar at work in 2003. She was putting money into a safe, and bending forward, Renea didn't see the steel bar. It rocked forward and hit her above her right eyebrow.
From that blow, she suffered a severe traumatic brain injury. This left her not remembering simple things like the process of how to make coffee. Not only was this traumatizing, it was deeply depressing because she also noticed that her sense of smell has diminished.
She wasn't letting this go without a fight. She began to read everything she could get before her eyes about the brain and how the brain works. This is when she discovered the power of scent.
Learning that scent is heavily attached to memory, she stopped just handing candles to customers for them to smell. She would ask: Tell something that made you really happy in life. Where were you? What is a favorite childhood memory? Did you play outside a lot?
After she asked those questions, she would hand the customer a scent that had those fragrance notes they would have enjoyed at that time. They would immediately rave about how much they loved the scent! It was no surprise to Renea. She knew why. She would explain this to the customers so they would understand the power of scent. It delighted them even more as they handled the candle with care and love. It was like they are holding their memory. Renea loved the way it made her customers feel.
Renea Hanks been creating custom fragrances and colors over 17 years. Her son, Holden, is partner is their quest for created amazing and unique conversation starters that are normally called candles. They have developed their own blend of natural waxes that add depth, dimension and unusual beauty to the candles.
Contact her through the website to create something unforgettable and unique for your love. https://www.candlesby.me or email her directly renea@candlesby.me
Hook your Valentine up with a pair of gorgeous designer shoes she will love (and can use) forever.
thescarpetta.com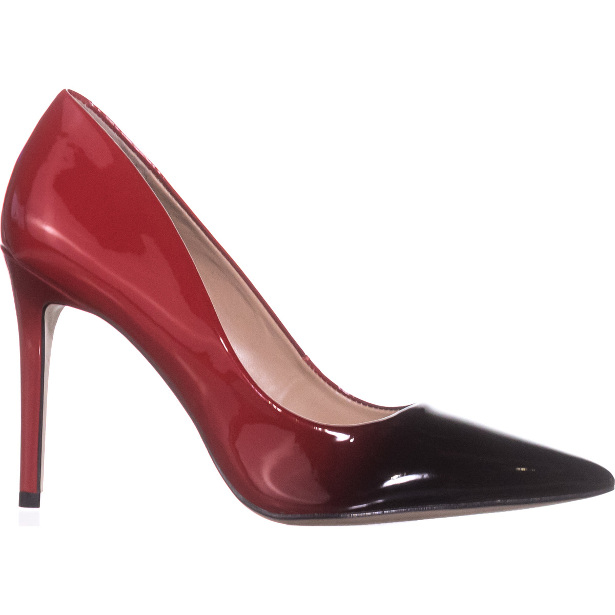 Unlike traditional Valentine's Day gifts, these will last for years to come and she'll think of you every time she wears them. Designer shoes can make any women feel confident and sexy, which is what makes them such a unique and intimate Valentine's gift.
Designer shoes are not typically known to be affordable; however, at The Scarpetta, they offer amazing discounts (like up to 80% off the original retail price kind of amazing) on top designers like Michael Kors, Jessica Simpson, Nine West, Steve Madden and so many other incredible designers. Whether your Valentine likes sky high stilettos or prefers to keep it comfortable in a pair of ankle boots, The Scarpetta has it all under an affordable price.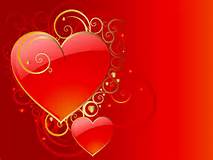 Looking for the perfect romantic gift for Valentine's Day? I will write an original, personalized poem for someone you love. What could be more romantic than a poem that celebrates how special your loved one is to you, what she means to you, the joy of your life together, and your favourite memories? A poem that she will always remember and treasure? Contact me if you are interested. https://www.fiverr.com/zhana21/write-an-original-poem-for-someone-you-love




Get kissable lips for Valentine's Day
With Gold Collagen® Anti-Ageing Lip Volumiser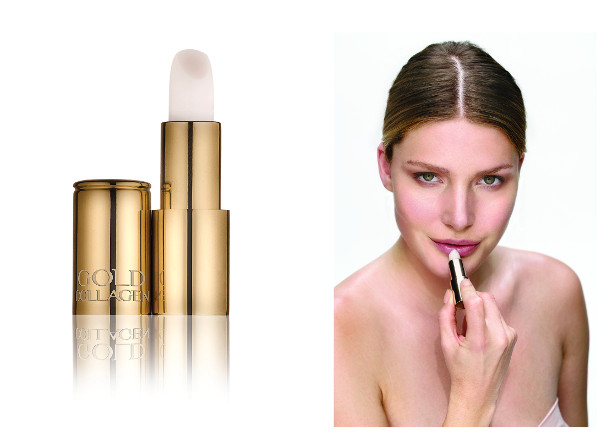 In the cold days of February, we all face the issue of trying to stay hydrated. Lips need even more hydration during the cold season as they have a poor barrier function because of their thin epidermis and they do not have sebaceous glands in comparison with the skin. Gold Collagen® experts have developed a clinically tested Gold Collagen® Anti-Ageing Lip Volumiser to hydrate and protect lips. February is the time to get your lips in perfect condition and ready for Valentine's Day.
The new Gold Collagen® Anti-Ageing Volumiser contains vital ingredients to help restore the lips natural volume and protect against external damage, making it the perfect gift to treat yourself or your loved ones for Valentine's Day. It is the latest addition to the Gold Collagen® topical range and it joins the Gold Collagen® Hydrogel Mask, which is for dehydrated and tired-looking skin. Our topical range complements our original liquid collagen beauty supplements that are scientifically formulated to boost "beauty from the inside out".
Dr Sara Sibilla, Head of Research & Development at Gold Collagen® shares her tips for glowing, healthy lips:
1. Maintain a healthy balanced diet and consume enough water because in cold weather we choose hot drinks over water leading to cracked, chapped lips
2. Make sure you're taking enough Vitamin A, B2 (Riboflavin), C and E as it helps to keep your lips smooth and healthy
3. Stop smoking and excessively using lipsticks and harsh cosmetics (that include parabens, PEGs and silicon) as they further dry out your lips
For a lip balm to be effective in protecting and nourishing your lips they should contain natural emollients and oils with photo-protective, healing, soothing and moisturising properties such as Almond, Shea Butter and Coconut Oil which is also an antioxidant. It should also include Vitamin E to provide daily protection against free radicals and external aggressions. Beeswax is an essential ingredient for its anti-inflammatory and moisturising properties. It deeply hydrates, softens and creates a waterproof barrier to lock in that vital moisture. A powerful blend of Oligopeptides can help stimulate collagen synthesis for fuller looking lips, restore moisture and aid in stimulating collagen production. The new Gold Collagen® Anti-Ageing Volumiser is infused with all these key ingredients to help restore the lips natural volume, protect against external damage and hydrate.
Book now for Valentine's spa days and short breaks with Spabreaks.com
Treats for Valentine's Day starting from just £62.50 per person
6 February 2018 – Looking for a romantic Valentine's treat? Europe's leading spa booking agency Spabreaks.com (www.spabreaks.com; 0800 043 6600) has a whole host of last minute Valentine's spa deals across the UK, including these four fantastic options in Manchester, Sheffield, Wales and London.
Valentine's offer | Malmaison Manchester | From £62.50 per person
Spabreaks.com (www.spabreaks.com; 0800 043 6600) has a last minute Valentine's spa day offer at the Malmaison in Manchester from £62.50 per person when booked by 18 February. Tucked away in the city centre and decorated with the urban chic colour palette that is Malmaison's trademark, the spa includes a gym, relaxation room and an extensive range of treatments. The last minute Valentine's offer includes a 60 minute ESPA full body aromatherapy massage in a dual treatment room, plus a glass of fizz and strawberries on arrival. To book visit https://www.spabreaks.com/venues/malmaison-manchester?package_id=11030 or call 0800 043 6600.
Valentine's Package | DoubleTree by Hilton Hotel Sheffield Park | From £85 per person
Spabreaks.com (www.spabreaks.com; 0800 043 6600) offers a Valentine's overnight break at the DoubleTree by Hilton in Sheffield from £85 per person when booked by 17 February. The hotel spa facilities include a gym, pool, sauna, steam room and spa pool, and its proximity to the Peak District adds to the sense of relaxation cultivated in the spa. The Valentine's package includes one night's dinner, bed and breakfast, three course evening meal with a glass of fizz, a choice of 1 x 25 minute treatment and full use of the leisure facilities. To book visit https://www.spabreaks.com/venues/doubletree-by-hilton-hotel-sheffield-park?package_id=10990 or call 0800 043 6600.
Last minute spa and afternoon tea | The Baglioni Spa, London | From £105 per person
Spabreaks.com (www.spabreaks.com; 0800 043 6600) offers a last minute spa and afternoon tea at The Baglioni Spa in Central London from £105 per person when booked by 17 February. Designed by Rebosio+Spagnulo, Baglioni Spa is a secret haven in the bustling capital city with facilities including three treatment rooms, a relaxation lounge, steam room, experience showers and a gym. The romantic last minute spa and afternoon tea package includes a choice of 1 x 50 minute body massage or 2 x 25 minute treatments (a mini facial and back massage). The spa day also includes herbal refreshments, afternoon tea, a glass of Ferrari Maximum Brut NV and use of the serene relaxation room. To book visit https://www.spabreaks.com/venues/the-baglioni-spa?package_id=11033 or call 0800 043 6600.
Last minute spa couples' getaway | The Corran Resort and Spa, Wales | From £132.50 per person
Spabreaks.com (www.spabreaks.com; 0800 043 6600) offers a last minute spa couples' getaway at The Corran Resort and Spa in Wales from £132.50 per person when booked by 13 February. The spa is fully equipped with a pool, gym, three treatment rooms and a Jacuzzi, and therapists use Pevonia Botanica products which are natural and non-comedogenic. The last minute spa getaway includes a one night's bed and breakfast stay, three course dinner, a choice of 1 X 55 minute treatments per person, a bottle of Prosecco in your room, plus a robe, towel, slippers and full use of the facilities. To book visit https://www.spabreaks.com/venues/the-corran-resort-and-spa?package_id=10979 or call 0800 043 6600.
For more information on spa days and spa breaks, call one of the expert Spabreaks.com advisors on 0800 043 6600 or visit www.spabreaks.com
EDINBURGH VALENTINE'S GIN: AN EXPRESSION OF TRUE LOVE
Gin lovers will be tickled pink by the latest limited-edition Edinburgh Valentine's Gin, an ideal gift for the most romantic day of the year.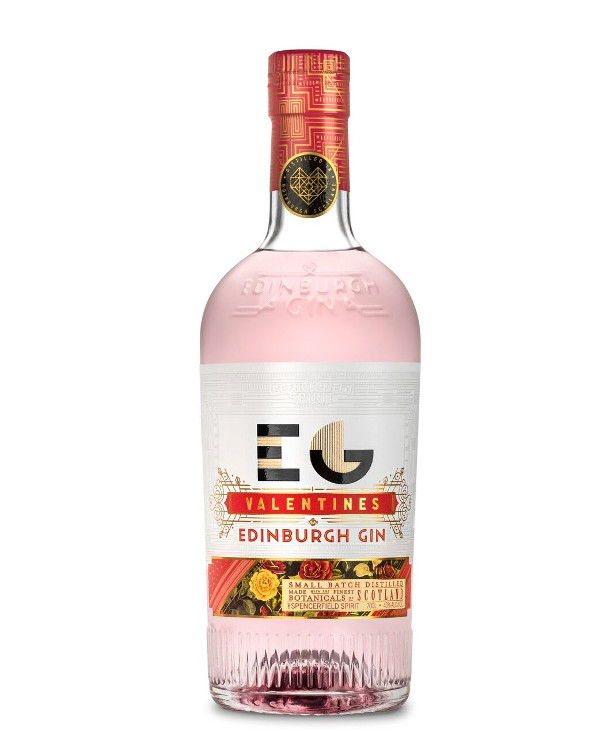 Lovingly handcrafted, this exclusive small-batch gin will get you into the spirit for this day of love with its delicate floral notes and a pink hue from an infusion of rose petals and hibiscus. EdinburghValentine's Gin also has added chamomile, lemon balm, lemongrass and Kaffir lime leaves to achieve sweet, floral notes which contrast with crisp, fresh hints of citrus.
Edinburgh Gin's Head Distiller, Dave Wilkinson, said:
"At Edinburgh Gin, we love to share our passion for making truly distinctive gin. By blending botanicals including chamomile, lemon balm, lemongrass with distinctive, romantic floral tones of rose petals and hibiscus, we have created a gin that works perfectly with the indulgent flavours of the season. It makes the ideal Valentine's gift for those seeking something unique for their loved ones."
To compliment the beautiful gin, the art deco style bottle is adorned with a rose floral design and touches of pink and gold to create a truly stylish, romantic gift.
Edinburgh Valentine's Gin works well with tonic, soda or one of our favourites, rose lemonade. Or, why not try it in one of our simple, yet indulgent cocktails, such as the sweet tasting "The First Kiss", which combines it with our Raspberry Fruit Gin Liqueur (see recipe for The First Kiss below).
Just 3,000 bottles of Edinburgh Valentine's Gin (ABV 43%) are available in 70cl bottle from select specialist retailers and Edinburgh Gin distillery shop and online shop at www.edinburghgin.com at RRP £35.00.
The First Kiss
Ingredients
35ml Edinburgh Valentine's Gin
15ml Edinburgh Gin's Raspberry Fruit Liqueur
60ml pineapple Juice
Method
Shake with ice and strain
Serve in a coupe and garnish with a raspberry
Swap hearts and flowers for snow and mountains as Ski Solutions recommend the most romantic ski resorts
Luxury accommodation, beautiful mountain scenery and delicious food
Alternative ski retreats for couples looking to get swept off their feet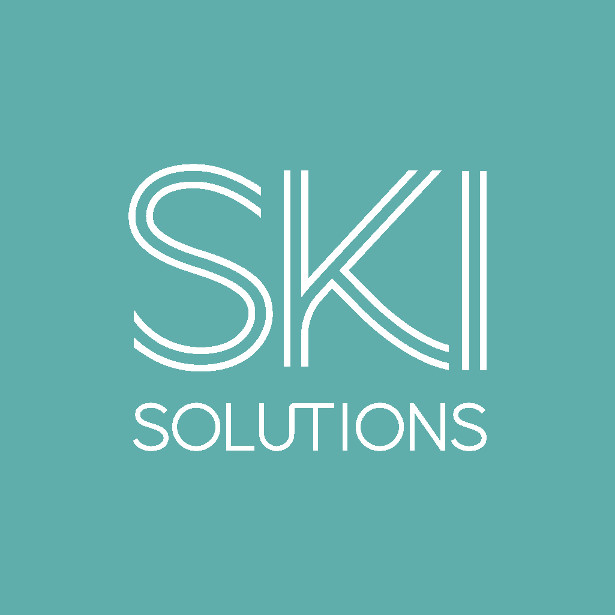 6 February 2018: With Valentine's Day fast approaching, thoughts are turning to romantic gestures and how to impress loved ones. Leading winter-sports tour operator, Ski Solutions, has recommended the top 10 most romantic ski resorts to visit. An active ski holiday can be just as romantic as a traditional city break that many couples opt for.
"From stunning mountain scenery to luxury accommodation with the best spa facilities and delicious cuisine, a ski trip is ideal for a picture perfect getaway. Many of the hotels we offer have incredible facilities and are located in the best resorts that also offer plenty of activities" says Craig Burton, Managing Director at Ski Solutions.
Offering holidays to ski destinations across Europe and North America, Ski Solutions has a range of hotels in romantic ski resorts – perfect for couples to be literally swept off their feet. The experts at Ski Solutions have handpicked 10 of the best resorts for a romantic ski trip.
Hotel Ambra, Cortina, Italy
Italian charm, rooms with mountain views and located in central Cortina, Hotel Ambra is an ideal base to experience the area. Cortina itself is known as the 'Queen of the Dolomites' and is more of a small ski town than a resort, with excellent restaurants including some with Michelin stars and access to over 660 pistes in the Dolomiti Superski area. Prices start from £1,400 per person for seven nights including flights, accommodation and transfers. Find out more at www.skisolutions.com/accommodations/hotel-ambra-cortina
L'Alpaga, Megève, France
The five-star L'Alpaga hotel in Megève is just five minutes by car from the centre of town and has an excellent wellness centre with a dark stone pool, Hamman, hot tub and treatment cabins. It's the perfect hotel for couples to unwind after a day on the slopes. The resort has a traditional French village charm making it a must-visit romantic destination, from horse-drawn carriage rides to romantic walks. Couples can even experience the location where Audrey Hepburn falls for Cary Grant in the film 'Charade'. Prices start from £1,270 per person for four nights including flights, accommodation and transfers. Find out more at www.skisolutions.com/accommodations/l-alpaga-short-break
Fairmont Banff Springs, Banff, Canada
This world-famous hotel is an impressive landmark, appearing more like a fairy-tale castle in the forest than a hotel. It has impressive facilities including 12 restaurants and a Willow Stream Spa. Banff National Park has stunning mountain scenery – a fantastic backdrop for a romantic break. Prices start from £1,590 per person for seven nights including flights, accommodation and transfers. Find out more at www.skisolutions.com/accommodations/fairmont-banff-springs-hotel
Vestlia Resort, Geilo, Norway
This luxury resort is located in the heart of Geilo and the award winning adults-only spa makes it perfect for a couples break. Geilo offers other Scandinavian activities aside from skiing. From dog sledding to horse sleigh riding and possibly getting the chance to see the Northern Lights, making it the ideal destination for an alternative romantic trip. Prices start from £1,510 per person for seven nights including flights, accommodation and transfers. Find out more at www.skisolutions.com/accommodations/vestlia-resort
Hotellerie de Mascognaz, Champoluc, Italy
For those looking for a private and secluded break, this stunning hotel is only accessible by skidoo because it's tucked away in the heart of the mountains. Many of the rooms have wooden beams and log fires and there's also a fantastic underground spa for guests to enjoy. Prices start from £1,185 per person for seven nights including flights, accommodation and transfers. Find out more at www.skisolutions.com/accommodations/hotellerie-de-mascognaz
Hotel Alpenhof, Zermatt, Switzerland
Zermatt is one of the best ski towns in the world and offers iconic mountain views. From open fireplaces and luxury spa facilities to live piano music played in the bar area, Hotel Alpenhof is ideal for a couples' ski retreat. Prices start from £1,400 per person for seven nights including flights, accommodation and transfers. Find out more at www.skisolutions.com/accommodations/alpenhof
Residences at The Little Nell, Aspen Snowmass, USA
These residences offer ski in ski out access and complete privacy, with each of the 26 guest homes having their own private facilities. The Element 47 bar is the perfect place for wining and dining and The Oasis is the world's first on-mountain champagne bar, where couples can enjoy a glass of champagne and the alpine views together. Prices start from £2,430 per person for seven nights including flights, accommodation and transfers. Find out more at www.skisolutions.com/accommodations/residences-at-the-little-nell
Hotel Romantik Boglerhof, Alpbach, Austria
The hotel name says it all in terms of romance! Alpbach is known as being Austria's most beautiful village and this hotel has award winning cuisine, as well as special activities including free wine tasting, fondue nights and torchlight walks. Prices start from £860 per person for seven nights including flights, accommodation and transfers. Find out more at www.skisolutions.com/accommodations/romantik-boglerhof
The Chedi Andermatt, Switzerland
Offering special couples retreat packages, The Chedi Andermatt is a five-star hotel with luxurious touches for couples to experience. These include a 6,000 bottle wine cellar, bespoke cheese room, a world-class spa and two gourmet restaurants. Prices start from £2,750 per person for seven nights including flights, accommodation and transfers. Find out more at www.skisolutions.com/accommodations/the-chedi
Hotel Portetta, Courchevel, France
This hotel oozes luxury throughout with excellent spa facilities and Angela Hartnett's Cucina Angelina restaurant based at the hotel. Close by is Aquamotion – the largest mountain waterpark in Europe, with a wellness and spa area and aqua sports facilities. Courchevel is ideal for those looking for a romantic ski retreat with the option to take part in plenty of other activities. Prices start from £2,120 per person for seven nights including flights, accommodation and transfers. Find out more at www.skisolutions.com/accommodations/portetta
To book your next romantic ski holiday, contact Ski Solutions on 020 7471 7749 or visit www.skisolutions.com
Mionetto For Valentine's Day
What better occasion to show off your wine knowledge chops than Valentine's Day? This year, impress your sweetheart – or your friends – with a bottle from Mionetto Prosecco, the perfect bubbly to sip over a candlelit dinner out, or mix it up with a few romantic cocktails. Mionetto has you covered from start to finish no matter what your relationship status: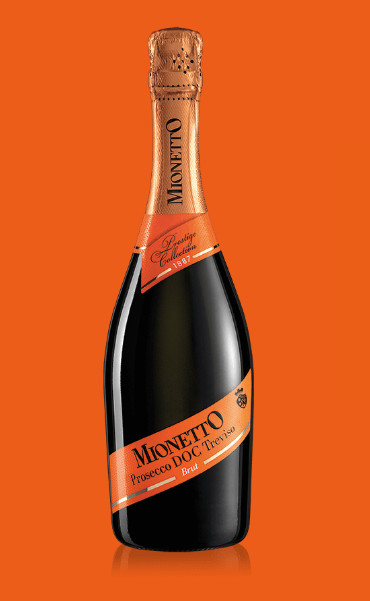 Take Prosecco DOC Treviso Brut($14) or Mionetto Prestige Rose Extra Dry ($14) out for a spin this Valentine's Day. The rose-tinted sparkling wine will greet your taste buds with flavors of raspberry, morello cherry, and wild strawberry, while the classic brut will surely impress on a first date. And both bottles also come in mini sizes, so you can mix and match with your favorite box of chocolates. Delicious!
Toast your loved ones with these delicious cocktails created by Mionetto Master Mixologist Justin Noel. The French Kiss is the perfect combination of Mionetto Prestige Rose Extra Dry, pomegranate juice, gin, and rose water for a sweet drink. The Gran Karma cocktail is a personal favorite of Justin's that also calls for Gran Rose along with rum, coconut water, and red grapes. Meanwhile, the delicious Lavender Blush will make you do just that (blush)! This cocktail incorporates Mionetto Prestige Rose,your choice of gin, grapefruit juice, and fresh Lavender sprigs. This beverage doubles as both a drink and a classy fresh lavender bouquet alternative.
Jumeirah partners with MyBody by Myleene Klass
Jumeirah Group is delighted to announce its partnership with 'MyBody by Myleene Klass' for the launch of the new fitness programme; providing the stunning backdrop for the filming in Dubai.

A fitness programme of small changes with big results, it focuses on offering busy women and mums' effective exercise whenever and wherever they want. In creating this truly unique home workout programme, Myleene has been working with a team of fitness experts who combined have over 50 years' experience in the fitness industry.
Located on the tranquil azure shores of the Arabian Gulf, Jumeirah's beachside properties provided the ultimate location for the shoot, highlighting the beauty of Dubai, and Jumeirah's hotels and resorts as leading wellness destinations. The following locations were featured:
The Terrace, Burj Al Arab Jumeirah
The Terrace is a remarkable, one-of-a-kind restaurant, pool, beach and cabana space, offering hotel guests and private members the finest Arabian hospitality. The 10,000m2 outdoor luxury leisure facility seamlessly stretches 100m out into the sea and is home to Scape Restaurant & Bar, two stunning pools, dedicated butler-serviced cabanas, and a beach area with luxury day and sunbeds.
Summersalt, Jumeirah Al Naseem at Madinat Jumeirah
Summersalt offers you a luxury beach experience in the day, where fabulous food, drinks and music combine to create a new degree of chill. From the glistening waters of the pool, to the DJ playing upbeat vibes and through to the signature cocktails and contemporary dishes inspired by the Mediterranean, Summersalt is a destination with a difference.
Sunset Lounge, Jumeirah Al Qasr at Madinat Jumeirah
The Sunset Lounge Bar at Jumeirah Al Qasr offers the perfect setting exclusively for guests to spend a relaxed evening while enjoying spectacular views of the Arabian Gulf and iconic Burj Al Arab Jumeirah. With open spacious surroundings, guests can soak it all in while sipping on a refreshing cocktail.
The resort itself provides a relaxing oasis for guests seeking to rejuvenate mind, body and soul. Set amidst the tranquil waterways and tropical landscapes of Madinat Jumeirah is the award-winning Talise Spa, featuring indoor and outdoor luxury treatment areas; a private secluded pool, which serves a variety of health conscious spa cuisine; and a fun-packed programme of fitness classes, including sunset yoga on Madinat Jumeirah's private beach.
With an array of world-class facilities and the beautiful backdrop of the Arabian Gulf, Jumeirah offers the ultimate destination for a wellness escape in Dubai.
BBC HIT NATURAL HISTORY SERIES
BIG CATS
TO BE RELEASED ON DVD 12 FEBRUARY 2018
BIG_CATS_DVD_3D
★★★★★ Daily Mail
"A forward-thinking, intelligent study of elusive felines" The Telegrah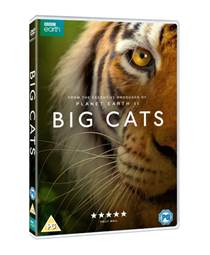 From the excutive producer of Planet Earth II and Blue Planet II Mike Gunton, narrated by Bertie Carvel (Doctor Foster), the BBC's latest natural history television hit Big Cats will be released on DVD on 12th February.
Big Cats provides an unprecedented close-up look and never-before-seen behaviours of almost every big hunting cat on the planet – from cheetah to lion to jaguar to the more obscure Black-footed cat and the Pallas cat.
Using the latest developments in filming technology, and a surge in cat research, Big Cats bring these feline superstars into the spotlight. Combining fascinating behaviours with amazing stories, the series reflects the true nature of cats – and reveals how they still have the power to surprise.
DVD (RRP £13.27)
"MASTERPIECE: VICTORIA SEASON 2"
Jenna Coleman (Doctor Who) returns for a new season as the young queen who wants it all—romance, power, an heir, and personal freedom. Created and scripted by bestselling novelist Daisy Goodwin (The Fortune Hunter), Victoria's first season focused on the teenage queen's audacious upstaging of her handlers to chart her own path.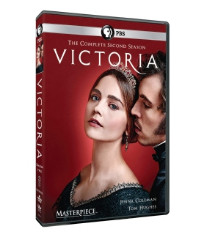 "VICTORIA: SEASON 2" finds Victoria adapting to motherhood after the birth of her first child, a daughter (to the disappointment of many). Meanwhile, the disaster of the Anglo-Afghan War unfolds abroad, and the catastrophic Irish potato famine begins to wreak havoc. In other foreign affairs, a royal state visit to France is in the offing.
Most intriguing to Prince Albert is the budding Industrial Revolution, which is now sweeping England. There is Charles Babbage's mechanical calculator, a collaborative project with the bewitching Ada Lovelace, daughter of the scandalous Lord Byron. Then there is William Fothergill Cooke's miraculous electrical telegraph, not to mention Marc Isambard Brunel's daring—and dangerous—Thames Tunnel.
What an extraordinary time to be queen!
"Masterpiece: Victoria Season 2" has a run time of approximately 480 minutes on 3 discs. The DVD SRP is $49.99 and the Blu-ray SRP is $59.99. The series will be available on January 30, 2018. The first season is currently available.
Valentine's Day is one of the quintessential days of the year for giving and receiving cards – but what do you do with them?
Wouldn't it be nice if you had a place to display all those beautiful Valentine's Day cards? Well the Birch Branch Card & Photo tree has got you covered!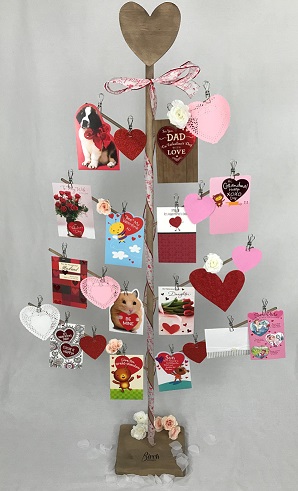 It is a 6 ft tall free-standing display stand made from solid birch wood, and comes with three toppers – a heart, a present, and a star. For Valentine's Day, it's perfect to hold cards, decorations, and artwork. Once the holiday is over, the stand can be used for a general family photo display, for birthday cards, and as a holiday card stand for all the holiday cards you get every year!
Here are a few ways to use the Birch Branch Card & Photo Tree Stand this Valentine's Day:
1) Display with cards from years past: This is a really nice thing to do before Valentine's Day, because you can look back through all the messages in your cards from past Valentine's Day.
2) Kids artwork: Valentine's Day is a big one in school, so if you save any artwork you may have enough hearts and hand prints to fill up two trees!
3) Get creative with some ribbon, decorations, and lights: Go to your local craft store and have fun picking out some ribbon, decorations, and maybe some pink or red lights. Then when you get home you can spend the day decorating the tree and maybe making some new Valentine's Day crafts.
4) Use it for your actual Valentine's Day Cards: Of course, it's the perfect solution for displaying all the new cards you get each year. Add some additional heart decorations or some family photos and you'll have a beautiful display after the holiday.
Boyar Gifts, an NYC boutique in the heart of Gramercy Park, which offers a curated collection of eclectic pieces from around the world and gifts for any occasion.

Boyar can certainly supply you with a variety of Valentine gift ideas from the silly to the sublime. Customers can come in for a customized shopping experience or shop online.
Lovers:
The "Espresso is for lovers" set – ($40) includes cups and saucers for the coffee lover in your life.
If you owe your lover a treat, make it a real treat for both of you. The "I Owe You Sex" coupon book – ($5.95) will both titillate and inspire. Being in debt to someone never felt so good!
​
Add color to your bedroom or bring something Mr. Right and Mrs. Always Right Pillowcases – ($30) into the mix.
Call us hopeless romantics, but we think the best part of a relationship is when you hear those two special sentences: "It's okay. I still love you." These are Lukewarm Balloons – ($12) for people who have more realistic — and significantly less passionate — views about love.
​
This 4-pack of golden Mini Gold Heart Sparklers – ($14) is perfect for any celebration! Have a guest begin by lighting a little 4″ sparkler and making a toast. He or she then touches their sparkler to the sparkler of the person beside them, and the chain of sparkling toasts continues.
​
Unwind layers of colorful crepe paper ribbons to reveal precious vintage inspired keepsakes tucked carefully within this beautifully handmade Red Heart Surprise Ball – ($20).
This beautiful hardcover "What I love about you" fill-in book – ($18) is a uniquely personal gift your loved one will read again and again. Make it as mushy, racy, or witty as you choose!
Tell your valentine how you really feel with these knee high Tart Heart Socks – ($10).
​
Use this Love Spell Kit – ($38) to open your heart and send positive love vibrations to someone special.
​
We've put some fun into dysfunction with these Relationship Ribbons – ($20). Whether you want to be passive aggressive or just downright aggressive, you'll send a clear (and playful) message with these vintage ­inspired ribbons.
Valentine's Day Gifts- Discover NIGHT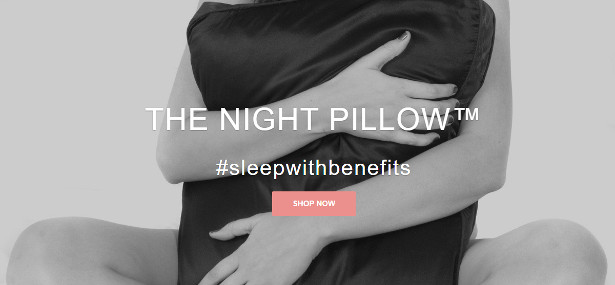 NIGHT is the bedtime secret for better hair and skin you've been waiting for- using quality silk and satin materials, our line of luxury pillows and pillowcases help alleviate sleep lines and wrinkle formation while promoting healthy and hydrated skin. Another plus? Our products also minimize friction while preventing tugging at your hair strands, meaning less bedhead when you wake up!
Please see below and let me know if you would like to receive additional information, high-res images and/or product samples for reviews.
NIGHT Pillow
Wake up feeling like a boss. The NIGHT Pillow™ youth-boosting sleep product maximizes the little time you have for shut-eye by combining unparalleled comfort for every sleep position with hair and skin benefits.
Price: $150
Available: https://discovernight.com, Anthropologie, QVC, Bloomingdales
Inline image 3
SHINE by NIGHT Satin Beauty Pillowcase
Introducing SHINE by NIGHT, an exclusive line of luxury satin products. This unique satin pillowcase is the overnight beauty solution for better skin, hair, and sleep
Price: $49.99
Available: https://discovernight.com
Machine Guns Vegas (MGV)
MGV offers a quirky and unique wedding and renewals package perfect for Valentine's day.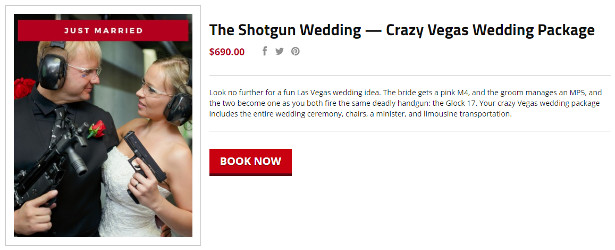 Shotgun Wedding Package – Look no further for a fun Las Vegas wedding or renewal idea. The bride gets a pink M4 while the groom manages an MP5, and the two become one as you both fire the same handgun once the deed is done: the Glock 17. Your crazy Vegas wedding package includes the entire wedding ceremony, chairs, a minister, and limousine transportation. Add on additional flowers, Elvis and the option to rent a dress for additional cost!
Alternative packages are available for couple's who just wish to spend their Valentine's day at the range.
ROAR for Good, a Philadelphia startup and Certified B Corporation®, is empowering women to live their lives boldly.

Their wearable safety accessory, Athena, is designed to connect you with your loved ones when you need them most. At the touch of a button, Athena shares your location with your trusted network of friends & family via mobile SMS alerts. In more threatening situations, Athena can also sound a high frequency alarm.. However, ROAR doesn't just want to put a bandaid on the problem of violence against women – they are committed to getting to the root cause. That's why, as part of their ROAR Back program, ROAR contributes a portion of proceeds from each Athena sold to educational programs that have been shown to increase empathy and reduce violence.
Main 3 talking points
Peace of mind in a sleek design – Athena is a personal safety alarm that sends live GPS notifications to your pre-programmed emergency contacts at the touch of a button. Press and hold to sound a high-frequency alarm & simultaneously alert contacts with your location. Or press three times to silently send a distress signal.
Wear it your way – On your purse, clipped to your clothing, or as a necklace – Athena is intentionally designed to suit your lifestyle, be easily accessible, and prevent accidental activation.
Purchase with purpose – As part of their ROAR Back program, ROAR contributes a portion of proceeds from each Athena sold to educational programs that have been shown to increase empathy and reduce violence.

The "Love Cocoa Hamper" is truly a wonderful expression of appreciation to the lady in your life….. who means everything to you! lovecocoa.com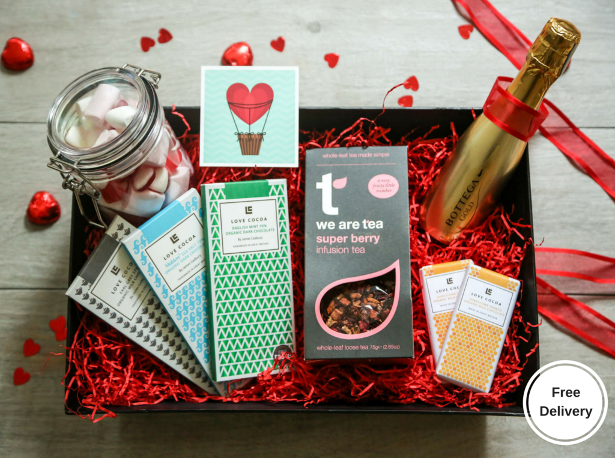 TWITTER | FACEBOOK |INSTAGRAM | PINTEREST | GOOGLE+ | YOUTUBE | VIMEO
The Love Cocoa hamper for her  has been prepared specially for Valentine's day
the hamper can be purchased immediately at :- lovecocoa.com/collections/all-products/products/valentines-for-her
The male hamper can be purchased at :- lovecocoa.com/collections/all-products/products/valentines-hamper-for-him
Pamper your hunnie this Valentine's with all of her favourite treats. Including a luxurious Bottega Gold Prosecco, Super Berry Whole Leaf Tea, a pick 'n' mix jar of hearts n' marshmallows, 5 Love Cocoa chocolate bars and a sweet little card to profess your love (or at least try…?)
What an exciting new organic chocolate brand by James Cadbury, the great-great-great grandson of the Cadbury founder!
Love Cocoa chocolate is made with purpose, and the support a Rainforest charity giving 10% of their profits to them to combat the deforestation of the worlds Rainforests. The cocoa industry is to blame for 1% of this due to the use of unnecessary use of palm oil, which we refuse to put in our chocolate.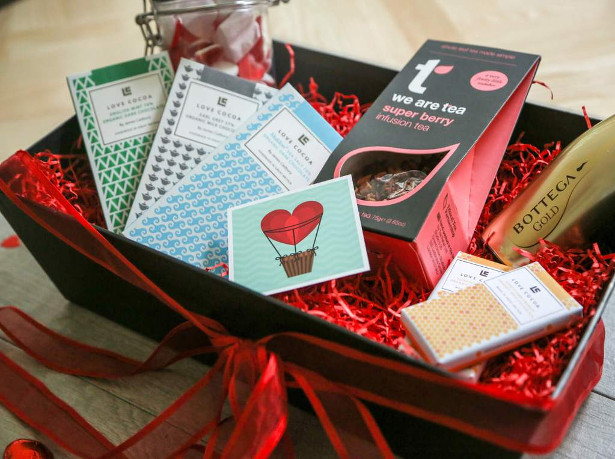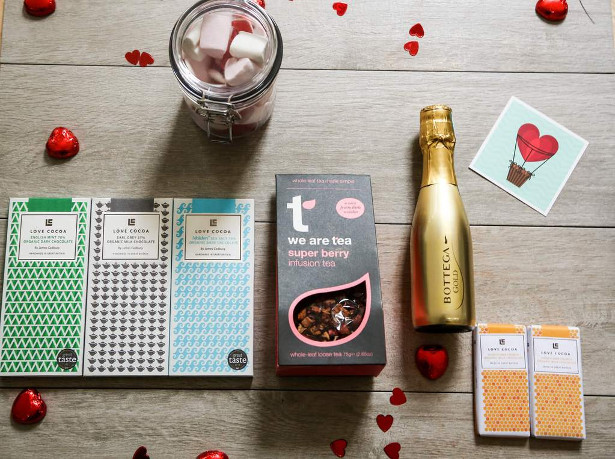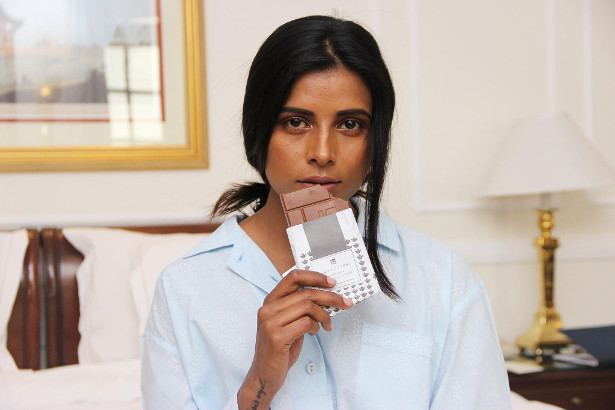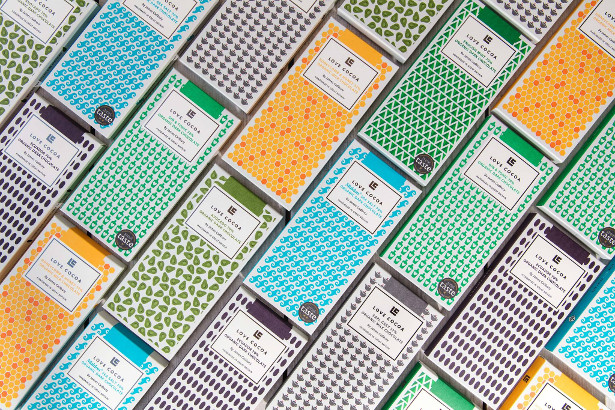 The perfect Valentines gift for him or for her
Bali Balm is a new luxury lip-balm brand for men and women. Its rich, intensive formula is both cruelty free and 100% natural, allowing for healthy, cruelty-free lip care. Containing multiple natural oils that are rich in antioxidants and antibacterial properties, Bali Balm has been perfected to absorb quickly and lock in moisture without leaving a waxy film on the surface of your lips.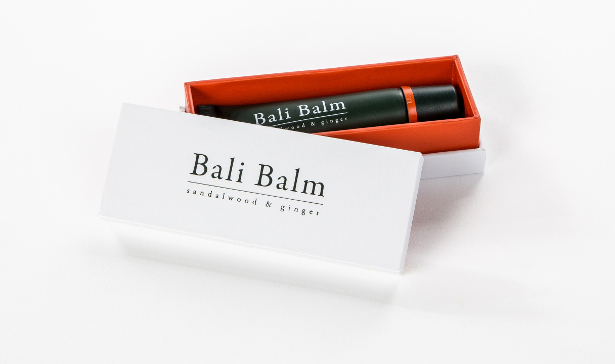 The balms contain an ethically-sourced, environmentally and bee-friendly formula of coconut, castor and kukui nut oils along with candelilla leaf wax, blended with sugar cane extract in place of honey and beeswax. All three oils play a major role in moisturizing lips, deeply penetrating without clogging pores, leaving lips soft, supple and revitalised. There are no preservatives or carcinogenic substances such as MOSH or MOAH (mineral oil saturated hydrocarbons and mineral oil aromatic hydrocarbons) included in Bali Balm's formula as there are in many high-street brands. The vitamin-rich recipe promotes the strength and reparation of collagen, also aiding in fast healing and wrinkle prevention.
The four Bali Balm creations have been created in conjunction wth London chef Russell Bateman, to ensure each one is a smooth fusion of botanicals and spices. The Bali Balm collection includes a stimulating Bergamot & Grapefruit, a refreshing Lemon & Black Pepper, a warm Cinnamon & Orange and an exotic Sandalwood & Ginger.
The environment is precious, and at Bali Balm, we want to ensure that none of our plastic ends up in landfills or the oceans. With each tube of Bali Balm, customers receive a pre-paid envelope, so they can return the tube and cap to us for recycling; the proceeds of which will go to environmental charities. It's our Kiss The Planet pledge.