Valentine's Day Gifts from Chococo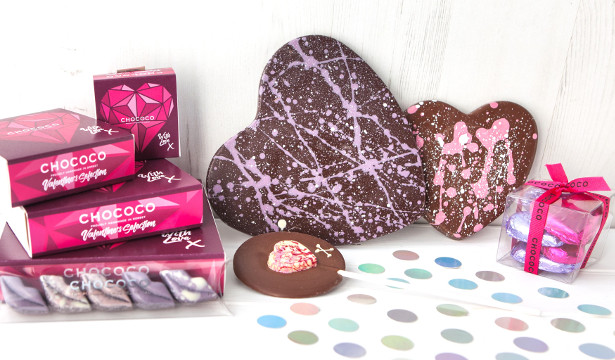 ​
For Valentine's Day 2018, Dorset-based artisan chocolatier Chococo has created a collection of gorgeous chocolates to delight chocolate lovers.
Aspiring cupids can select from the following gifts: NEW freshly handmade Valentine's selection boxes featuring NEW flavours and a gorgeous NEW design; a NEW range of delicious and fun Valentine's Chocolate Hearts and a NEW Valentine's Hamper Box.
Carefully developed by the team, led by founders Claire and Andy Burnet, all the gifts are freshly handmade in Purbeck, Dorset, from fine origin chocolate from Madagascar (dark chocolate 67% cocoa) and Venezuela (milk chocolate 43% – which is very high in cocoa solids and lower in sugar) – so the object of your amorous intentions will get the best possible fine chocolate rush. Chococo has always been a firm believer in working with chocolate high in cocoa solids and low in sugar, as it believes in giving its customers a fine chocolate, not a sugar, experience.
All the items listed below are available online on its website www.chococo.co.uk and from Chococo's three Chocolate Houses in Swanage, Dorset; Winchester, Hampshire; and Exeter, Devon. Alternatively you can call 01929 421777 to order some tempting Valentine delights.
The 2018 Valentine's Collection includes:
​
NEW CHOCOLATES AND NEW DESIGN Chococo's Valentine's Selection Boxes (Large £22.00 – 25 chocolates/ Medium £16.50 – 16 chocolates) – Say it with these delicious selection boxes packed with Chococo's handmade hearts and truffles. The boxes feature a stunning NEW design – a graphic cubist heart decoration in different shades of pink. They will include two of each of many of the flavours making these boxes perfect for sharing; NEW Prosecco caramel, NEW Kir Royale caramel, NEW Madagascar 65% megamilk with hazelnut, Salcombe gin, award-winning sakura tea, award-winning passionfruit caramel, Madagascan vanilla, raspberry, rhubarb and vanilla, award-winning lemon curd, honeycombe, award-winning arbequina olive oil and award-winning smoked sea salt caramel.
NEW CHOCOLATES AND NEW DESIGN Chococo's Valentine's Gift Set (£20.00) – This gift set contains a medium Valentine's selection box of 16 freshly handmade chocolates and a 75g chocolate heart. The selection box contains two of each flavour of the Valentine's chocolates and is delivered with your choice of either a milk chocolate heart, a dark chocolate heart, a Half & Half heart or a Honeycombe-studded heart. A perfect gift to match the one you love's chocolate desires!
Chococo's Valentine Hearts – As it's Valentine's, Chococo has created a range of origin chocolate hearts to celebrate. All handmade and hand-decorated, they come in two sizes and a variety of flavour combinations.
Chococo's Valentine Hearts (£10.00/200g or £5.00/75g) – Choose from:
· Milk or Dark Hearts – 43% Venezuelan origin milk or 67% Madagascar origin chocolate hearts hand-decorated with natural colours. The dark chocolate heart is suitable for anyone intolerant to dairy and is also vegan.
· Half & Half Heart – Half Venezuelan origin milk chocolate and half Colombian origin white chocolate. Perfect to share!
· Heavenly Honeycombe Hearts – Origin milk or dark chocolate studded with chunks of honeycombe handmade at Chococo with Dorset honey and dusted with gorgeous shimmers.
​
NEW Valentine's Gift Hamper Box (£32.50) – Thrill the one you love with this hamper box full of Chococo joy. It contains a small Valentine's Box of nine freshly handmade chocolates including NEW Prosecco caramels and NEW Kir Royale caramels, a cube of origin milk chocolate hearts, five origin dark chocolate lips filled with sea salt caramel, Colombian White Chocolate slabs infused with crunchy dried raspberry pieces and a 43% Venezuelan milk chocolate lolly with a naturally coloured (beetroot) white chocolate heart in the centre and a hand-piped white chocolate kiss.
Introducing the LUNGOLINEA ping pong table Ultra-Premium Edition.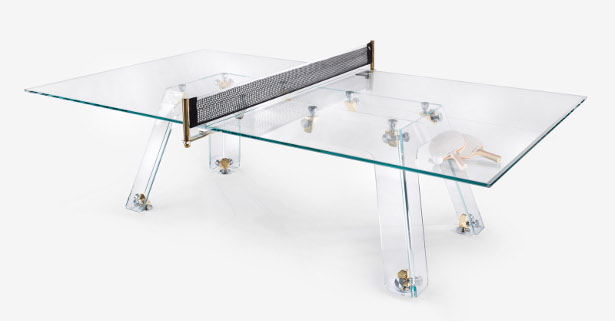 The Italian brand IMPATIA, based in the Milanese area and worldwide known for its astonishing bespoke crystal game tables designed and manufactured in Italy upon order only, has just launched the Ultra-Premium Edition of the LUNGOLINEA ping pong. This masterpiece of Italian design is entirely made of crystal glass and it is a multifunctional item: by easily removing the net kit, indeed, a dining or a meeting table is ready to welcome 12 seats – the perfect break idea during a conference or a digestive challenge after having had a dinner.
It normally has connecting components made of polished metal, but the latest addition to the collection, the Gold Edition, has joints and part of the net kit individually 24k gold or brushed gold plated by a skillful Italian goldsmith to satisfy the most sophisticated needs.
This is also a must for the ultimate "Mancave" – a room filled of stuff where the wealthy man indulges in its hobbies or hangs out with his friends to re-create some of the spaces and freedom of its bachelor days – it is definitely something you never knew you needed and something you really can not stop thinking of!
www.impatia.com
Share the Love with Beauty Gadgets this Valentine's Day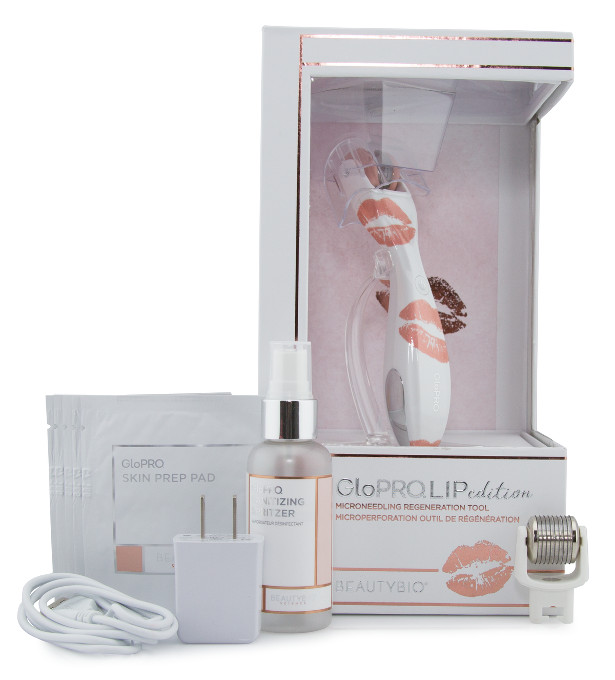 Whether you're shopping for her, treating yourself or sending helpful hints to your loved one, CURRENTBODY.com promises these perfect presents are sure to be a hit, lasting far longer than chocolates or flowers.
The UK's leading online retailer of at-home health & beauty technology is sharing the love this Valentine's Day with some fabulous offers, from Clarisonic to NuFACE you'll find a fantastic range of products and special offers this February.
GloPRO LIP Edition, £249 – FREE Microtip & Prep Pads
The patented technology behind the GloPRO Microneedling Regeneration tool promotes micro-rejuvenation deep within the skin. The GloPRO LIP edition is set to be the next big beauty gadget! With a brand new Lip microTip to plump and smooth the lips and a volumising lip serum, The Pout, to boost effects.
NuFACE Mini Seafoam Facial Toner, £150 – FREE NuFACE Prep N Glow Cloths
Often referred to as the 5-minute face lift, this beauty gadget is so compact you can take it in your overnight bag or even pop it in your handbag for a lunch time life.
Clarisonic Mia 2 Facial Cleansing Brush, £93.75 – FREE Goldfaden MD Cleanser
Cleanse away the build-up of impurities like pollutants, bacteria and oils with the patented micro-massage motion of the Clarisonic Mia 2. The built in T-Timer is easy to follow and ensures you use your device for the recommended amount of time.
Tria 4X Fuchsia Hair Removal Laser, £259.99 – FREE Nuxe Shower Oil
The Tria 4X is a worthwhile investment, recommended by many of the industry's most reputable dermatologists and surgeons. This trustworthy device removes 70% of unwanted hair after just two treatments providing you with permanent results.
iluminage Skin Rejuvenating Limited Edition Eye Mask, £20 – FREE Malin & Goetz Vitamin E Moisturiser
This is simple yet so effective, requiring literally no effort at all – just close your eyes & the copper oxide fibres in this well-crafted eye mask enhance your skins natural renewal qualities while you play sleeping beauty.
T3 Hot Pink Compact Featherweight Hairdryer, £99.99 – FREE Moroccan Oil
With a foldable handle and extremely compact design, this T3 dryer is the answer to your packing nightmares. You'll no longer have to choose between a below par hotel hair dryer or cramming in your favourite hair care tool.
All products are available from www.currentbody.com
Gold Hearts, Pink Kisses and Gin from The Pleasure Gardens
-The Ultimate Valentine's Gift Guide from Marylebone Village-

Ahead of Valentine's Day this year Marylebone Village, right at the heart of London, has revealed some of its top gifts tipped for high demand this February from within the highly acclaimed retail district, Marylebone High Street.
Outside the hustle and bustle of Oxford Street, Marylebone Village is an oasis of tranquillity offering a great Valentine's day out. Visitors can take in the Georgian architecture of the area's impressive building portfolio, or enjoy the many cultural distractions – from the chamber music of Wigmore Hall to the art of the Wallace Collection, while nearby Regent's Park offers a calm respite.
With a variety of cuisines on offer, the eatery options in Marylebone range from friendly neighbourhood cafes to high end, Michelin-starred establishments. Those wanting more time to explore the area are spoilt for choice with hotels spanning from quaint independent guest houses, to world class five-star institutions and everything in between.
THE CHOCOLATE BAR OF YOUR DREAMS AWAITS…
Chocoholics unite! Whether you're nuts about nuts, crazy about caramel, bonkers for biscuits, or frantic for fruit, the chocolate bar of your dreams is finally within reach with the brand NEW 'Make Your Own' online offering from The Grown Up Chocolate Company.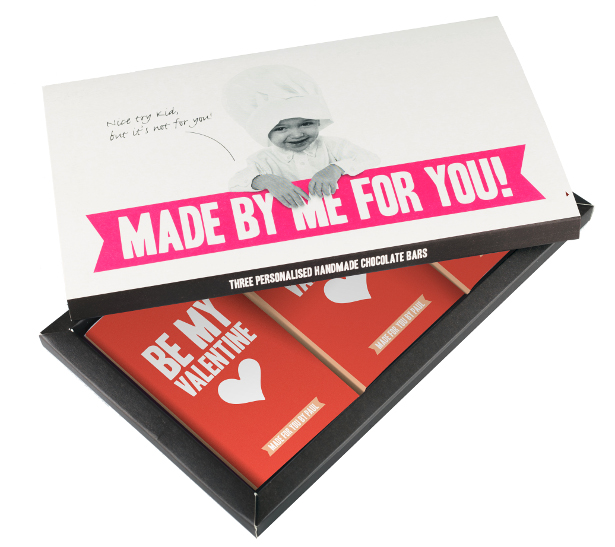 Famous for reimagining the chocolate bars we all loved as children, but for grown-ups, you can now create your very own tailor-made chocolate bar online choosing from a list of 70 quality (and grown up) ingredients. The perfect personalised gift for that sweet-toothed someone – their chocolate bar of joy awaits!
All you have to do is select your chocolate choice, up to X 3 indulgent ingredients (with a selection including goji berries, passion fruit, szechuan pepper and earl grey tea even the most adventurous chocoholic is catered for), then select your preferred wrapper. For a really personal touch you can even create your own customised packaging by uploading your own picture and message.
Then simply sit back let the chocolate experts at The Grown Up Chocolate Company craft their magic… Your creation will be handmade in Harlow from the highest quality ingredients (and a sprinkling of love) and X 3 delicious X100g Bars will be sent straight to your door, all for just £25*.
Just remember, this is strictly for grown-ups, so keep it from the kids!
www.thegrownupchocolatecompany.co.uk
*X2 sets available at a discount of £22.50 each and X3 sets at £20 each.
PERIODS, SORTED
Pink Parcel: the latest wellness trend for that time of the month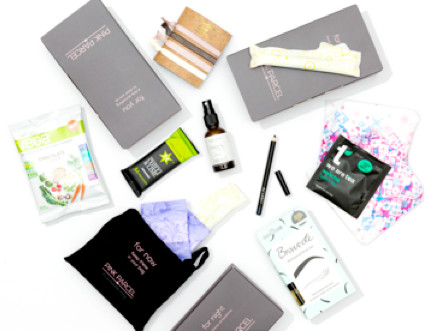 It's a monthly thing we know all too well, yet mother nature can still find a way of surprising us. Never be caught short again with Pink Parcel – a luxury monthly subscription box delivering femcare products alongside other beauty, wellness and edible treats directly to your door, exactly when you need it.
Designed to take the hassle out of periods and offer that sometimes much needed 'pick me up', this innovative wellness trend is ideal for time-poor women looking for convenience as well as – dare we say it – something to look forward to every month.
From tampons to towels, the premium box – small enough to fit through your letterbox – includes sanitary items from your trusted brands, neatly packaged in discreet and stylish pouches 'for now', 'for nighttime' and 'for later' so you have exactly what you need, when you need it.
And that's not the best bit. Alongside all the femcare essentials, each parcel contains a selection of specially curated surprises from a range of deluxe and artisan beauty, lifestyle and confectionery brands. From gourmet teas and chocolate, to prestige skincare, make-up, bath and body products, partners include Nails Inc, REN, Balance Me, L'Occitane, ModelCo, Ombar, teapigs, Pukka and Montezuma's.
The easy sign-up process gives you the option of your chosen delivery date, ensuring your Pink Parcel arrives ahead of when you need it – making those late night supermarket dashes and bottom-of-the handbag scrabbles a thing of the past.
A monthly subscription costs £12.99 including P&P, is available from www.pinkparcel.co.uk and you can cancel at any time.
How does Pink Parcel work?
Step one: Visit www.pinkparcel.co.uk and select 'subscribe'
Step two: Choose your favourite femcare from a host of trusted brands
Step three: Select the absorbency you require, because we want it to be just right for you
Step four: Choose a delivery date to coincide with your cycle
Step five: Put it to the back of your mind and enjoy the surprise each month
This Valentine's Day, Gift-Giving Takes a Leap Up the Luxury Ladder
Bouquet Bar delivers custom floral designs and delightful treats at the click of a button
As Valentine's Day approaches, luxury gift company Bouquet Bar (bouquetbar.com), delivers a fresh, new and affordable way to express love. With just a click of a button, send your special someone gorgeous florals and a selection of delightful gifts, beautifully displayed in a designer box they won't forget.
"We believe gifting is an art," says CEO David Yusuf, who co-founded Bouquet Bar alongside Alex Amidi and Sal Aziz in January 2017. "When you send one of our designer gift boxes to your loved ones, friend or a family member, the person will never see gifting the same."
The Bouquet Bar "Love Box," for example, holds a mini-bouquet of delicate red spray roses along with lavender dark chocolate drops, sugar coated sour gummy hearts, old-fashioned caramel corn, gummy bears and a Lavender Fields scented candle, to leave a lasting impression. Or choose one of four designer boxes, mix and match two to six of your favorite treats and add a tall, stunning floral arrangement.
Bouquet Bar offers gift boxes for any sentiment and occasion, including gratitude, well wishes, birthdays, company parties and even "Girl's Night In." All allow you to add a personal note and customized box label for an extra special touch. Prices range from $47.99 to $149.99.
David Yusuf and Alex Amidi also own luxury floral company Square Root Designs (squarerootdesigns.com), whose glamorous arrangements not only make the center pieces at high-profile weddings across Southern California, but grace hotel lobbies such as that of Beverly Wilshire Beverly Hills (A Four Seasons Hotel) and The Ritz-Carlton, Laguna Niguel at Dana Point. "Through Square Root Designs, we were constantly approached by clients in search of the perfect floral gift," Yusuf says. "It became clear that customers were looking for something unique and, more importantly, something that would be consistently perfect." Thus, Bouquet Bar is the perfect evolution from the company that knows flowers. Finally, flowers…repackaged, and luxuriously affordable!
Bouquet Bar has completely repackaged the Art of Gifting,™ deepening the connection between the sender and receiver, one gorgeous gift box at a time. Talk about the perfect love potions for Valentine's Day! Visit BouquetBar.com and see their celebrity fans on Instagram @theBouquetBar.
Don't miss Bouquet Bar on the hit TV show Shark Tank airing January 21st on the ABC Network. Tune in to see if they're successful in getting the deal!
The Fifth House (5 | H):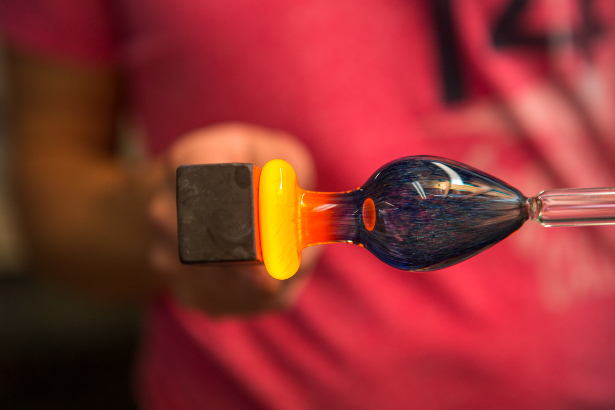 Brief Synopsis: The Fifth House® is an artistic platform that brings together the worlds of sex and fine craft. It takes you behind the scenes to discover the designers' skills and cutting-edge craftsmanship.
At The Fifth House, you will find craftsmanship ranging from traditional handblown glass to cutting-edge leather ateliers that are of the highest quality, and made by hand.
______________
About The Fifth House: Based in Denver, CO, The Fifth House is a design house, indie boutique and luxury adult lifestyle brand. It is an artistic platform that creates, gathers and curates the very best of avant-garde and emerging designers as well as contemporary brands. At The Fifth House, you will find an array of photographs and interviews that provide a sneak peek into the stories behind the designs.
WHAT WE DO.
We are along for the ride and down for the adventure. Call it our mission. Call it our raison d' être. Call it our sincere belief that sexually satisfied women and men live happier lives. They form stronger relationships and more fulfilling marriages.
We created The Fifth House® to help women and men find their mojo. We created it to help couples keep their mojo, turn it up, or get it back.
Call it what you want, it's what we do.
WHO WE ARE.
The Fifth House is a design house, indie boutique, and luxury adult lifestyle brand.
We are an artistic platform that creates, gathers and curates the very best of avant-garde and emerging designers as well as contemporary brands from around the globe.
We take great pride in graceful positioning, discretion, and the advancement of knowledge in sexuality and healthy relationships.
It's all about being bold, confident, sexy, sophisticated, seductive and filled with spirit.
WHY WE DO IT.
The Fifth House has grown into a collective of artists who bring artistry and beauty to your most intimate and sensuous moments.
Our artists skillfully create their hand-drawn, painted, and crafted artwork at their studios.
And they design exclusive original artwork for the The Fifth House.
Our artists, then, translate their art work into fine works of art for you and your partner to indulge in, admire, and experience.
We spend ample time with artists at their studios. It forms an integral part of our outstanding their work.
At The Fifth House, you will find an array of photographs and interviews that provide a sneak peek into the stories behind the designs.
Read More:
• "Our Story"
• "SHOP"
Single this Valentine's?
Now there's a Range of Galentine's Day Cards for Women to Celebrate Sisterhood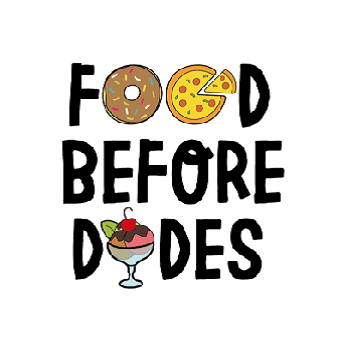 Looking forward to Valentine's Day this year?
Thought not.
How about buying into Galentine's Day? It's the day that fiction was turned into fact when TV character Lesley Knope of the American hit show Parks & Recreation invented the single girl's alternative to Valentine's Day.
So it's no surprise that women everywhere are now championing Galentine's Day; it falls on the day before V Day and espouses friendship and empowerment over the notion of needing a man in your life.
It's a day to be surrounded by your favourite girlfriends whether you're going out-out or simply watching movies in your PJ's, coming at a time of year when relationships slump the most.
In fact, solicitors have branded January 8th as 'Divorce Day' after seeing a surge in business each year, while studies show that "expectation holidays" such as Valentine's Day can put pressure on people who are not in a relationship.
So what could possibly be better than receiving a card from one of your BFF's with a personal video message? Or a bad and hilarious joke, if that's more your style.
Irreverent next gen greetings card company Choosey are the first to produce a range of Galentine's Day cards to mark the occasion.
Choosey allows you to send a video message to your girlfriends viewable inside the card using Augmented Reality. It harnesses tradition with digital technology allowing you to create a greetings card that's tangible and truly unique. As Lesley Knope says: "It's only the best day of the year…Ladies celebrating ladies."
Choosey greetings cards not only provide innovative options for all important occasions like Galentine's and Mother's Day, but pave the way for long-distance proposals, surprise baby announcements and even dumping your boyfriend!

www.lifeclothingco.com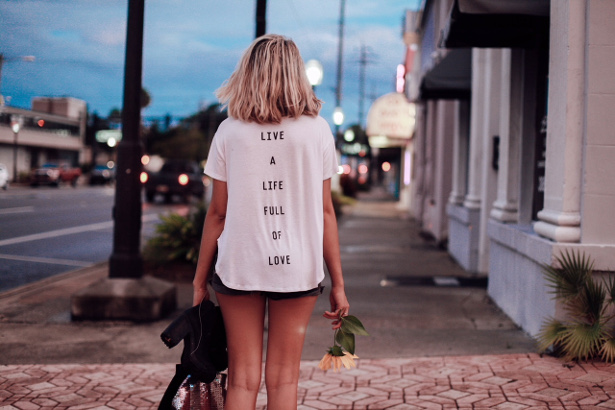 Trust in love and magical things will come. The Power of Love sweater is a vintage-inspired, slightly cropped pullover, with a relaxed, slightly oversized fit. Featuring a wide scoop neck and raw finish in our super soft fleece. Stay positive and fall in love with our Life of Love pocket tee. This tee features a scoop-neck T-shirt and it's slightly oversized with a loose and roomy fit with a front pocket. We've also given this shirt a silicon wash for a soft feel. Love more and let yourself be free in our In Love We Trust tee. A relaxed wide-neck T-shirt with an oversized slouchy fit. Constructed using our super-soft jersey tissue fabric. All Life Clothing Co. products are proudly made in Los Angeles.
5 top tips to avoid buying fake gifts online this Valentine's Day
Counterfeiting has evolved over the last few years, with many well-intentioned consumers being duped by fake websites and products. Research from MarkMonitor found that nearly half of shoppers worry about unintentionally buying a fake gift and despite 91% saying they wouldn't knowingly buy one, nearly one in three have been caught out. To help, Chrissie Jamieson, VP Marketing at MarkMonitor, offers the following advice:
What's the price? Many of us live our lives by the mantra 'if it looks too good to be true, then it probably is'. But this is not always true for counterfeiting, as the people behind these fake goods wise up and realise that cheap prices often send consumer alarm bells ringing. Instead, they're now finding that the less the price is reduced, the more likely it is the consumer will believe it's a genuine deal. To avoid being fooled, check the recommended retail price (RRP) of the gift in question and be wary of even the smallest discounts. Check elsewhere to see if the discount is being offered on any other websites, and always err on the side of caution if in doubt.
Check the website. With most of us searching for gifts through internet search engine results, it is all too easy to make a purchase while barely giving a moment's thought to the credibility of the website in question. This is where we must exercise caution by reviewing the rest of the website before handing over our money. Be sure to browse around the website while checking for any signs that might indicate the website is not genuine — spelling and grammar errors often end up giving the game away. Pay particular attention to the 'About' and 'FAQ' sections, as these are the areas counterfeiters pay the least attention to, and check the delivery details to ensure they match the location of the genuine company.
Is there refund and privacy policies? Any legitimate company website will have clear and comprehensive return and privacy policies for instances where the gift you purchase is damaged, faulty or simply needs to be returned. Therefore, if the website you're visiting does not display these policies clearly, avoid it at all costs. If it does, give them a read through to make sure they seem legitimate.
Is the web address genuine? Malicious individuals known as 'cybersquatters' will often seek to buy URLs that are confusingly similar to those of genuine brands and then impersonate the real website, in the hope that consumers stumble upon their site through innocent typos or spelling mistakes. This is why all URLs or search engine queries should be carefully double-checked for any errors that could lead to much worse consequences. If ever unsure of the legitimacy of a URL, check to see whether it begins with 'HTTP' or 'HTTPS' — if it's HTTPS then you can be reassured it's secure. If not, you should make further checks before proceeding.
Online marketplaces. Depending on the gift you're buying for your other half this year, online marketplaces can be a great way of bagging a bargain, but due to the fact anyone can create listings, these websites require extra care to avoid counterfeiting. Once you've found a listing that's of interest, make sure you check the seller's profile and read the reviews written by other users to determine whether they seem genuine or not.


Huge Mclaggan Smith Mugs collection.
Bone China, Printed and Decorated in The UK Since 1974.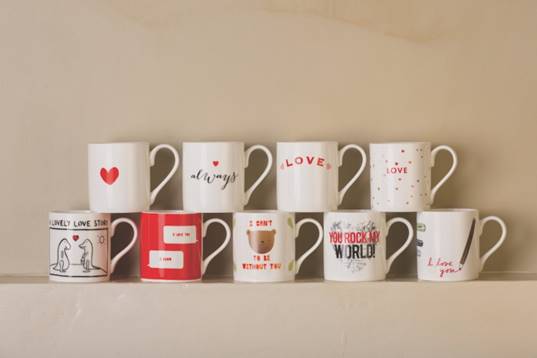 Mugs from – £9.50
Personalise from – £14.50
www.msmugs.com


Original Artworks as Creative Valentine's Day Presents
London, January 2018: I am writing to you as we are fast approaching Valentine's Day, I wanted to get in touch and offer some inspiration for unique Valentine's Day gifts. We at SHOWstudio believe in creativity and uniqueness and in the spirit of combining artistry and love, we have put together a selection of our commissioned original fashion illustrations that would make for ideal gifts this season for your special someone. These illustrations are available to explore and purchase on our e-commerce shop as well as our Belgravia Gallery.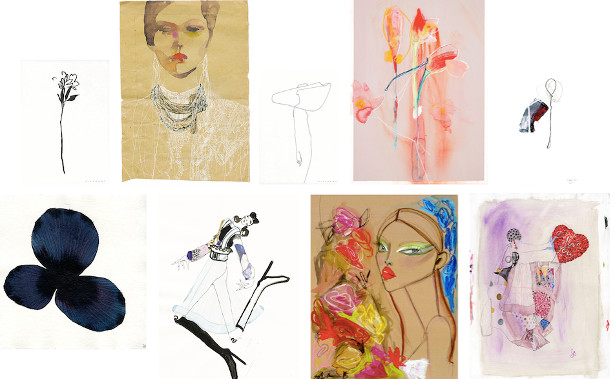 Explore our collection online, and in store to select the most thoughtful present for your loved one. Buying original artwork does not have to be extortionate, as we have illustrations available from just £50. So why purchase chocolates and flowers when you can go the extra mile and get something absolutely one of a kind, made with love and passion that celebrates the very essence of Valentine's Day.
I have attached a small selection of artworks below, however, for a full list please see the following link. https://shop.showstudio.com/t/art/all


Let's keep it cheesy this year!
Love will soon be in the air, so celebrate the romantic occasion with the best gifts to show your love this year with a helping hand from Flying Tiger.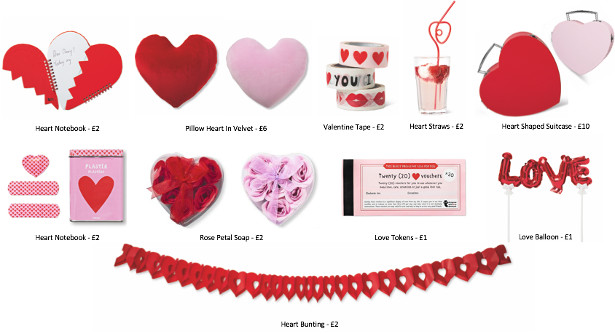 Available from Flying Tiger Stores Nationwide
Further information & high res images are available.
NOW That's What I Call Love
Out Now!
RRP: Under £15.00
Cat no: CDNNNOW48
Barcode: 889853687923
www.nowmusic.com/album/now-thats-call-love
I
"If music be the food of love play on"! This Valentine's Day, feast on a selection of the best love songs of ALL TIME. From epic throwbacks to recent R&B confessions, NOW That's What I Call Love is the perfect gift to warm the hearts of those dear to you.
Whether you're gazing into candlelit eyes, getting jiggy with your besties, or running yourself a rose scented bath, these 60+ tracks are the perfect ingredients for your Valentine's Day.
NOW gives you Cupid's wings and takes you on a musical journey, floating through decades of songs composed deep in the hearts of your favourite artists. [Jump on your wrecking balls and swing] OR [Let the butterflies in your tummy flutter] to the likes of Justin Bieber, Miley Cyrus and Bruno Mars. Slow it down for some Valentine's day healing with Marvin Gaye, The Fugees and Seal. Sing your heart out with Celine Dion, Whitney Houston and Sam Smith. Surrender the chords of your love to Elton John and let Robbie Williams shoot arrows into your heart … again!
This Valentine's Day, make the roses redder and the violets bluer with a copy of NOW That's What I Call Love. Also available to download on the NOW That's What I Call Music App at only £4.99 a month
TRACK LIST
CD 1
01. James Arthur – Say You Won't Let Go
02. Ellie Goulding – Love Me Like You Do (from 'Fifty Shades Of Grey')
03. Justin Bieber – Love Yourself
04. John Legend – All Of Me
05. Jason Mraz – I'm Yours
06. Timbaland feat. OneRepublic – Apologize
07. Jonas Blue feat. Dakota – Fast Car
08. Jason Derulo – Want To Want Me
09. ZAYN – PILLOWTALK
10. Labrinth feat. Emeli Sandé – Beneath Your Beautiful
11. Bruno Mars – Just The Way You Are
12. Paloma Faith – Only Love Can Hurt Like This
13. Little Mix feat. Jason Derulo – Secret Love Song
14. Miley Cyrus – The Climb
15. Nelly Furtado – I'm Like A Bird
16. Birdy – Wings
17. Keane – Somewhere Only We Know
18. Lady Antebellum – Need You Now
19. The Kooks – She Moves In Her Own Way
20. James Bay – Hold Back The River
21. Coldplay – Fix You
CD 2
01. Calum Scott – Dancing On My Own
02. Sam Smith – Stay With Me
03. Charlie Puth feat. Meghan Trainor – Marvin Gaye
04. Jess Glynne – Hold My Hand
05. Calvin Harris & Disciples – How Deep Is Your Love
06. P!nk feat. Nate Ruess – Just Give Me A Reason
07. Christina Perri – A Thousand Years
08. Passenger – Let Her Go
09. Maroon 5 – She Will Be Loved
10. Shawn Mendes – Mercy
11. Justin Timberlake – Cry Me A River
12. Justin Bieber – Sorry
13. James Morrison feat. Nelly Furtado – Broken Strings
14. George Ezra – Budapest
15. Ellie Goulding – How Long Will I Love You
16. A Great Big World – Say Something
17. Christina Aguilera – Beautiful
18. Natasha Bedingfield – These Words
19. Leona Lewis – Bleeding Love
20. Kelly Clarkson – Because Of You
21. Idina Menzel – Let It Go (from 'Frozen')
CD 3 – Classic Love Songs
01. Whitney Houston – I Will Always Love You
02. Fugees – Killing Me Softly With His Song
03. Seal – Kiss From A Rose
04. Elton John – Your Song
05. Robbie Williams – She's The One
06. U2 – With Or Without You
07. Ben E. King – Stand By Me
08. Bill Withers – Ain't No Sunshine
09. Marvin Gaye – Sexual Healing
10. George Michael – Careless Whisper
11. Cyndi Lauper – Time After Time
12. Bill Medley & Jennifer Warnes – (I've Had) The Time of My Life
13. Gabrielle – Dreams
14. Daniel Bedingfield – If You're Not The One
15. Take That – Back for Good
16. Dido – White Flag
17. Roxette – It Must Have Been Love
18. Bonnie Tyler – Total Eclipse Of The Heart
19. Céline Dion – My Heart Will Go On
The Valentine's Day Yankee Candle 2018 range includes a trio of beautifully floral, romantic rose fragrances, featuring the brand new Sun-Drenched Apricot Rose scent from the new – Enjoy the Simple Things collection – True Rose and Fresh Cut Rose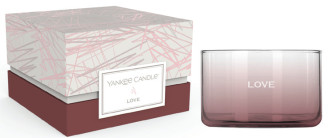 If you want something extra special
Delight your partner with the romantic Love Candle from the new Making Memories collection. This will definitely add some romance to your gift with its three wick candle in a sophisticated pink glass vessel which is presented in an elegant ready-to-gift box – the perfect Valentine's gift.
Gift for those with a sweet tooth
Indulge a special someone with these sweet scents which embody beautiful floral fragrances guaranteed to unleash you partner's inner romantic and celebrate the most romantic day of the year. These sweet fragrances include Strawberry Buttercream, True rose and Black cherry all filled with an abundance of delicious sweetness.
A heartfelt alternative to chocolates
Why not try this Heart gift set a thoughtful and loving alternative to the generic chocolates and flowers gift. These beautiful fragrance provide that special romantic scent guaranteed to set your partner's heart on fire. Delight your partner with Red Raspberry, True Rose and Peony all enriched with rich floral scents.
All the new Yankee Candle® gift sets range from £6.99 to £14.99 with the large jar candles at £23.99 www.yankeecandle.co.uk .
At a glance, Glamping Hub is the world's leading curated online booking platform dedicated
to unique accommodations in nature, with over 21,000 places to stay around the globe- but there's so much more!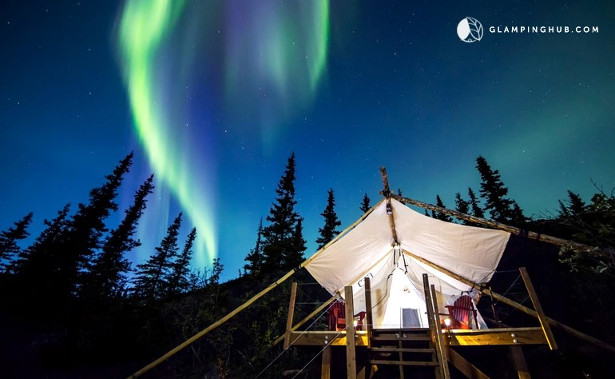 Our team understands that there is more to life than increasing its speed, there is more to human connection than friend requests, more to work than numbingly clocking 8 hours. Basically, there's more to life than just living. So Glamping Hub strives to encourage people to connect with nature, loved ones, and themselves in more vivid and meaningful ways. How, you might ask? By inspiring people to collect moments and experiences rather than things, and to experience moments rather than tangible items.
We find that visitors booking on Glamping Hub are looking for an intentful and meaningful stay- whether it be that they are looking for the perfect place to propose to their significant other, looking for special birthday spot for an unforgettable celebration, or planning a long-awaited family reunion, there truly is a story behind every booking on our site.
While we understand that there are plenty of already existing accommodations websites, we find that few aim to provide experience based stays and getaways rather than just a place for a night. More often than not, when tourists choose a hotel or apartment in a city, they do so on the basis of proximity to a site or the center of a city. The place where they stay becomes a commodity. Given certain amenities, the accommodation is often an afterthought.
Other websites provide millions of stays for all kinds of customers: executives on work trips, a
budget bachelor party or a couple booking a last minute getaway to Venice. One size fits all.
Glamping Hub is different in that all our accommodations have been handpicked and placed in a
targeted collection. At Glamping Hub, the Accommodation is the Destination. Travelers choose Glamping Hub because they care about their trips being truly memorable.
After a lot of research and analysis, we came up with our four Glamping Hub core values: Nature, Uniqueness, To-gather, and Experience.
Nature: One of our most unique factors, our guests become connected to nature, through us.
Uniqueness: Everything about Glamping Hub is unique from the diversity of our staff members to our beautiful accommodations.
To-gather: From our research into our guests we have seen that they gather together to connect
with friends, family and loved ones for a one-of-a-kind special trip.
Experience: Glamping is a memorable experience for all sorts of occasions, including
engagements, reunions, birthdays and anniversaries to name but a few.